UNDER 14 CHAMPIONSHIP
&
FRED STILLWELL TROPHY
Maylands Golf Club - Tuesday 9 August 2016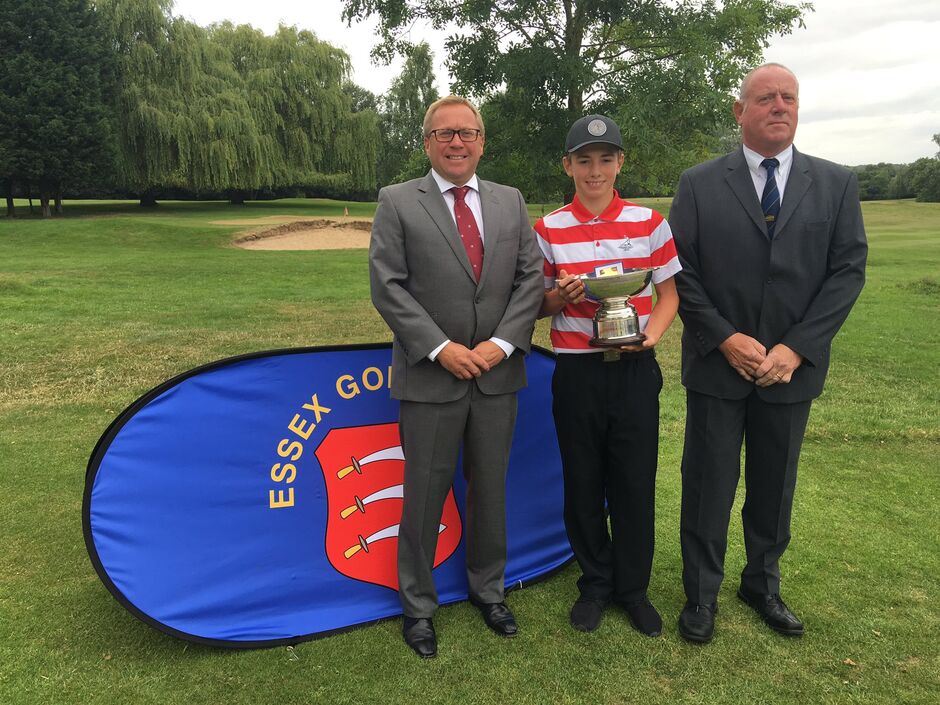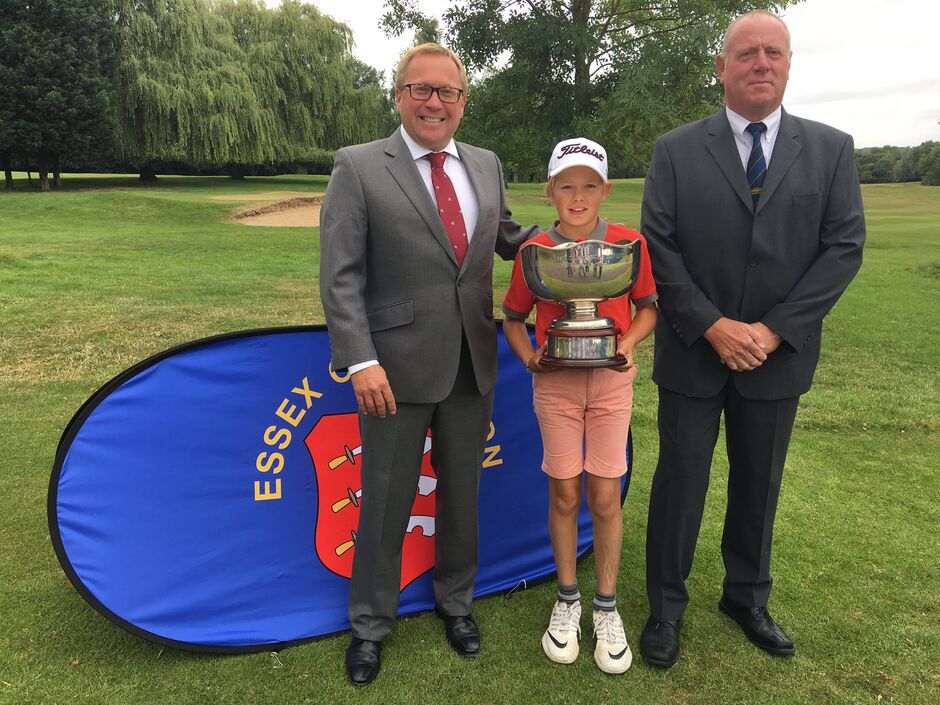 Jesper Laurence (Stock Brook Manor) & Harley Smith (Orsett)
with John Wall (Captain of Maylands Golf Club) & Colin Kirk (President Maylands Golf Club)
The U14 Championship is an 18 hole scratch medal play competition, played concurrently with the Fred Stillwell Trophy, which is a handicap medal play competition.
The Fred Stillwell Trophy was first presented in 1996 by Fred Stillwell, a past President of the County Golf Union. The Trophy for the U14 Championship was first presented in 2001 by Ted Gaffney, also one of our Past Presidents.
This year the U14 Boys Championship was won by Jesper Laurence (Stock Brook Manor) with a brilliant gross score of 73.
Runner up was Harvey Smith (Orsett) with gross 77 and Matthew O'Connor (North Weald) came third with 78.
Harvey Smith won the The Fred Stillwell Trophy with a nett score of 65. Runner up was Adam Crawley (Stock Brook Manor) with a nett 66 and in third place was Matthew Best (Chelmsford) with a net 67.
Emma Nagler (West Essex) who had a gross 93 won the prize for the best Girls Gross Score.
Well done to all the players, it was a great day's golf and everyone enjoyed themselves.
The President-Elect, Roger Walmsley and Mrs Phyllis Stillwell presented the prizes. Roger thanked Mrs Stillwell who had provided all the youngsters with drinks and biscuits and he thanked Maylands Golf Club for hosting the event.
​​​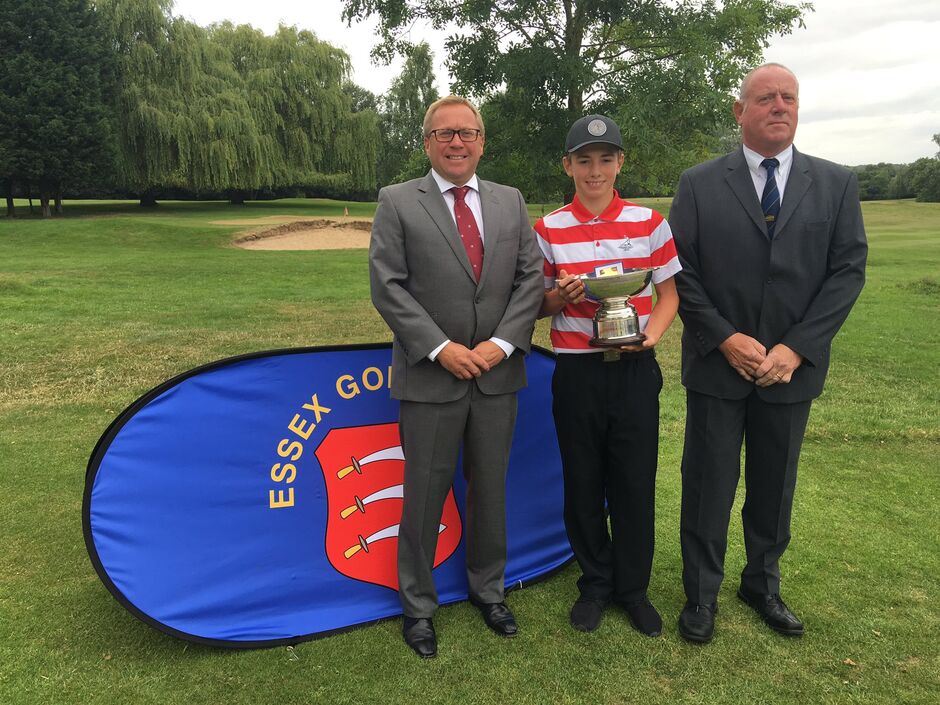 Winner U14 Championship 2016
Jesper Laurence
Stock Brook Manor

​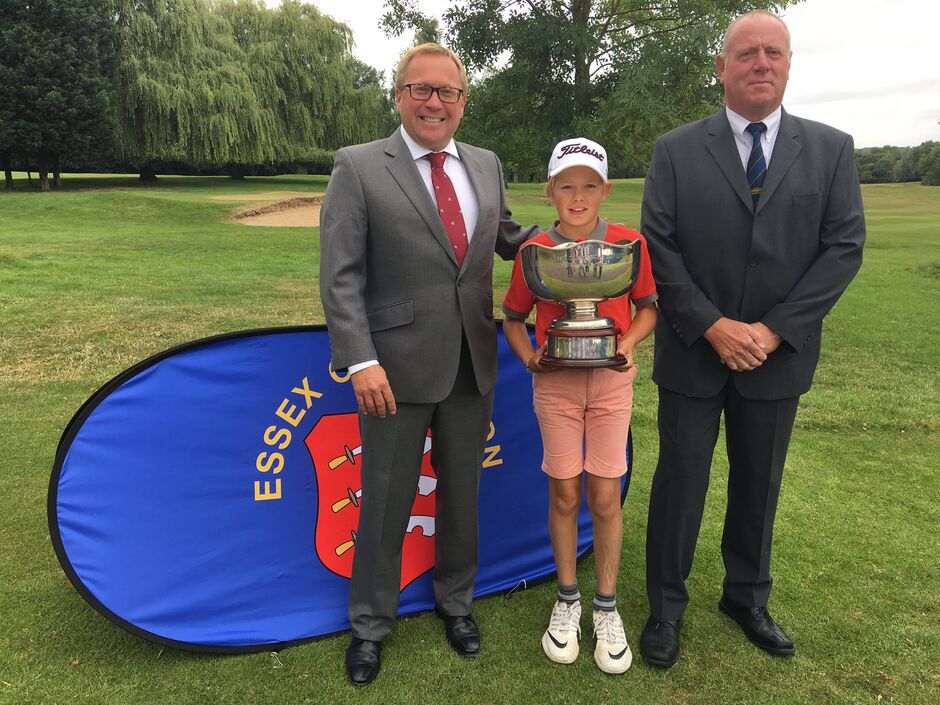 Winner Fred Stillwell Trophy
Harley Smith
Orsett

Results
U14 Championship
Fred Stillwell Trophy