BOYS UNDER 16 TEAM
Essex under 16's Bedfordshire under 16's
Annual Friendly Match
Played at Dunstable Downs Golf Club on 10th April 2017
This year's match was played at Dunstable Downs GC in Bedfordshire a new venue for all of our team and one that is infrequently used by our hosts.
As the title suggests the course rolls through the Bedfordshire Downs, making it susceptible to strong wind at high points. For the time of year the course was in generally good condition and provided a fair challenge in dry, gusty conditions.
The match was played over 5 x 10 holes foursomes (the course is unbalanced thus the 10th is a natural finishing hole) followed by 10 singles after quick light lunch.
Bedfordshire field fielded a side which contained six strong low handicappers and four players up to low double digits however all were very competitive.
The morning foursomes very much went the way of Essex and at lunch we enjoyed a healthy 3.5 to 1.5 lead.
At the request of our hosts the afternoon singles was played in handicap order the result being we lost three of the first four matches admittedly to some inspired putting on early season greens but still very much 'lessons learnt'.
The result however was never in doubt as there were strong performances at the top of the order from James Butler and Jake wells. As expected we took care of the lower order the stand out win being by Matt O'Connor (7&5) in our 5.5 to 4.5 winning total.
Final match score; Bedfordshire 6 – 9 Essex
Our thanks go to Dunstable Downs for hosting the match and the excellent Bedfordshire officials.
Lee Shaw
Team Manager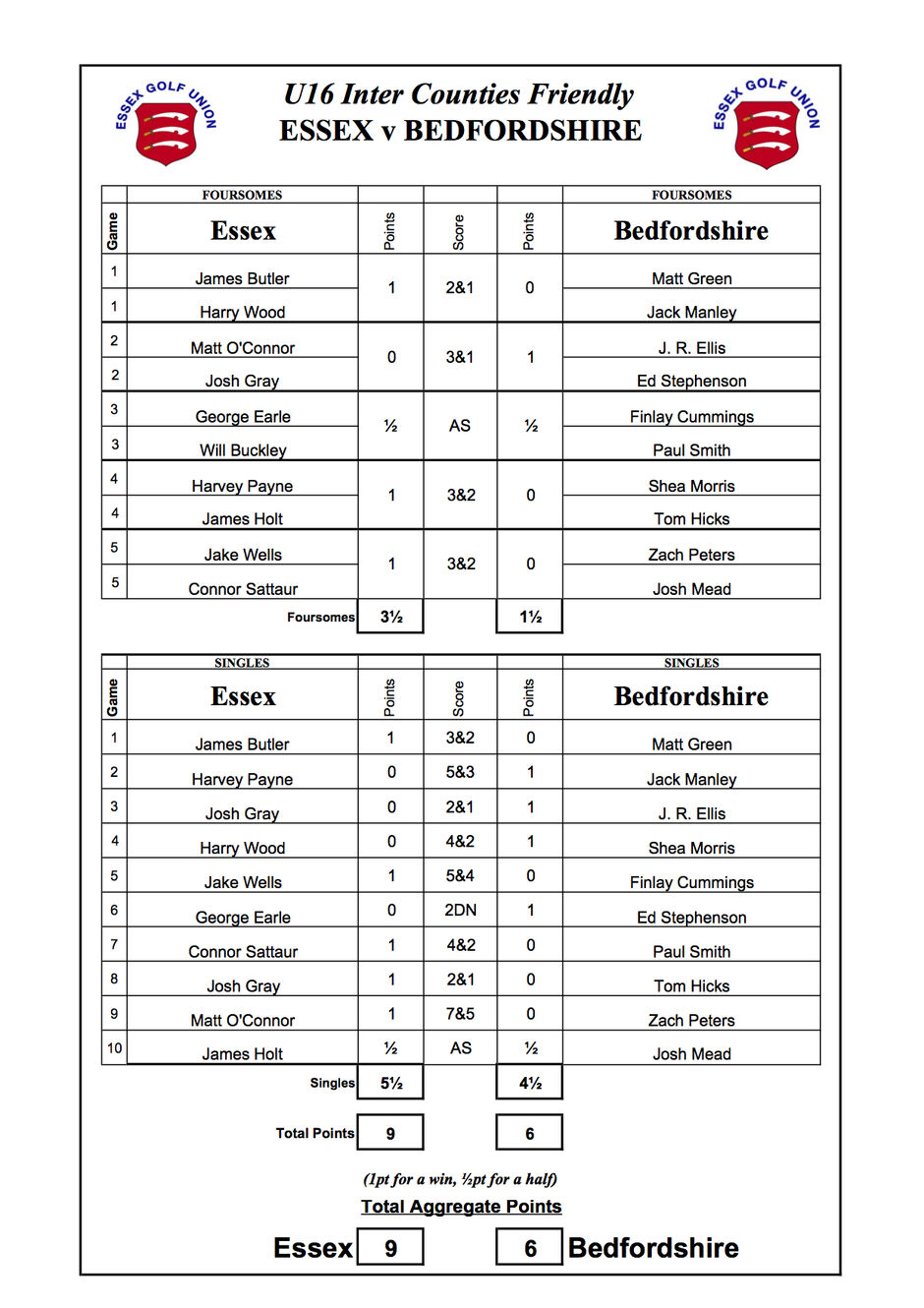 Essex v Norfolk v Suffolk
SEG U16 Counties League Match
Played at Barnham Broom Golf Club on 21st May 2017


The first of this years SEG U16 league matches between Essex, Norfolk and Suffolk was played over the Barnham Broom Valley Course in Norfolk on Sunday 21st May.
After a torturous journey of nearly three hours due to road works on the M11 and closures on the A12 we finally arrived with 20 minutes to spare before the first tee time of 2pm.
Conditions for golf were good it being pleasantly warm and dry with a light breeze.
The course was in lush early season condition with very penal rough, water in play on a number of holes and medium to slow paced greens which although having good surfaces were difficult to adjust too.
The format of the match was 8 x 18 holes three way singles matchplay i.e one player from each County in 3 balls, two results from each group.
Admittedly Essex were a little disadvantaged in the early matches our late arrival meaning our leading two players had very little preparation time.
All matches were extremely well contested with Suffolk proving tough opposition at the top of the order, however at the same time we were more than holding our own against Norfolk.
As the games progressed we pulled away from Norfolk our top order closed to small margins against Suffolk with victory being delivered by an emphatic performance from our bottom half which included double wins from Charlie Dodds and Kieren Gravely both debuting for the U16's.
Final match scores

Norfolk 1.5 - Essex 6.5

Essex 4.5 - Suffolk 3.5

Our thanks go to Barnham Broom for hosting the match plus the Norfolk and Suffolk officials.

Lee Shaw
Team Manager

​