UPMINSTER TROPHIES
Upminster Trophy & Bowl 2016
The 2016 Upminster Trophy competition took place on the 10th September at a damp Upminster Golf Club, the resident host venue for this event. The Trophy is presented for the best over 25's gross score, and the Bowl is presented for the best under 25's gross score. The course looked in excellent condition so the main challenge for the players was the cool temperature and frequent showers which blew across the course.
The players found the morning scoring a little difficult but Curtis Knipes (North Weald) and James Hedger (Braintree) returned level par 69's to set the early pace. This was later followed by Aaron Edwards-Hill (Chelmsford) who also managed a 69, to share the halfway lead, with a host of players 2 shots back on 71. This included the two main challengers for the 2016 Order of Merit title, Jay Beisser (The Rayleigh Club) and George Leversuch (Wanstead), and Colin Johnson (Hainault Forest) who was holding a three shot lead in the over 25's Trophy competition.
In the afternoon the breeze dropped a little and the subsequent scoring reflected the slightly better playing conditions. Of the early starters in the afternoon Curtis Knipes followed his excellent morning round with another 69 to set a challenging clubhouse total of 138. Connor Worsdall (The Essex) improved upon his morning 71 with a one over par 70 to be the nearest challenger to Curtis, with only a few groups left out on the course. In one of the final groups to finish Jay Beisser completed the best round of the day with a one under par 68, his two round total of 139 just falling short of the target set. Colin Johnson also completed a good day with a 72 in the afternoon to finish with a total of 143, the best of the over 25's.
So Curtis Knipes with the best two round total was the winner of the Upminster Bowl, followed by Jay Beisser and Connor Worsdall. The Upminster Trophy was won by Colin Johnson, followed by Mark Lazarus (Romford) and Jamie Richards (Abridge).
There were two prizes for the best overall nett scores, the winner being Curtis Knipes, with a nett 134. Five shots behind was Connor Worsdall with a nett 139.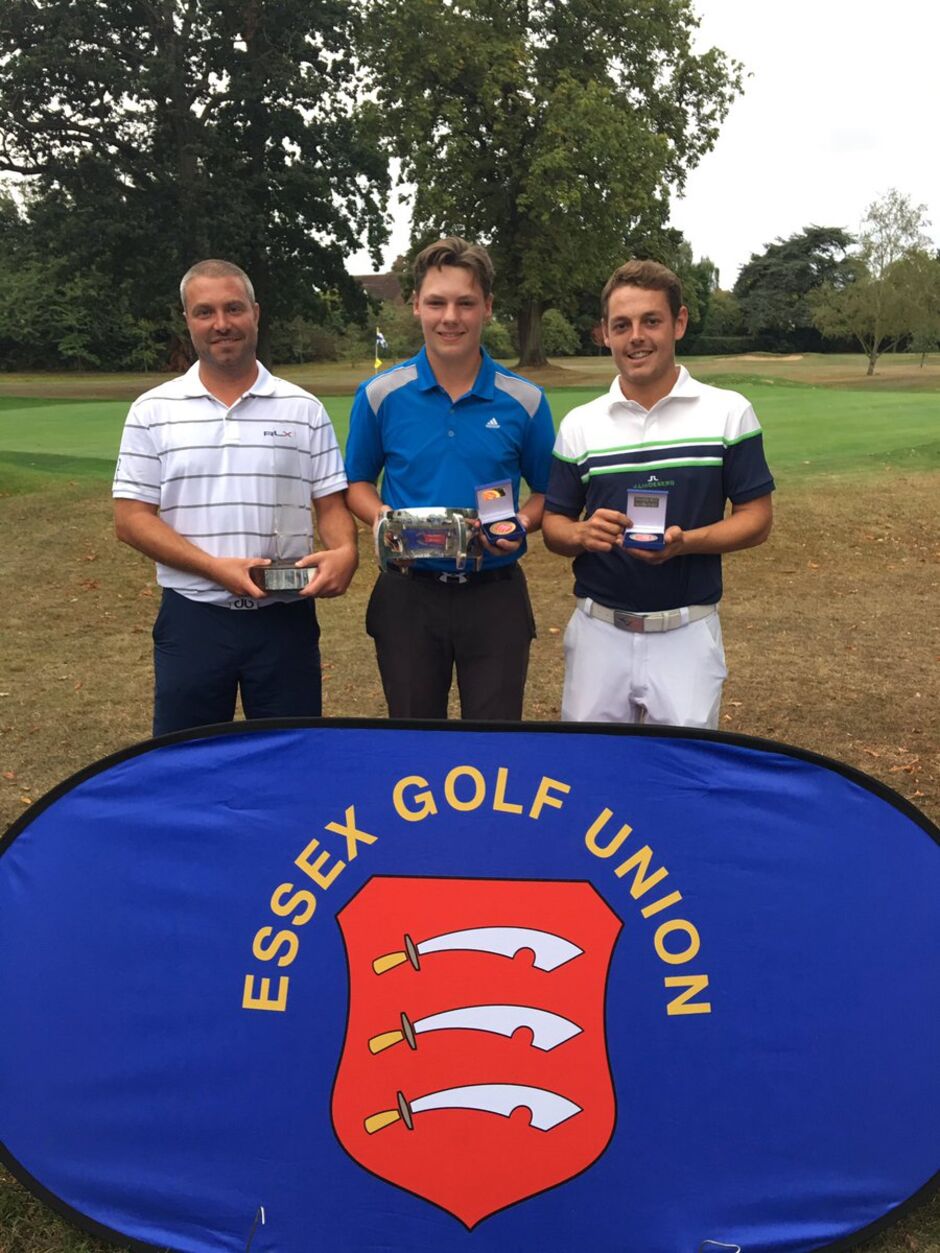 Colin Johnson (Hainault Forest), Curtis Knipes (North Weald), Jay Beisser (The Rayleigh Club)
Curtis Knipes
(North Weald)
Winner
Upminster Trophy
​
Colin Johnson
(Hainault Forest)
2017 Entry Form