ESSEX BOYS CHAMPIONSHIP
Wednesday 2nd August
Langdon Hills Golf Club
The 2017 Boys Championship was held at Langdon Hills Golf Club in windy & wet playing conditions, with the Boys under 16 and under 18 Championships at stake.
The morning round was very overcast and the wind continued to blow, making conditions tough. When the rain started to fall once everyone was out on the course, conditions meant that patience and experience would play a big part in this year's Championship.
The two names that some expected to do well, Arron Edwards-Hill from Chelmsford and Curtis Knipes from Abridge, fought well to return matching scores of 73 in the morning round, dropping just one shot over their first 18 holes. However, the two county players were not leading the field at the half way stage. A brilliant level par round of 72 by Teddy Papple from Stock Brook Manor was enough to take a one-shot lead going into the second and final round. This round of 72 (E) meant that Teddy will be entered in to The Telegraph / Vitality Junior Championship. We run this qualifier every year on the morning round of the Boys Championship. We wish Teddy the best of luck in qualifying to the finals.
The afternoon round was even tougher as the rain fell heavier and more consistently than the morning. There were a few competitors that felt the weather was a little too miserable, however most of the field continued to battle the elements. The scoring was equally as strong as the morning despite the difficult conditions. Samuel Kinnane from The Warren climbed the leaderboard following a score of 74 (+2). Harry Moncur from Abridge also made a charge also carding a 74, finishing on 150 (+6) for the day, finishing one ahead of Samuel Kinnane. This left a few players out on the course that could take the title. Teddy Papple could not match his morning form and slipped down the leaderboard with an afternoon round of 82, finishing tenth overall. We are sure Teddy will be competing for this event over the next few years as he has time on his side. Curtis Knipes managed to return with an identical score in the afternoon of 73 (+1) which meant a total for the day of 146 (+2). A great days work, only to be beaten by one shot by Arron Edwards-Hill who improved on his morning round by one with a level par 72. His total of 145 was not only a fantastic effort in horrible conditions, it was also sufficient to land Arron the title. A very well deserved victory after missing out in a playoff two years ago at Garon Park.
The Under 16 Championship which is also run on the same day saw Harvey Sullivan impressive total of 153 pick up the trophy. Congratulations to Harvey.
A special thank you to Langdon Hills Golf Club and their members for their hospitality.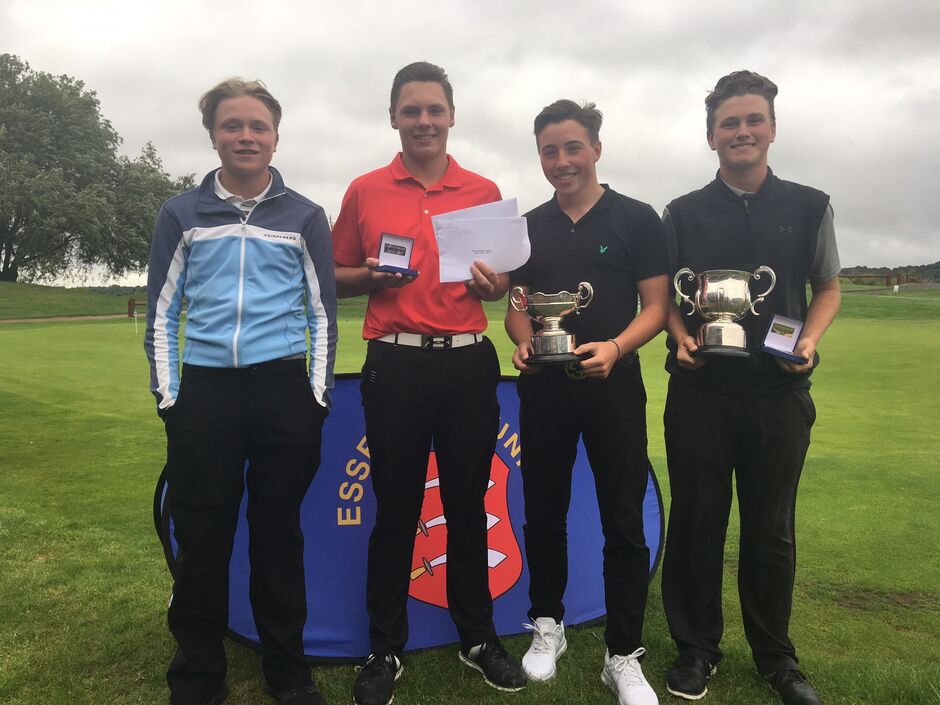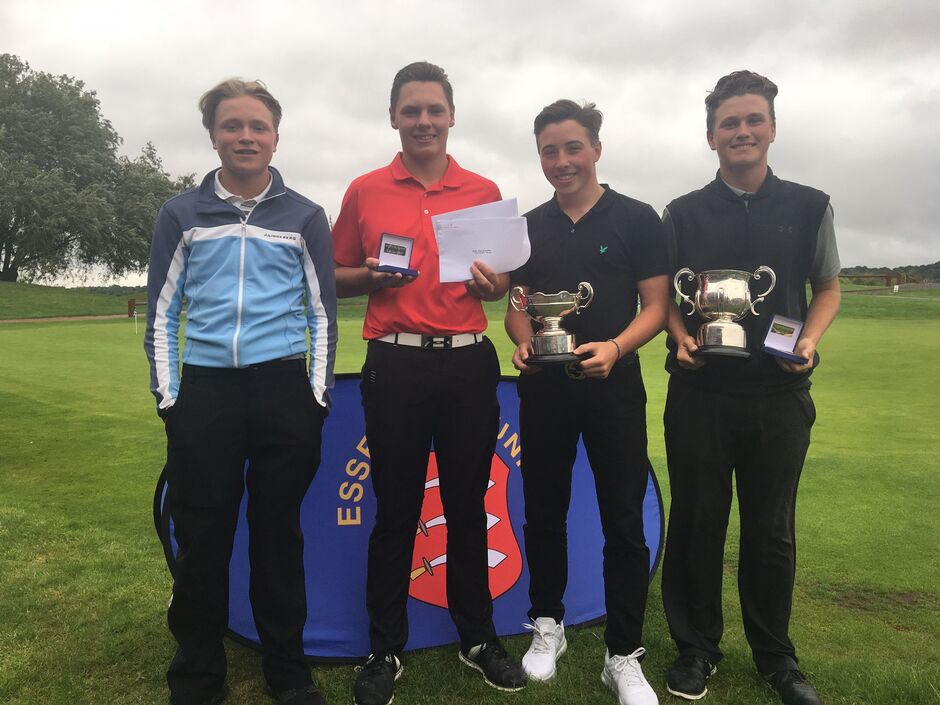 Arron Edwards-Hill
(Chelmsford)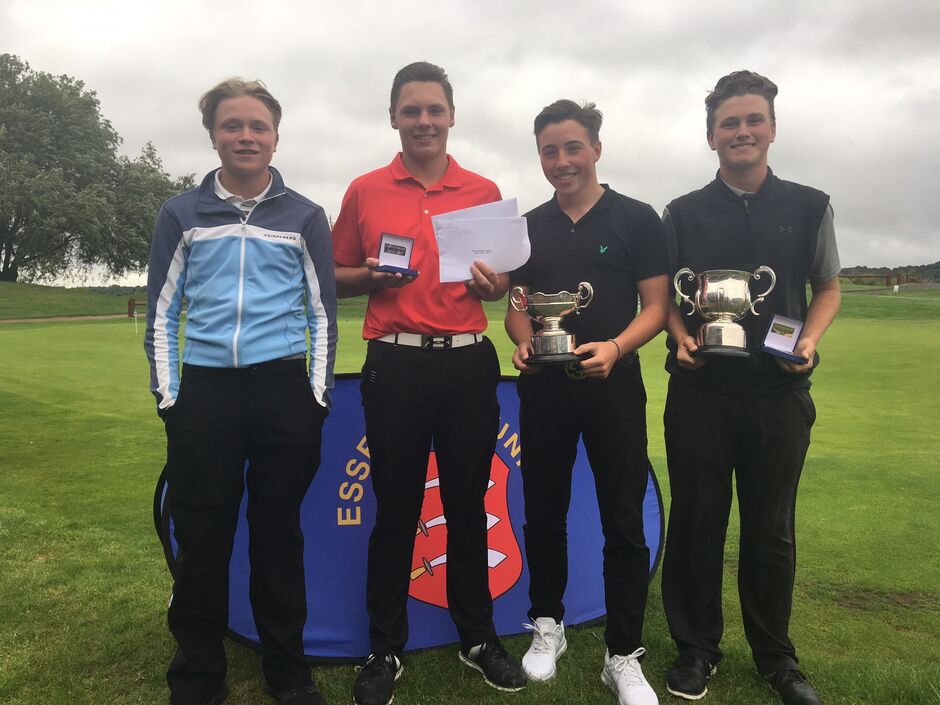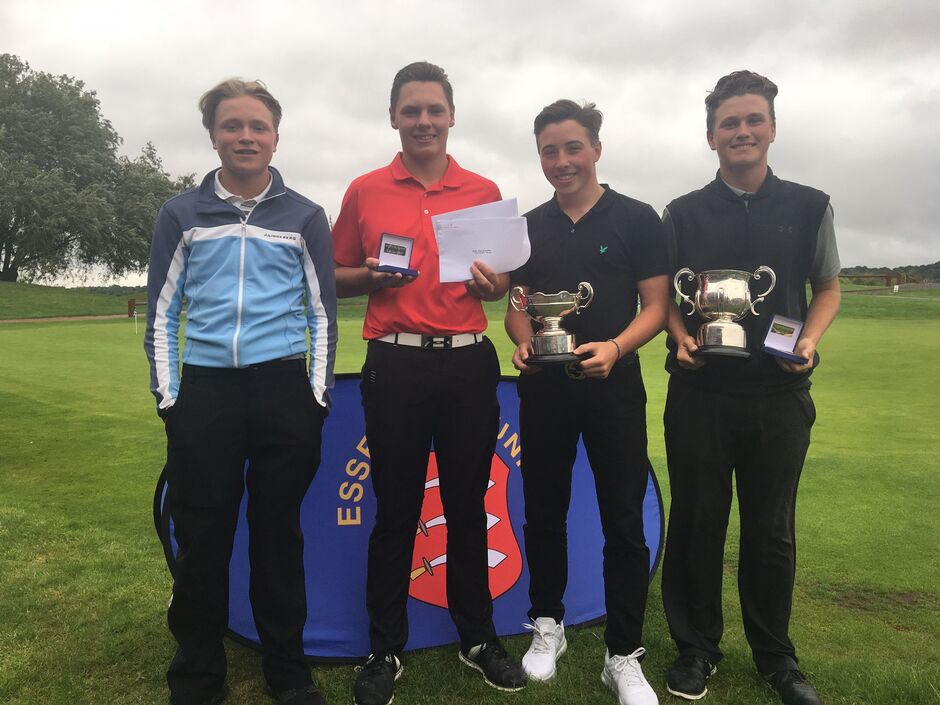 Winner 2017
(Far Right)
Boys Team Champions
Curtis Knipes & Harry Moncur
(Abridge)