SENIORS COUNTY TEAM​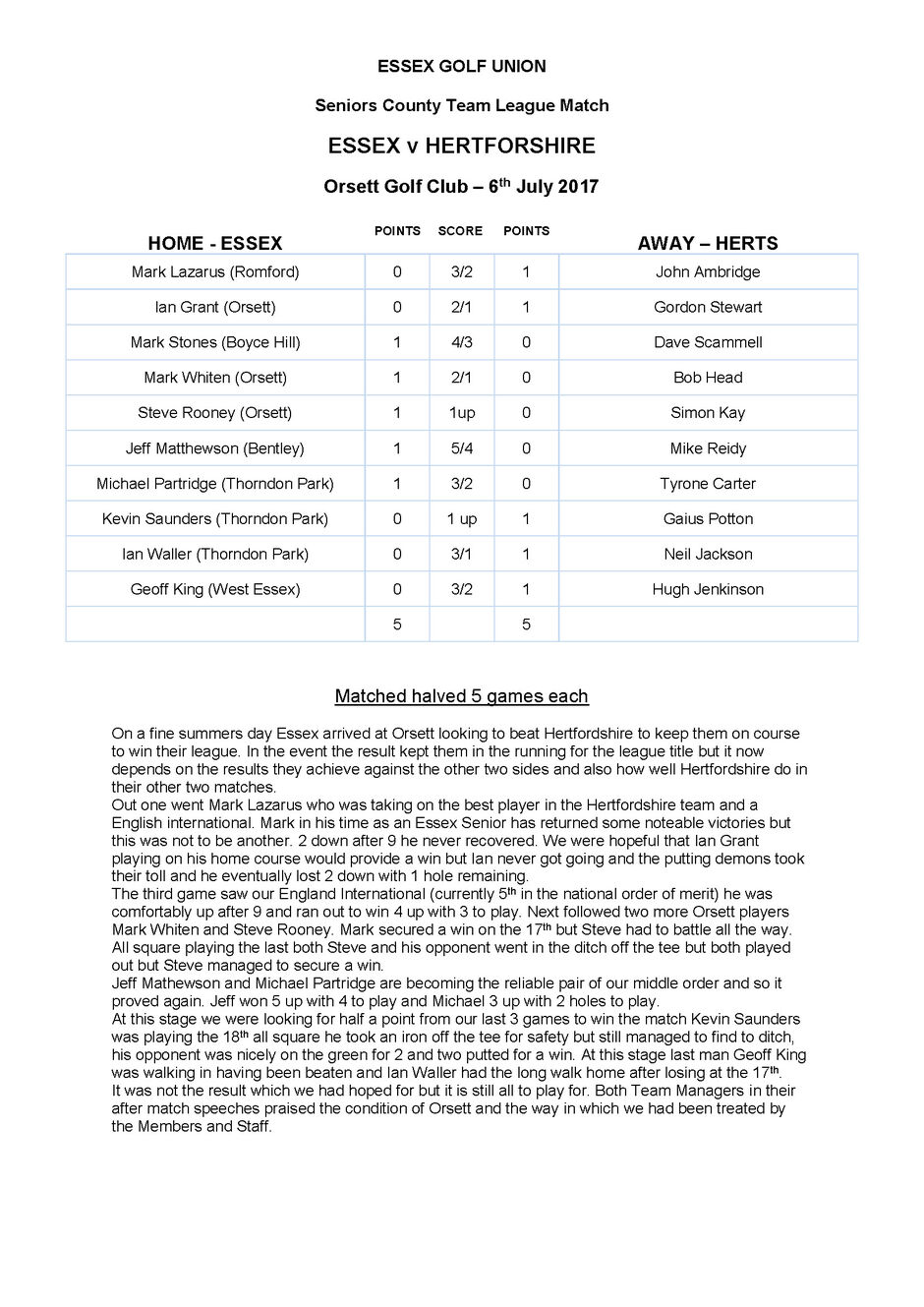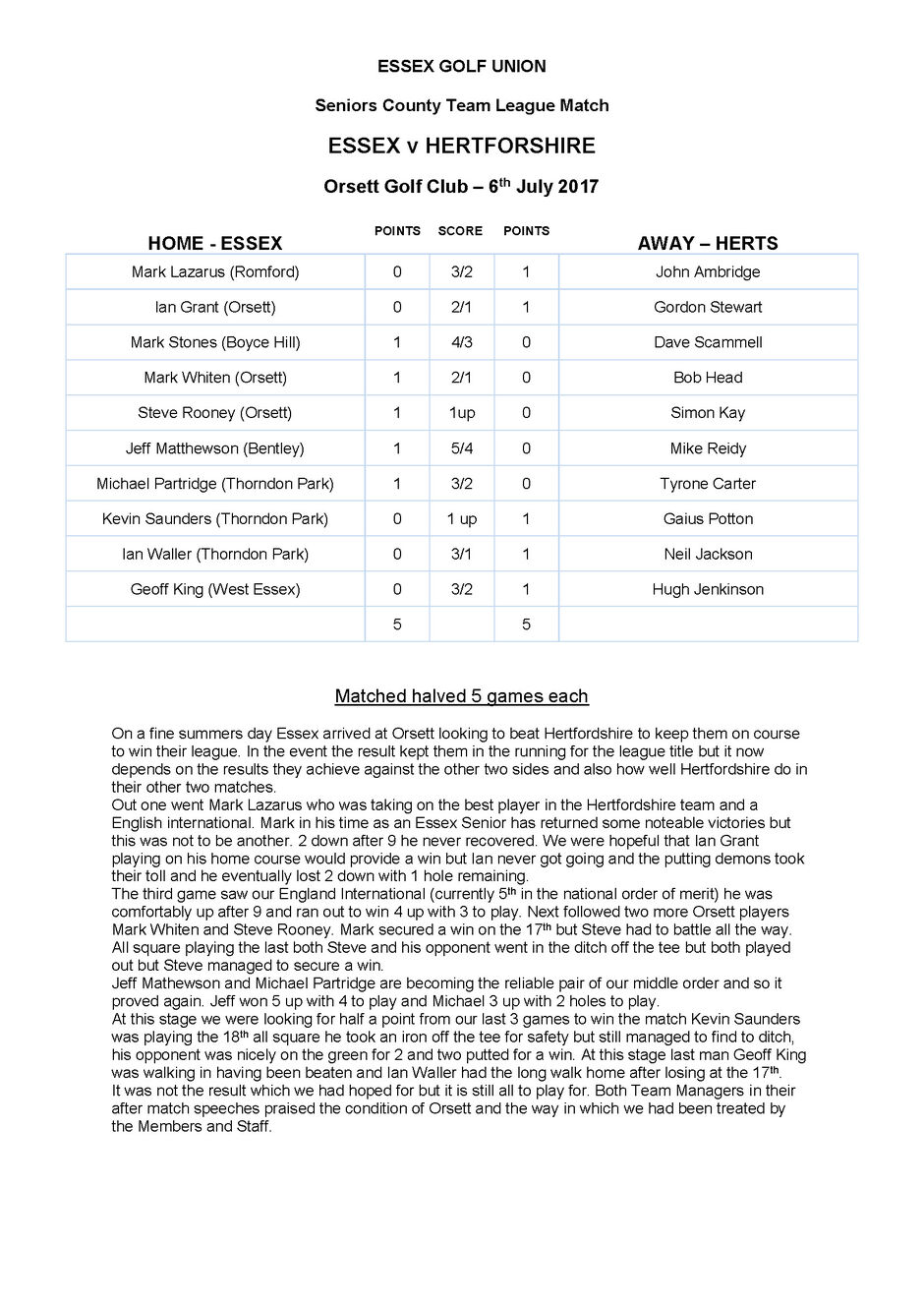 Seniors secure narrow victory in English Southern Counties Qualifier
Wednesday 2nd August
The county seniors were once again victorious in the qualifying stage of the English Southern Counties Qualifier with was held at Kings Hill Kent on Wednesday 2nd August..
Rain was forecast for the afternoon and so we hoped to make the most of the mornings round, but it was not to be, the morning proved difficult for the Essex men. The draw is arranged so that each of the teams play an equal number of games against each of the 3 other sides.
The morning draw had our top pair Boyces Hills, Mark Stones and Chris Aukett playing Hetfordshire, Steve Rooney and Mark Whiten from Orsett also drew a Hertfordshire pair, Chris Philips and Kevin Saunders from Thordon Park drew a Middlesex pair, Jeff Matthewson (Bentley)and Glynn William(Crondon Park) drew a Middlesex pair and the final pair of Michael Partridge (Thorndon Park) and Geoff King (West Essex) were playing a pair from Kent.
The first two pairs could only manage halves but this proved important as is meant that Hertfordshire only scored 2 halves and as they were likely to be our nearest rival this could prove invaluable.
Chris Philips and Kevin Saunders had a very close match where both pairs were virtually even par but they won on the 18th 2 up. The following pair Jeff Mattewson and Glynn Williams were well beaten 6/5 and the final pair Geoff King and Michael Partridge also lost 1 down on the final green.
With only 2 points from a possible 5 it seemed as if our chances of reaching another final were gone and to make it worse the rain had started to fall.
Before long Stones and Aukett were through 9 well ahead of their Middlesex rivals with Chris Aukett scoring a hole in one at the short 6th hole. They were shortly to return to the Clubhouse after a 6/5 win.
Rooney and Whiten then came through 9 also well ahead and when Philips and Saunders came through also well ahead it seemed as if a revival was on the way. Matthewson and Williams were also 3 up at 9 and King and Partridge were also 4 up at 9.
So it was into the buggy to chase them down Steve Rooney and Mark Whiten beat their Middlesex pair but they took them all the way to the 17th hole.
Chris Philips and Kevin Saunders managed to win against Kent on the 16th which was a favourite hole since Jeff Matthewson and Glynn Williams also beat Kent there. It was then over to Geoff King and Michael Partridge who were playing a Hertfordshire pair and they were holding a 3 up lead and they won the 16th to make it 4 up with 2 to play and complete a noteable 5 wins out of 5 games in the afternoon.
7 wins out of 10 possible was good enough to secure victory and a trip to Denham for the final in September.
Mike Spall, Essex Seniors
SOUTH EAST GROUP SENIORS LEAGUE – NORTH
MIDDLESEX v ESSEX
Played at Hendon Golf Club – 7th August 2017
The County Senior side arrived at Hendon Golf Club knowing that this was an important must win game and also by the biggest possible margin. This was because the results of our previous games, meant the league title would probably depend on our scores in individual matches.
Essex fielded a strong side, Steve Rooney led the team out and was soon well up against his opponent, winning by an impressive 6 and 5.
The other matches were not so easy and with Mark Whiten and Kevin Saunders drawn against Hendon members, both were eventually beaten 3 and 2.
At this stage we were 2 games to 1 down but felt confident that we would secure the win but we never envisaged it would prove as comfortable as the result suggests.
Jeff Matthewson, Chris Philips and Ian Waller turned the match in our favour, but the remaining games were much closer. Mark Lazarus had been 3 up with 3 to play but lost the 16th and 17th before nervously going down 18 securing a half to win his game 1 up. Michael Partridge had his nose in front from early on and he maintained this lead to win 2 and 1.
Glynn Williams on the other hand was 2 down but fought back over the closing holes to win on the final green. The final match on the course involved Geoff King who we had expected would finish early as he was 6 up at the turn. When he came to the 15th green he was only 3 up and proceeded to lose the 16th and 17th before salvaging a half on the 18th to win 1 up.
The Team now go to Apsley Guise on the 23rd August to play Bedfordshire and once again need to win and ideally win big to be sure of the League Title.