Men's County Team
ESSEX vs HERTFORDSHIRE
Romford Golf Club, Sunday 18th June 2023
The County team took on Hertfordshire on 18th June for our second league match of the season at Romford Golf Club.
The foursomes went well for Essex with pairs 1 & 2 Shaun Mills & Ross Dee and Ben Humphrey & Ryan Cox always holding the upper hand.
Pair 3 Kishen Velani & Andy May were involved in a much tighter struggle with the match swinging both ways before Kishen and Andy secured the point on the last hole. The Tobin boys went four down early and although they fought back bravely to only 1 down, they eventually succumbed 2 & 1.
The afternoon weather forecast was promising lightning and heavy rain so after making the necessary arrangements we set off in 4 balls to get the players on the course as early as possible in an attempt to beat the rain.
Shaun Mills started with an eagle 2 on the 1st and then drove the 2nd green as well. Shaun remained on top throughout the game and ran out a worthy winner 3 & 2.
Ben Humphrey was on top throughout the game and was in dormy 3 up before Connor birdied the last 3 holes to snatch half a point. Josh Tobin fought hard but went down 4 & 2 after a very strong spell from his opponent from the 13th onwards.
The game between Ryan Cox and Jamie Plews swung both ways with Ryan taking the point with a birdie on the last.
Kishen and Tony Wilkins had played in the morning when Essex took the points, but this Tony got his revenge to take the point 2 up. Ross Dee played sublimely to record a 5 & 4 victory which secured the match victory with Ben Tobin and Andy May wrapping up the match with hard fought wins.
The captains of both teams expressed their thanks to Romford Golf Club for a course in excellent condition, the friendly welcome and excellent catering.
A good all round performance by the team puts us back in the running for the league after the disappointment of our loss to Middlesex. Our next game sees us Visiting Bedford and County golf Club on 13th August for an away fixture against Bedford.
Final Score Essex 8.5 Hertfordshire 3.5
England Golf South East Group League Final
Played at Letchworth GC, Sunday 1st October 2022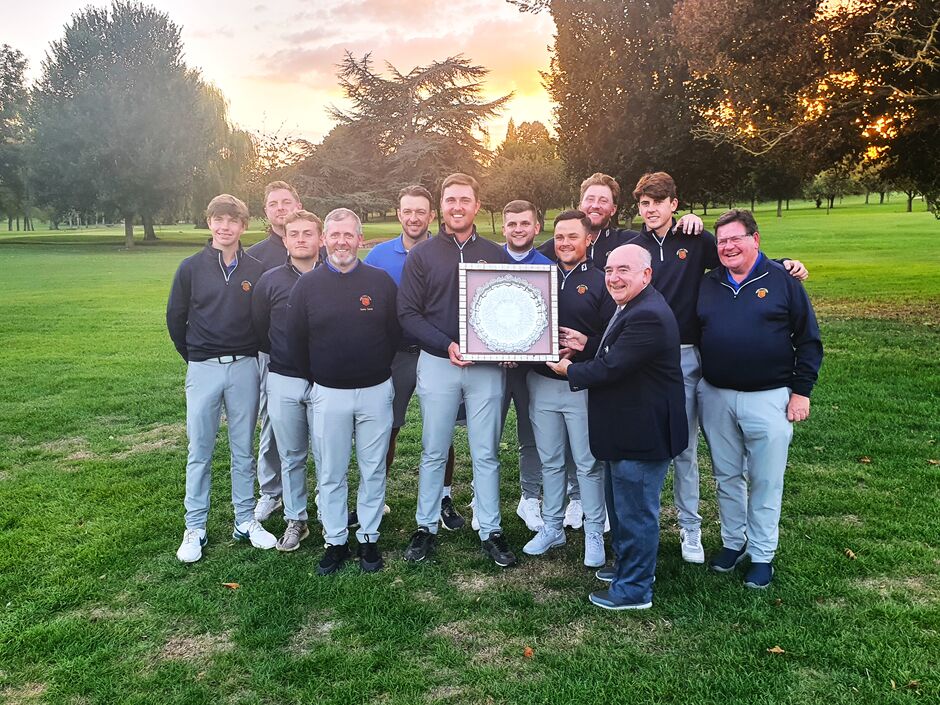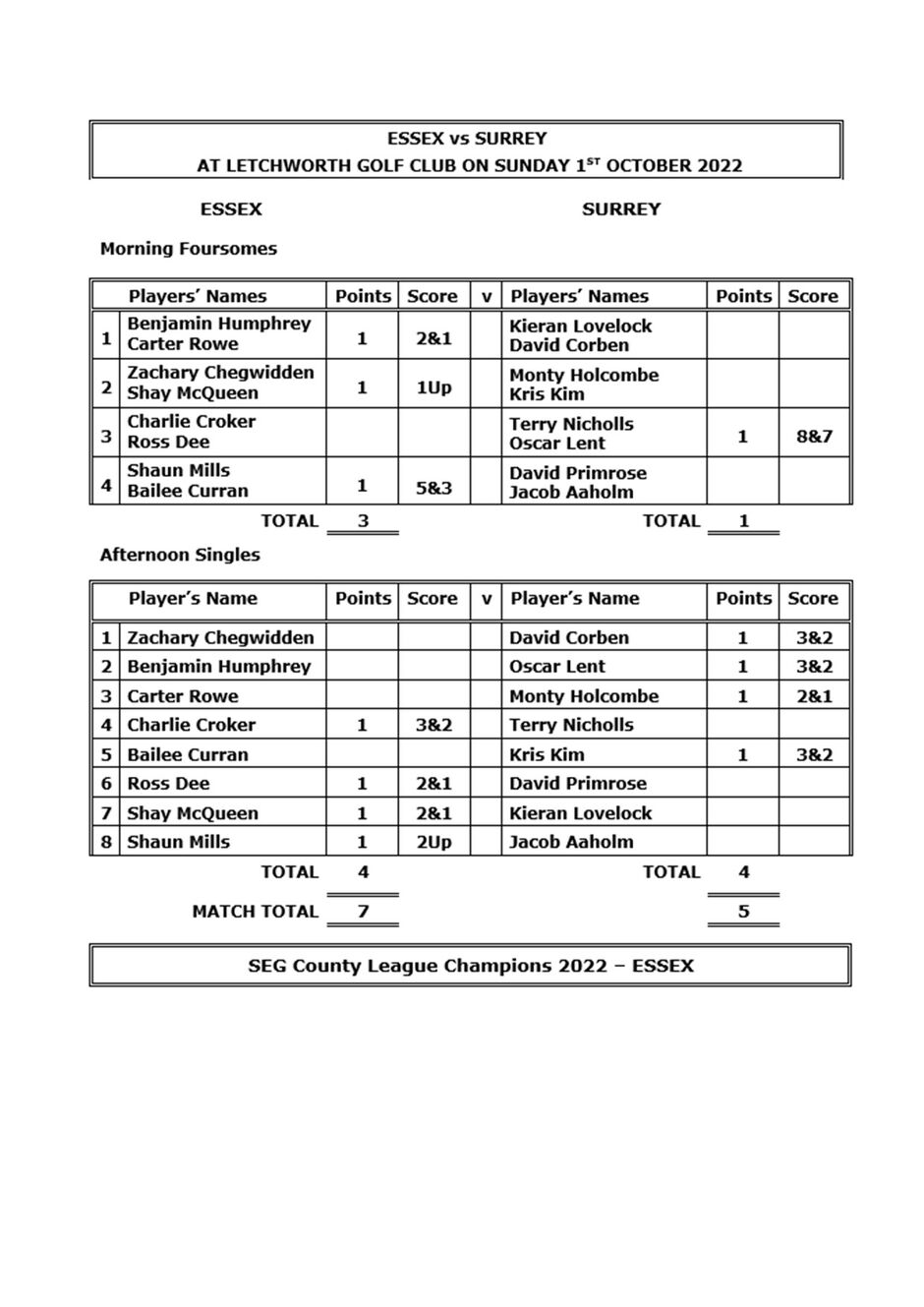 *****************************************************************************************
Hertfordshire V County Squad
Sunday 8th May 2022
Letchworth Golf Club
First league match of the season saw the Essex squad head to Letchworth to play Hertfordshire. Normal proceedings kicking off with the foursomes, Andy May & Bailee Curran led the way against Connor O'Brian & Sam Caney, putting their first point on the board for Essex with a 2-1 victory. Second group off saw our England international Zac Chegwidden playing alongside his Orsett teammate Cassidy Steffans, sadly losing a closely fought match against a strong Hertfordshire pairing Joss Gosling & Max Hopkins. Match number 3 Carter Rowe & Ben Humphries bought home a comfortable win 4-2. Match 4 Shaun Mills & Ross Dee was close all the way and thought it might go Essex's way with a touch of magic from Shaun on the 16th as he chipped in from an almost impossible position, with a little bit of bad luck on the 18th hole meant they managed a half against Reis Suart & George Ackerman.
This gave Essex a 2 ½ to 1 ½ lead going into lunch.
The afternoon singles saw Zac lead off in true captain form playing a strong player in Max Hopkins, Zac managed to triumph on the 18th hole after watching Max chip in to save par which meant Zac was left with an 8-foot put to half the hole and secure the point. Second match Bailee took on Reis Suart with a successful win 3-2. Third match Cassidy played Connor O'Brien which in the beginning looked like it was going to be a comfortable win but, a strong fight back from Connor saw this match go all the way to the 18th where Cassidy held his nerve and sealed the win. Fourth match, Carter played Sam Caney coming out with a 2-1 win. Match five, Ross playing against Joss Gosling again a very close match which again was decided on the 18th with Ross sitting on the putting surface 20ft away from the hole for birdie and his opponent was off the side of the green with an awkward stance chips in for a birdie, which meant Ross had his 20ft put just shaving the edge and loosing the hole, the outcome ended in a half. Match six, Shaun once again going down eighteen resulting in a half. Match seven Ben, this was a tight match through the front nine, but his opponent George Ackerman started to pull away on the back nine saw Essex lose this match 4-3. Last but not least Andy played Phil Dormer, players traded blows most of the way then Phil found another gear finishing eagle birdie to beat Andy 3-2.
This gave Essex a 5-3 win in the singles with a 7 ½ to 4 ½ overall win.
I would like to thank Jim and his Hertfordshire team for their great sportsmanship, the games were played in great spirits. Thank you also to Letchworth Golf Club for hosting the match and their hospitality.
Congratulations to the Essex lads, this was a fantastic victory to start the season.
For Full Match Details Click Here
Ricky Lee
County Team Manager
David Hall Trophy
County Squad V Cambridgeshire
Sunday 20th March 2022
Essex started the season with the annual David Hall Memorial Trophy against Cambridgeshire at Chelmsford Golf Course, this is the first time since 2019 this fixture has taken place due to obvious circumstances.
This trophy originated as a warm up match between both counties, introduced by David Hall and Neil Hughes, following the sad passing of David the match took place in honour of David with a trophy to commemorate him. We were very pleased to welcome David's wife Marion and three of her sons to the day. Thank you to Marion for presenting the trophy and continued support.
We were fortunate enough to have a sunny day, the course was very well presented for the time of year and can't thank Chelmsford Golf Club enough for their hospitality.
The match kicked off with usual proceedings of the foursomes, the Orsett pairing of Bailee Curran and Cassidy Steffens, narrowly loosing 1 down to a very strong pairing in Ed Dimambro and George Howard. The second match, Ben Humphrey and Ryan Cox was a close contest with Essex sealing a 1 up win on the last hole, the following match of Carter Rowe and William Horne ended in a friendly ½. The remaining three pairings, Joe Tatam and Shay McQueen, Andy May and Sam Green, Ben Tobin and Ross Dee wining their matches comfortably. This gave Essex a 4 ½ - 1 ½ lead going into the afternoon singles.
In the afternoon singles Essex got off to a quick start with wins from the first 3 matches,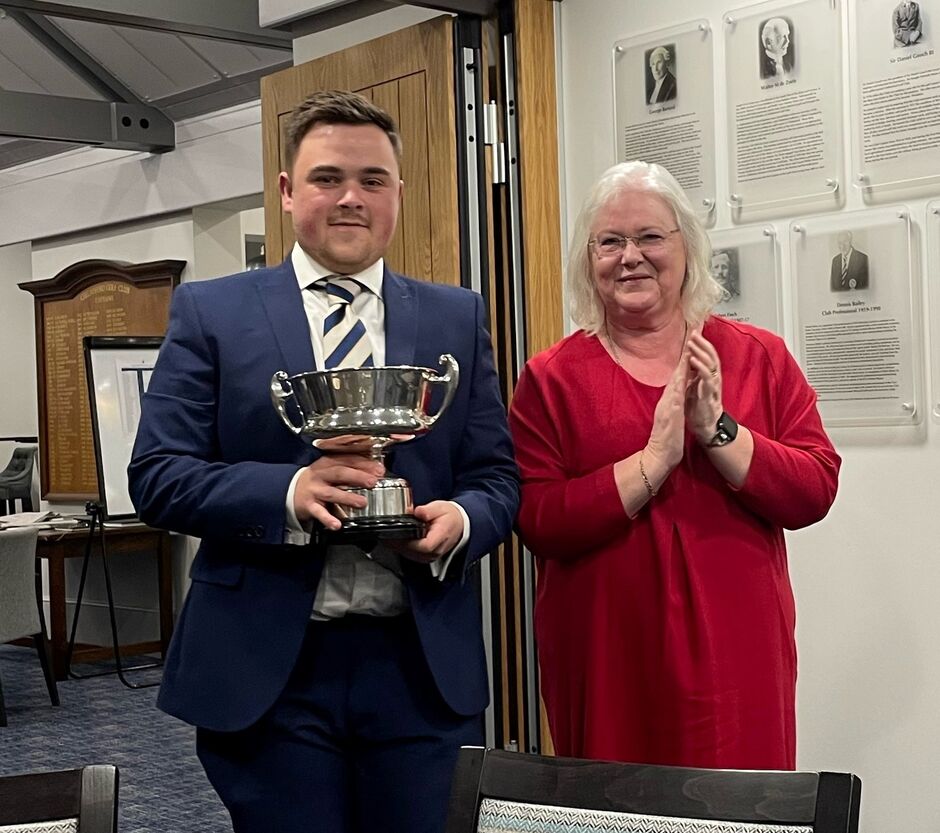 Bailee Curran bt Ed Dimambro 2 up, Ryan Cox bt George Howard 5/4 and Cassidy Steffens bt Luke Ryan 2/1. The fourth and fifth matches were a well earnt ½ point from the vice-captain Ben Humphrey Vs Jake Plumb and Joe Tatam Vs James Mcloughin. The next four matches were split 2-2, Shay McQueen with a win against Josh Austin-Tierney, William Horne also getting a win against Oliver Toyer, Carter Rowe Vs Andy Grimwood and Sam Green Vs Theo Morris, the youngest team member, unfortunately losing their matches, sadly Andy May also lost his match against Danny Loveday. The last two matches saw the old guards of the team in Ross Dee and Ben Tobin both with convincing wins against Lewis Martin and Jack Roe.
All the matches were played in great spirits and an all-round great day which saw Essex taking a victory with a final score of 12 ½ - 5 ½.
Ricky Lee
County Team Manager
England Golf - South Eastern Group
Essex v Hertfordshire
Sunday 12 September
Romford Golf Club
Our final League match of the season at Romford Golf Club was against Hertfordshire. With maximum points from our matches so far, Essex required a draw to secure the Northern Section title and proceed to the England Golf South East Region Final against Surrey. A win would be enough for Hertfordshire to go through, so all to play for!
Making their debuts for the County side were England youngsters Will Horne and Harley Smith with current Keating and Order of Merit winner, Bailee Curran. Two other England players; Zach Chegwidden and Walker cup player Jack Dyer, completed a formidable line-up.
Leading off in the first of 8 singles games, home club debutant Bailee was up against Herts regular Joss Gosling. He was 2 up at the turn and closed his game out with a solid 4&2 win.
In games 2 and 3 both Joe and Ben made rapid starts and by the 9th were both 5up and cruising. However, whilst Ben made had a convincing 6&5 win, it was a different matter for Joe who was up against another Herts regular in Phil Dormer who levelled the game at the 16th. With momentum all with Phil, credit must be given to Joe who made a great sand save on the 17th to wrest back the initiative and go 1 up. With shared birdies at 18 a fantastic game narrowly favoured Essex
With 3 games secured, one more was needed to earn a place in the final. In game 4 Mr 'Essex' Andy May suffered at the hands of putting machine Connor O'Brien giving Herts their first point with a 3&2 win.
The long awaited debut from young England star Harley Smith came in Game 5. The debutant was given the run around by George Ackerman before managing to squeeze a birdie down the last hole for a narrow one up win. With Will Horne suffering a 4&2 defeat and Zach and Jack both securing comfortable wins the final score a 6-2 pts win for Essex.
This now sets up The South East Group Final Essex v Surrey to be played on October 3rd at The Army Club.
Our sincere thanks go to Romford GC for allowing us to the use of their excellently presented course along with hospitality and catering to match.
Phil Hulse
County Team Manager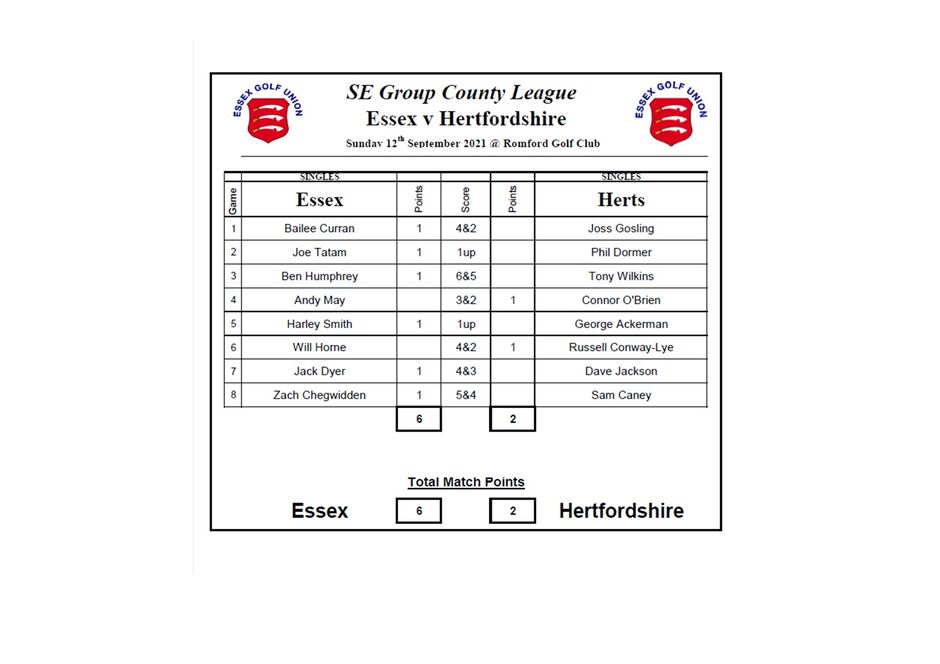 Eastern Counties County Squad
Saturday 18th May 2019
Eastern Counties Foursomes
The Essex County team once again travelled to Seacroft Golf Club, Skegness for the annual Eastern Inter Counties Foursomes Championship. This a competition comprising the best golfers from 9 counties all playing each other over 2 days on the superb Seacroft Links. With back to back victories in 2017 and 18, Essex were looking to complete the hat trick this year.
Four sessions of golf starting on the Saturday morning with Essex facing a tough start against Northamptonshire and highly fancied Leicestershire/Rutland. With 5 out of the 10 games going to the last hole this was indeed a tight, hard fought session, with Essex getting a 2.5 all draw with Northants and a narrow 3/2 defeat to L&R. A 4.5 points total and whilst not the ideal start, not disastrous either.
The afternoon saw Essex drawn against Suffolk and Bedfordshire. With Suffolk a tough nut to crack, a 2.5 point draw was a reasonable result and combined with a 4/1 win over Beds this gave us a 6.5 point haul for the session which was the joint top score and a first day total of 11.5 points leaving us just 2 behind overnight leaders Lincolnshire and BB&O.
Sunday morning was on paper the weakest opposition in Norfolk and Cambridgeshire with anticipation high that the deficit could be reduced and we could be in contention for the afternoon session. How wrong this turned out to be! With Norfolk winning all their games and Cambs winning 3/2, Essex had only 2 points from a possible 10 and were languishing in 7th place some 6 points behind joint leaders Lincolnshire and Norfolk.
With potentially 2 of the top teams (BB&O and leaders Lincolnshire) against us in the final session, the Essex players were determined to make amends from the morning. With a 4/1 win over Lincs and 3.5/1.5 win over BB&O, some pride was restored with a 7.5 point haul. This lifted us up to 5th place overall.
With Leicester/Rutland gaining 8 points in the final session, this gave them a 2.5 point victory over second place Lincolnshire.
Frilford Heath Golf Club
Sunday 26th May
County V BBO League Match
The Essex County team travelled to Frilford Heath Golf Club for the second league match of the season expecting a tough encounter against highly rated BB&O.
With a formidable BB&O lineup including four plus 3 players and plus 4 David Langley (combined team handicap of plus 20 ! ) this was indeed a tough ask for Essex even with players like Arron Edwards-Hill and Curtis Knipes in the side. Despite the 3.5/1.5 Essex victory over BB&O a week earlier at Seacroft Golf Club in the Eastern Counties Foursomes, BB&O played to form on Sunday morning wrapping up a comprehensive 4 nil foursomes tally and leaving a mountain to climb in the afternoon singles for Essex.
The afternoon saw the Essex men determined to salvage something from the match and came out of the blocks firing. First out, Brandon Meads against John Gough (4th place finisher in last week's Europro tournament at Brocket Hall). With 4 birdies and an eagle in the first 6 holes, Brandon was 5 under the course and 5 up on John which was sending out a clear message to all the following games. After 7 holes with Essex ahead in the first 6 games and narrowly behind in the last 2, there was room for optimism that we could repeat the efforts of 2 years ago in this fixture when Essex came back from a 2 point deficit to snatch a draw.
This optimism was short lived however as BB&O showed what a talented bunch they are by giving a masterclass of putting on Frilford's excellent greens that was nothing short of Ryder Cup standard. Whilst Brandon clinched his point against John Gough who himself was well under par at the end, match 2 saw Ollie Huggins go from 1 down with 4 to play against Curtis Knipes, winning the next 3 holes rolling in some amazing putts for a 2&1 victory. Next, Arron suffering even worse torment from David Langley with a 5&4 defeat. Michael Gilbert next to suffer the BBO putting machine with his opponent holing out from off the green at the last to snatch victory. With Callum Pipe giving Aaron Ashberry some of their own medicine in a 5&4 win, scores for the afternoon were level at 3 all. Penultimate match saw Skipper Andy May lose to Tom Lawson despite himself being 4 under par at the end. The final kick was felt by Ben Humphrey again at the last with his opponent slotting in a near 25ft putt for a 1 up victory.
Singles score 5/3 to BB&O with an overall Match result of 9/3
An amazing display of golf from both teams with the class of the BB&O lads just too much for Essex, especially on the greens. One of those days a pleasure to watch and full credit to the Essex lads.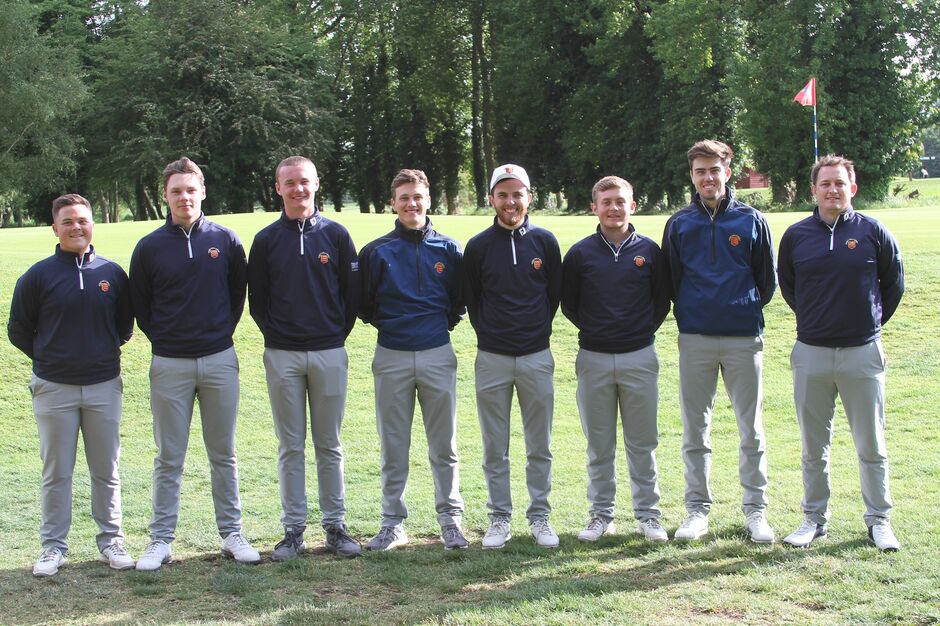 Winning the league now an uphill struggle hoping that either Bedfordshire or Herts can halt the BB&O party.
L to R: Ben Humprey, Curtis Knipes, Michael Glibert, Arron Edwards-Hill, Brandon Meads, Callum Pipe, Andy May (County Captain)
Phil Hulse, County Team Manager
County V Bedfordshire
Chelmsford GC
Sunday 12th May
The first England Golf South East Group league match of the season took place at Home course Chelmsford on Sunday12th May against the cream of Bedfordshire in our quest for a hat-trick of North section league titles.
On a lovely clear sunny morning with the Chelmsford course looking its usual immaculate self, the 4 foursomes matches set off. First out was Brandon Meads partnering Josh Read from The Rayleigh Club who was making his league debut fresh from his triumph in the recent Keating Trophy. In opposition, Beds skipper Norman Cilliers alongside Seb Lovell. A very close match as expected with no more than 1 hole in it all the way. With the away side 1 up playing 17 and Brandon and Josh staring defeat in the face, the Beds par put for half, horseshoeing the hole and staying up. All square at the last and with both tee shots making the green, Beds to go first with Norm putting to holeside for a gimme par leaving Brandon 12ft or so for birdie. With the ball somehow summoning the momentum to crawl in at the last roll, and a collapsing Beds skipper in disbelief, the game won and an unlikely point on the board for the home side.
Revenge, as they say, is sweet, however. with game 3 of Ross Dee and Jamie Richards 1 up playing 17 the Beds pair chipping in for Birdie - all square playing 18 and with Beds just off the putting surface from the tee, Ross leaving Jamie a tough bunker shot from a plugged ball which he then put to 15 or so feet. Beds chipping on very close for a gimme par leaving Ross a tough par put to half the game which just ran by. Honours then, even and with each of the 2 remaining matches being shared (wins for Essex pair Ricky Lee and Andy May and Beds pair Hawksby and Manley) the lunchtime score an entertaining 2 all.
The afternoon singles kicked off with early wins for Bedfordshire. Seb Lovell against Josh Read and Norman Cilliers beating Jamie Richards with Brandon getting the better of Scott Armitage. Beds then, leading 4/3 overall and Essex in danger.
The strength in depth of the Essex team however came through in the end with all of the remaining 5 games going our way. Afternoon result 6/2 to Essex and an overall match score of 8/4 in our favour. A much tighter match than the score suggests and all credit to a very good Bedfordshire side.
Thanks given by both County Captains Andy May and Norman Cilliers to our hosts Chelmsford and their members For allowing us the use of the course, it's excellent condition and their hospitality.
Next up is the defence of our Eastern Counties Foursomes Title (and hat-trick of wins) at Seacroft Golf Club, Skegness next weekend with the next league fixture away at Frilford Heath against BB&O the weekend after.
County V Essex Professionals
Tuesday 11th April
Frinton GC
The annual match between the Essex Professionals and amateurs took place at a cold and windy Frinton Golf Club on Thursday 11th April. This fixture has been running since 1950 and is eagerly anticipated by both sides each year. The amateurs keen to show their talents, and The Pro's giving freely of their time to encourage the county amateurs as they themselves were back in their amateur days. Both sides therefore fielding very strong teams with the likes of Tour players Robert Coles and Lloyd Kennedy on display.
The morning foursomes were edged by the professiobnals 3 matches to 2 with as expected some superb quality golf on display.
After lunch the singles matches got underway with the am's determined to get back on terms. No better demonstrated than Callum Pipe with 3 birdies and an eagle in the first 4 holes! 5 under par and an early 4 up lead against the unfortuate Pro captain Roger Gray. Callum going on to a resounding 8&6 win.
With Joe Tatam winning 2 up and Jamie Richards 3&2, these would be the ony games not to finish in the 18th hole. Game 1 with Lloys Kennedy needing birdie on the par 5 18th to edge out Brandon Meads. Robert Coles taking out County Captain Andy May all winning on the last.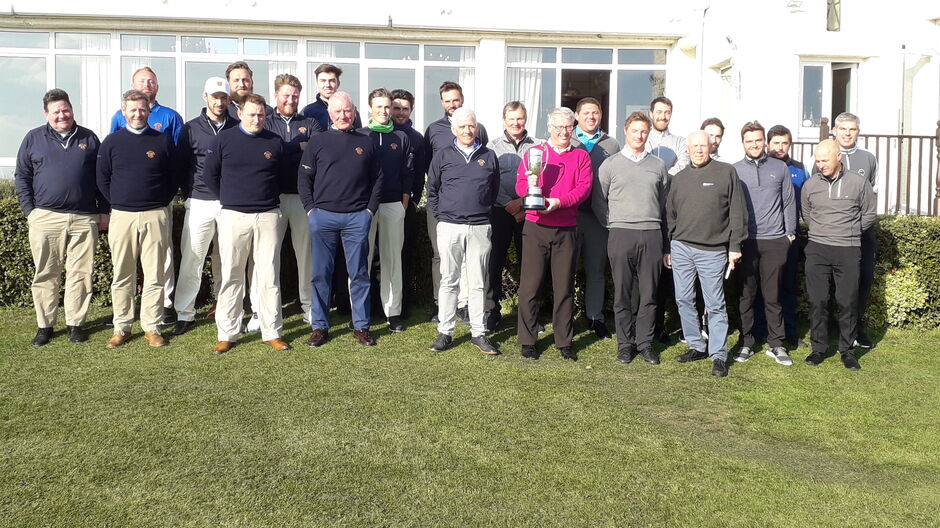 James Gurry won 3&1 against Ben Tobin. Three points all then and with 4 matches all halved on the last, the singles ending in a 5 all draw.
This left the Pro's with the narrowest of victories by an overall 8/7 score. Fantastic tenacity and golfing talent by both sides.
With Frinton Professional and Golf Manager Peter Taggart presenting the trophy to winning captain Roger Gray it was left to Andy May and Roger Gray to both thank and congratulate Frinton Golf Club and it's members for again providing a course in super condition with hospitality to match.
Phil Hulse
County Team Manger
ESSEX COUNTY TEAM v CAMBRIDGESHIRE
SAFFRON WALDEN GOLF CLUB
The David Hall Trophy
Sunday 24th March 2019
A clear but cold Sunday morning saw the first match of the season for the Essex County Team. The annual match against Cambridgeshire for the David Hall Trophy took place at Saffron Walden Golf Club. With 4 of last years championship winning side having left to join the professional ranks (Todd Clements, Taylor Carter, Ali Plumb and Will Percival) some new and not so new faces were on display.
The morning foursomes kicked off with County Captain Andy May and his Vice Captain Ricky Lee taking on top Cambridge pair of Ed Dimambro and Craig Thorburn. Thanks to some superb work from Andy's putter, Essex pipped their opponents on the 17th green by a 3&1 margin after some spectacular golf.
Match 2 paired Jamie Richards with long time Essex player and indeed past County Captain Ross Dee.
A power display from these two saw another Essex point with a 5&3 win. The 3rd Match and despite an injured ankle Brandon Meads stepped up to partner Joe Tatam after the late withdrawal of Ben Tobin. Showing some excellent shot making from both players, the Essex pair added a 3rd point to our tally, finishing with an outrageous swinging birdie putt on the last green to close out a 2 hole victory. Beware the injured golfer. Game 4 and double County Champion Curtis Knipes along with stalwart Callum Pipe adding a 4th point after an impressive 4&3 victory. Making their County Team debuts at number 5 were Oscar Yeomans and Cassidy Steffens, who didn't disappoint with a 3&1 victory over Paul Hodgkin and Louis Martin. Our last pair of Ben Humphries and Shay McQueen were the only ones to succumb to the opposition with a 6&5 defeat. Score at lunch, a satisfying 5 to 1 lead.
The Essex dominance followed in the afternoon singles with 7 wins, 2 halves and only 3 losses, giving a final match score of 13 to 5 in favour of Essex. Special mention to new caps Oscar (1.5 points) and Cassidy (2 points) on a solid start to their County Career. Captain Andy May thanked host club Saffron Walden for their excellent hospitality and for the excellent course conditions. Also to the Cambridge officials for their organisation of the event.
Special thanks to Marian Hall and sons for their attendance and support and for presentation of the David Hall Trophy to winning Captain Andy May.
Phil Hulse
County Team Manager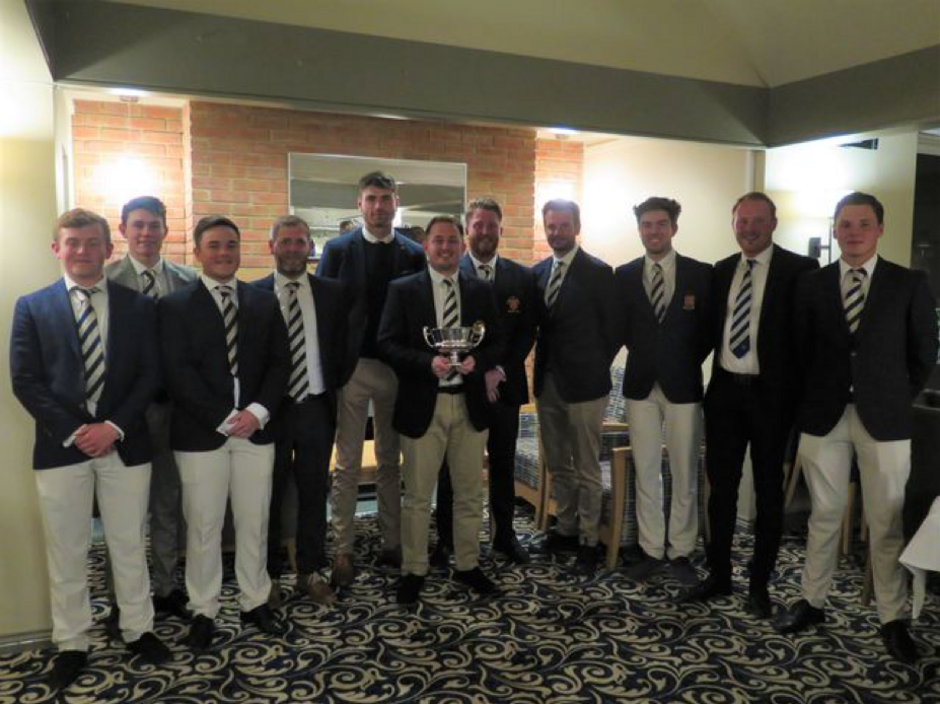 L to R Shay McQueen(Chelmsford), Cassidy Steffens (Orsett), Ben Humphrey (Chelmsford),
Ricky Lee (Boyce Hill), Oscar Yeomans (Chelmsford), Andy May (Boyce Hill), Ross Dee (Stockbrook Manor),
Jamie Richards (Abridge), Callum Pipe (Braintree), Joe Tatam (Brentwood), Curts Knipes (Chelmsford)
Men's County Team 2018
Essex V Hampshire
7th October Frilford Heath (Red Course)
Final of the SE Group League
After winning the Northern Section of the South East Group League with a 100% record, the Essex County Team arrived at Frilford Heath Golf Club on a clear, cold Sunday October morning, to take on the South section winners and last year's English County Champions Hampshire in the final match to decide the overall South East Champions and winners of the Daily Telegraph Salver.
With last year's narrow defeat to Surrey in this fixture still burning strong, the Essex lads were in no mood to allow a repeat. Hampshire, however would be a very tough nut to crack and a close match was envisaged. Just how close would unfold in a day of high drama.
As winners of the Eastern Counties Foursomes for the last 2 years, Essex were in confident mood for the morning matches and sure enough all the early exchanges were in our favour. At the turn we were ahead in 3 games with just Callum and Jordan being one adrift. This they managed to turn around and by the 18th were lying dormy 1 up. Callum's tee shot on the 300 yard par 4 saw his 3 wood pin high just off the green making his opponent have no option but to have a crack with driver which he pulled out of bounds left. Game 2 saw Will and Ricky up against Hampshire top pairing Martin Young and Tom Robson. After being 1 up at the turn, the Hants pair won 3 of the next 4 holes with some sparkling golf leaving them 2 up standing on the 14th tee and in confident mood. Ricky and Will had other ideas and won the next 2 holes to square the game. A half was a fitting outcome in a superb game of foursomes and this was to prove crucial in the following struggle.
With Curtis & Arron and Taylor & Ali having relatively comfortable wins in their games, lunch was taken with Essex having a commanding 3.5 to 0.5 lead.
With temperatures warming and Frilford looking a picture, the afternoon singles got underway. It was clear that Hampshire were not for giving up easily as Hants number 1 Tom Robson started with 2 birdies and an eagle in the first four holes to hold a 2 up lead. This standard carried on and Tom ran out a 4&3 winner. In match 2 Will had a 1 hole lead at the turn against last year's Hants Captain Martin Young but after losing 4 holes on the spin the second point was on the board for Hampshire.
In the other games things were also not going the way of Essex. Apart from Callum and Essex Champion Curtis, who held comfortable leads after 10 holes and Ricky who was all square, all the other matches were with the opposition and tension was mounting.
Sure enough Curtis and Callum secured their respective wins leaving Essex needing one more point to win the Title. With Ricky standing on the 18th tee one up, the final point was in our grasp, but lady luck decided to intervene. With Ricky's iron safely down the middle it was clear that his opponent needed something special so he pulled out the driver. As in match 1 in the morning this was carved left into the car park with a provisional ball taken and the match looking the bag for Essex.
With an ominous looking dent in the roof of a Porsche it was clear the ball had gone OB. After a search however the Hants ball was found some 50 yds over the green next to the practise putting green. After intervention by the England Rules Official, the ball was deemed in bounds by a couple of inches. All this time Ricky had been patiently waiting by his ball expecting the game to be conceded only to now face a 70 yds shot to the green. This he duly did leaving a near 20 ft putt for birdie. The Hants player, young Alex Talbot followed suit. Ricky to go first leaves his putt some 5 ft short and with Alex 2 putting for a very unlikely par this left Ricky with his short putt to win the Title. Horseshoes are supposed to be lucky but with the green surrounded with spectators this one proved to be with Hampshire as the ball somehow stayed out. A half to both players and score 6/5 to Essex with only Taylor Carter left out on the course. Encouragingly for Essex he was one up with 2 to play.
The 17th hole showed just what a talented side Hampshire are, with Sam Parsons making Birdie on 17 the match was all square playing the last. Both made the green in regulation and with Sam making a comfortable par, Taylor was left with a putt virtually identical to Ricky's to seal his match and win the trophy. The green was surrounded and a pin could be heard to drop as Taylor's Putt rolled into the cup for the half point taking Essex to the Title. What a match!
County Captain Andy May thanked Frilford Heath Golf Club for their excellent hospitality and course preparation, also to the England South East Group Officials for their excellent organisation.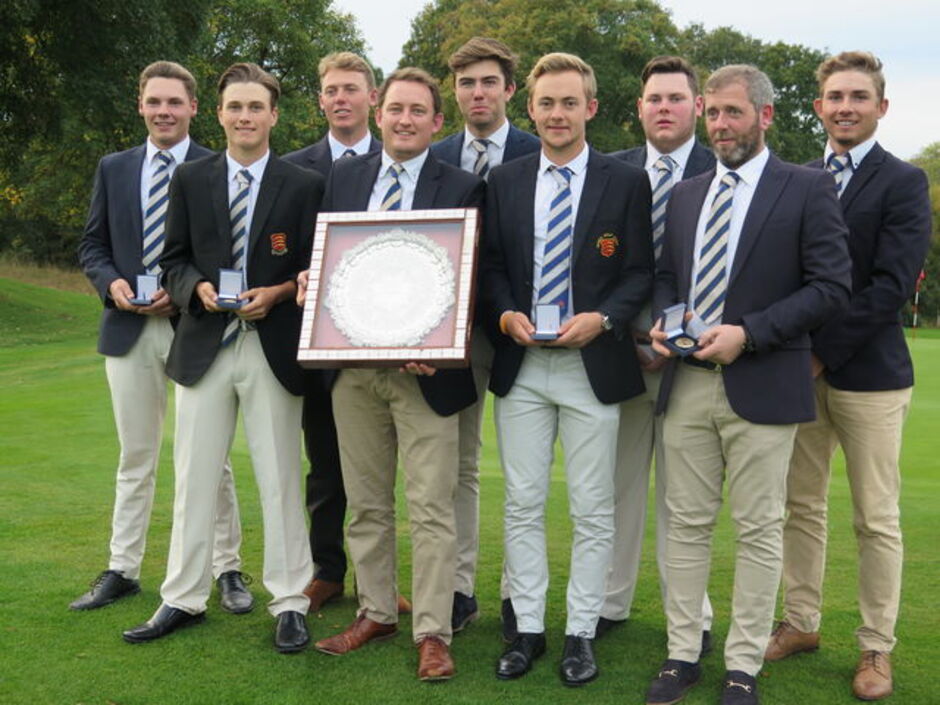 Team: (Left to Right) Curtis Knipes (Abridge), Arron Edwards-Hill (Chelmsford), Jordan Slater (Colchester), Andy May (County Captain-Boyce Hill), Callum Pipe (Braintree), Taylor Carter (Rayleigh), Will Percival (Orsett), Ricky Lee (Boyce Hill), Ali Plumb (Chelmsford)
Click on this image below to be directed to the Diary Page report.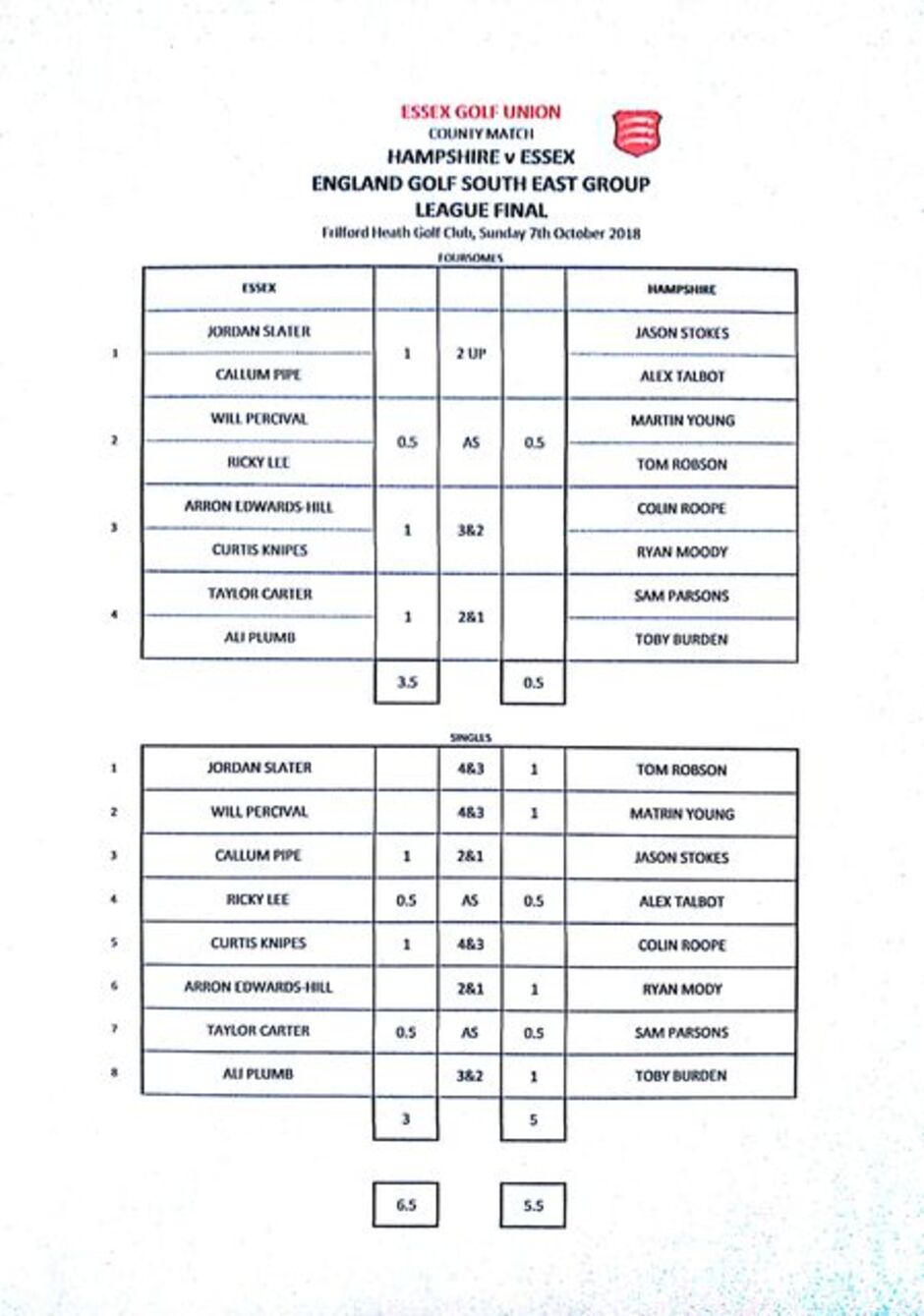 Phil Hulse, County Team Manager


Essex V Bedfordshire 2nd September
Millbrook Golf Club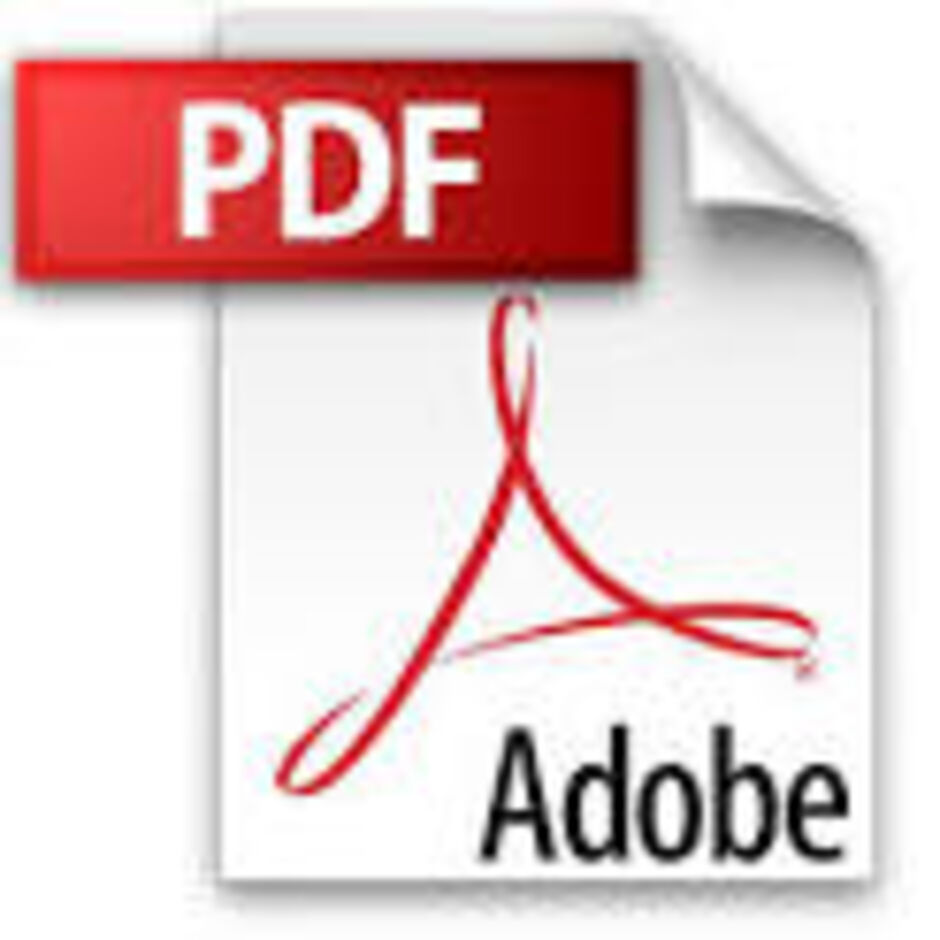 Results
Report to Follow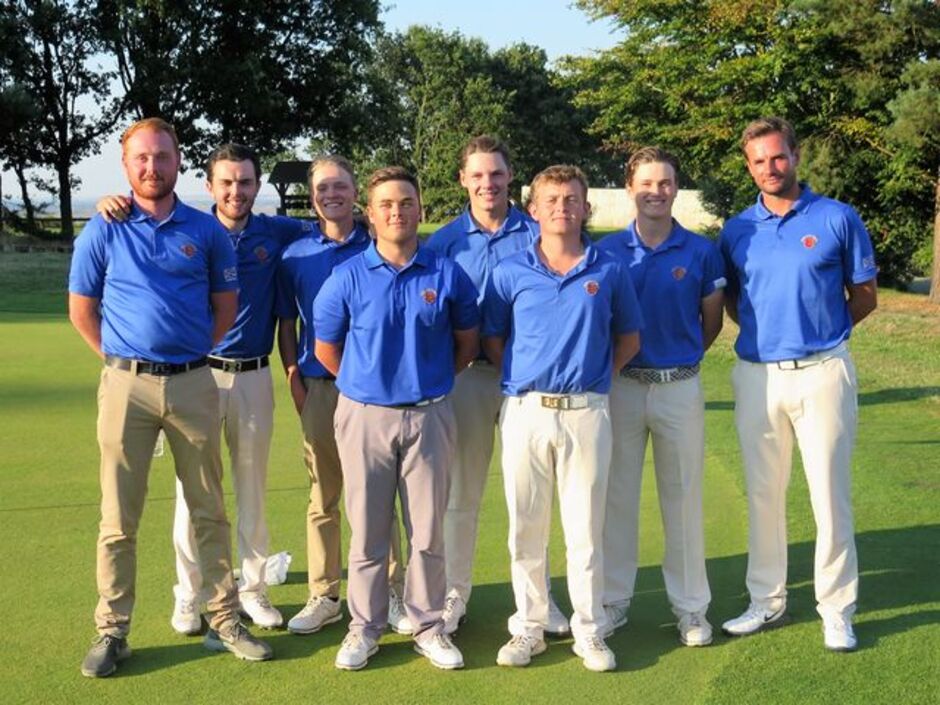 Essex V Hertfordshire 1st July
Chelmsford GC
Sunday 1st July saw round 3 of our league program in the England Golf South Eastern Group. This took place at our home venue of Chelmsford Golf Club on a beautiful sunny day. Our opponents were a strong Hertfordshire outfit, who like us, had won both their opening fixtures and were lying in second place behind us by the slenderest of margins. After our victory over them at Hadley Wood last year no doubt revenge was on their mind so we anticipated a tough match in prospect. This match looked a probable title winner for the victors so no complacency could creep in.
The Essex side boasted 4 home picks for Chelmsford in Michael Gilbert, Arron Edwards-Hill, Ali Plumb and Brandon Meads. With Michael off to college in the USA, this would be his final appearance for Essex this year. Along with Arron they teed up first against Herts pair Ben Harman and James Surridge. A close match for the front 9 with the home lads reaching the turn just one up, however with wins on 13,14 & 15 they closed out the game by 4&3, an impressive start. More was to follow with the games of county Captain Andy May and Ricky Lee winning 4&3 then Will Percival and Brandon Meads matching that against the very strong pair of Luke Colgate and Jack Slater. 3 points out of 3 and in the final game with Ali Plumb and Callum Pipe dormy 2 up, a foursomes whitewash was on the cards. However, showing true fighting spirit the Herts pair made birdie on both the final holes to snatch a well deserved half.
3.5 to .5 up at lunch.
Michael was first off in the singles against the putting machine of Laurie Owen and earned a solid 2&1 win leaving only 2 more points required to win the whole match. Herts weren't finished however with Luke Colgate beating Will Percival in game 2, Jack Slater beating Andy May in game 3 and Ricky beaten in game 4 the tide was turning. Deficit reduced with match score standing at 4.5/3.5 all was still in the balance and with Herts veteran James Surridge 3 up with 4 to play in the next game against Callum Pipe it was looking very tight indeed. Callum then shows his mettle winning the 15th and 16th, then an outrageous par from an impossible looking position on 17 to square the match. A half on 18 and game finish all square. So from looking like scores level, Essex clung to a one point lead.Fortunately the last 3 players for Essex of Ali, Arron and Brandon all showed their home course knowledge by each winning their games. Singles score 4.5 to 3.5 for Essex with an overall match score of 8/4 in favour of the Home side.
This win cements our place atop the League virtually assuring our place in the final against the winners of the South section league at Frilford Heath in early October
Our thanks to host club Chelmsford for an immaculately prepared course and first class hospitality.
Next up is the English Golf Mens County Qualifying (6 Man) at Orsett Golf Club on Saturday 14th July
Team lineup:
Aron Edwards-Hill, Brandon Meads, Ali Plumb, Michael Gilbert (Chelmsford). Ricky Lee, County Captain Andy May (Boyce Hill), Will Percival (Orsett) and Callum Pipe (Braintree)
Phil Hulse County Team manager
---
Middlesex v Essex
Northwood Golf Club, Sunday 27th May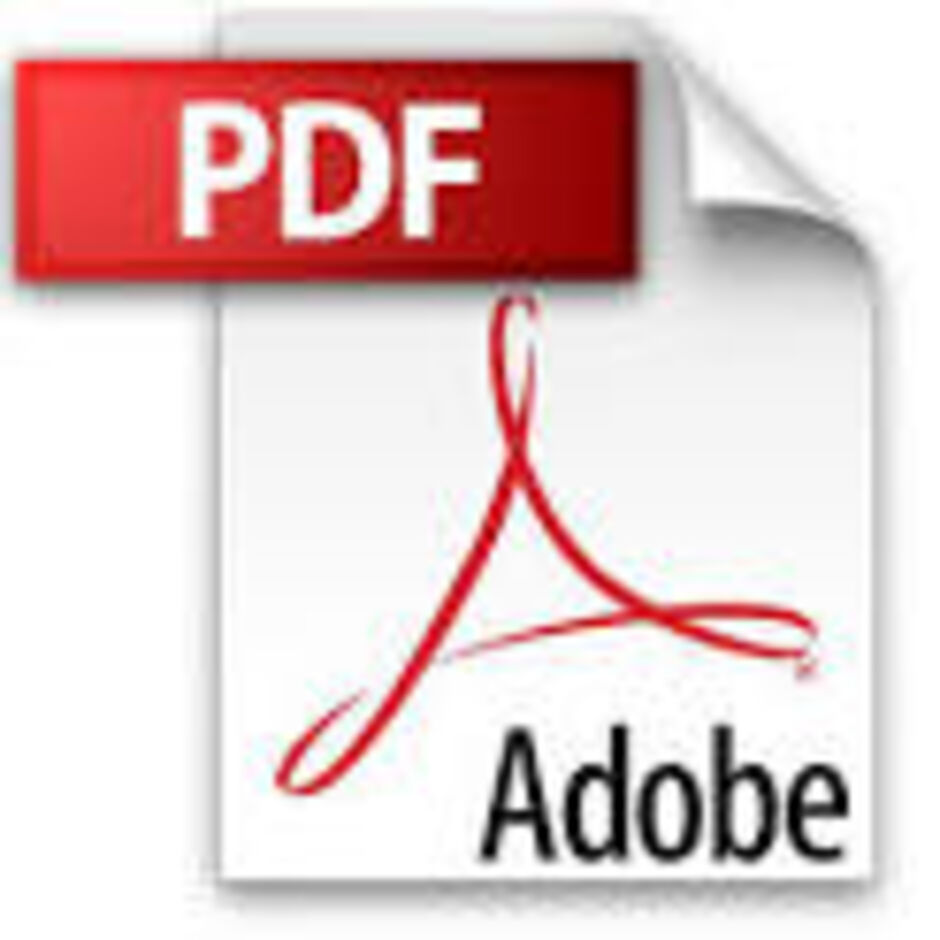 Results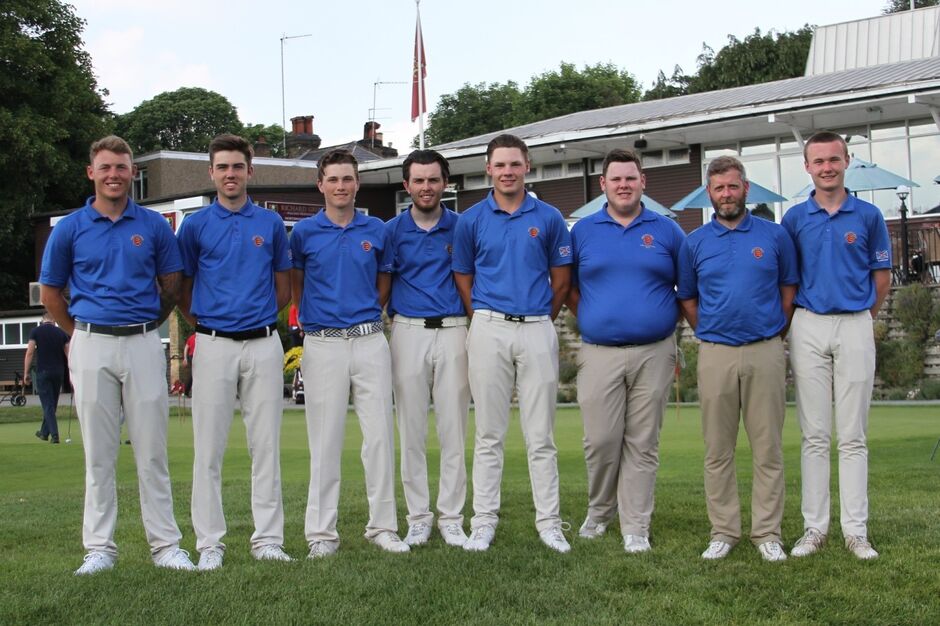 Just a week after the successful defence of the Eastern Counties Foursomes title at Skegness saw the first away match of the league campaign for the Essex County side at Northwood Golf Club against Middlesex.
With 3 changes to the team which defeated BB&O in the first League match, in came Jordan Slater, Brandon Meads and reigning Essex Amateur Champion Curtis Knipes. Quite a formidable side with a combined plus 12 handicap.
Jordan and Michael Gilbert went out number one after their excellent performance last week with 3 other strong pairings following. However, the early stages were dominated by the home side on a tight, tricky but wonderfully prepared Northwood course. After 4 holes Middx were ahead in 3 of the matches with only Ricky Lee and Will Percival showing a narrow 1 hole advantage. The slow start by Essex was not to continue, as slowly Essex recovered in all but match 2 with Middx top pairing James Ellis and Tommy King inflicting a 4&3 defeat on Arron Edwards-Hill and Callum Pipe. The other 3 matches all went down to the final hole with Jordan & Michael and Ricky & Will getting points by the slenderest of margins. The final game ended in a deserved half with never more than one hole in it throughout. So, a very narrow 2 ½ to 1 ½ advantage to Essex at lunch which could quite easily been the other way round.
Jordan Slater led the side out for the afternoon singles and soon showed he was the right choice at number 1. After 9 holes he was 4 up against Middlesex leadoff man Tommy King and quickly gained his point with 5 holes to spare. His foursomes partner Michael Gilbert quickly followed with our second point of the afternoon after a 6&4 win over James Ellis
Games 2 and 3 demonstrated the home sides fighting spirit with wins over Brandon and Callum, however the last four matches all showed convincing wins for the Essex side. Singles won by 6 points to 2 and an overall victory by 8 ½ to 3 ½ .
Our thanks to hosts Middlesex, also Northwood Golf club and its members for some excellent hospitality on an immaculately prepared course.
Phil Hulse, County Team Manager
---
Eastern Counties Foursomes
Seacroft Golf Club Skegness Lincolnshire Sat/Sun 19th and 20th May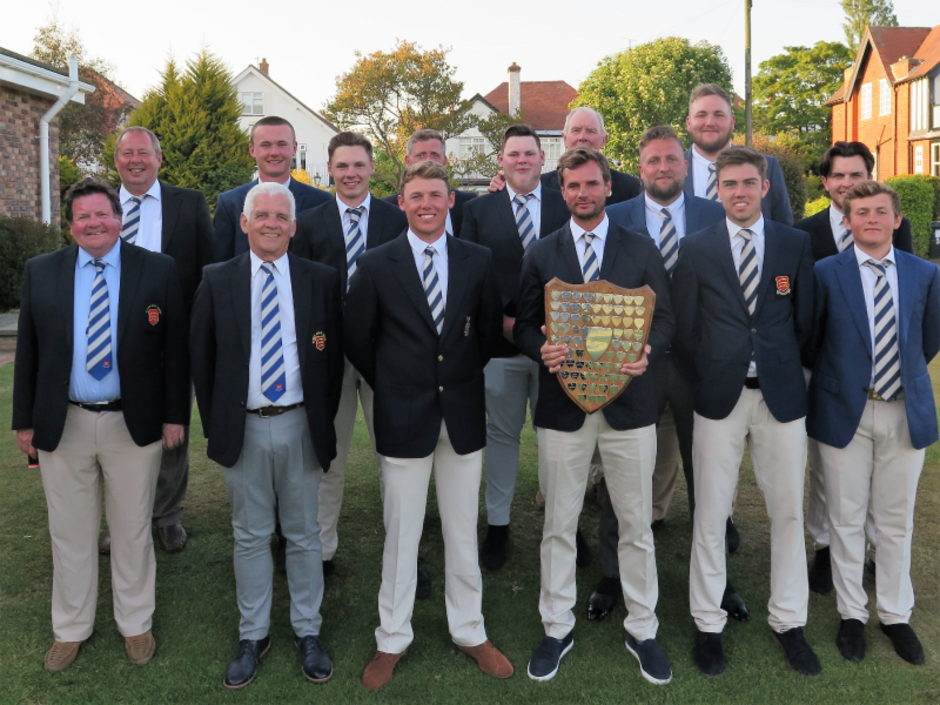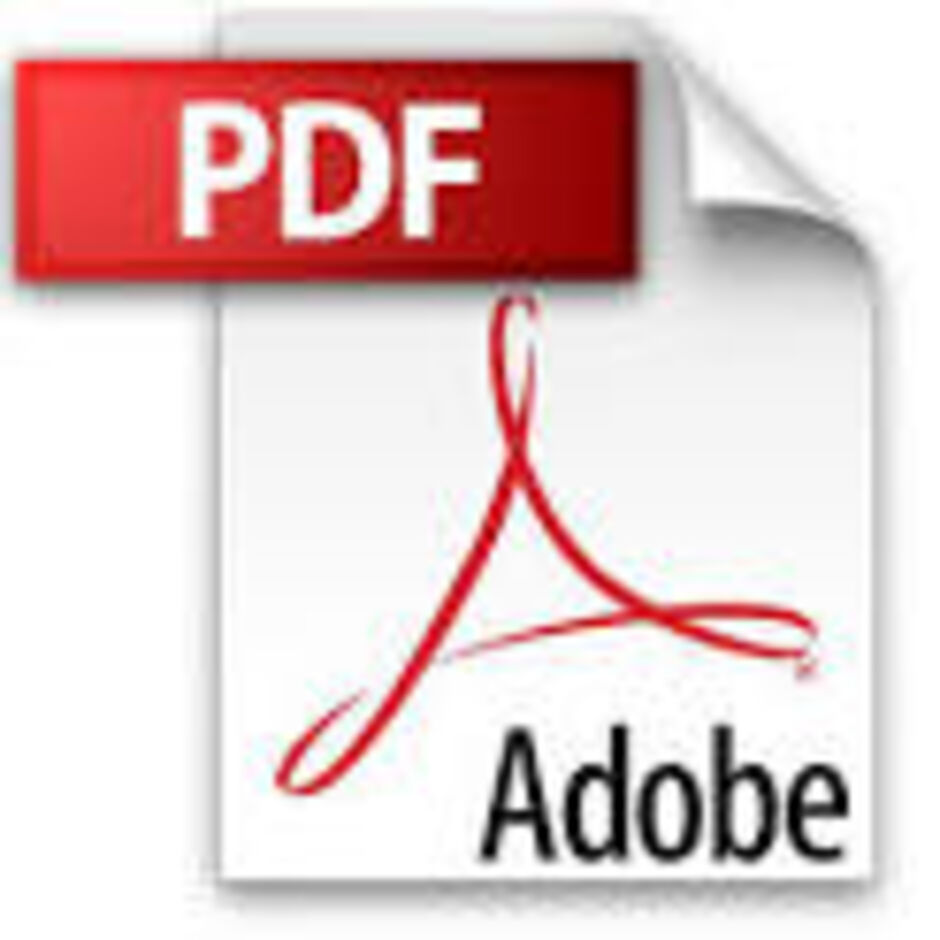 Results
This annual tournament comprises 9 Counties competing over 4 rounds of foursomes in teams of 10 players (5 two balls) with each county playing all the others.
As defending champions, Essex were obviously highly fancied. However, with 6 team members missing from last year's side, (4 of them playing in the Irish Amateur Championship at Royal County Down and our County Captain Andy May deciding that this would be an ideal weekend to get married!!) our own expectations were somewhat of a cautious nature.
New players brought into the squad this year were Shay McQueen, Jordan Slater, Ben and Josh Tobin and Ricky Lee.
Our first match on Saturday morning saw us drawn against Norfolk and BB&O whom we had soundly beaten in the league only 6 days earlier at home club Chelmsford. They were out for revenge and fielded a much stronger team on paper than ours.
A tough session on the demanding links at Seacroft with hard slick greens ended 2 ½ all with BB&O and 3/2 winners against Norfolk with two wins each for new guys Ben Tobin and Ricky Lee and the same for Jordan Slater and Michael Gilbert and 1.5 pts for old hands Will Percival and Callum Pipe, a 5 ½ point haul out of 10 which under the circumstances was a satisfactory start.
We made some changes to the pairings in the afternoon session, and these changes paid dividends with only one loss all afternoon we ran out with 3.5 points from the Leicestershire game and 4 from Cambridgeshire, giving a total for the first day of 13 points leaving us in second place, one point behind BB&O. The scene was set for a fascinating second day.
Sunday morning on another fine and breezy day brought Essex, Bedfordshire and Suffolk together. The lads played some majestic golf, beating Bedfordshire 4:1 and Suffolk 3:2. Another 7 points in the bag and with BB&O being restricted to 5 points, Essex went into lunch with a narrow one point lead.
The afternoon saw Curtis Knipes brought back into the side to partner Ben Tobin for the matches against Lincolnshire and Northants. The feeling was that 7 points would do the job and even 6 had a chance. The early exchanges were going our way and half way through the afternoon we were up in 6 games and all square in 2 with anticipation building.
Early winners for Essex and another 2 points to add to their 6 already gained giving a 100% record were the pairing of Jordan Slater and Michael Gilbert.
With 4 points in the bag from the first four matches the final pairing of Brandon Meads and Shay McQueen came to the 18thhole dormy one up in both games, it was looking like a 6-point haul for the afternoon which would give us a good chance to secure the trophy.
The last hole was a tough par 3 into a strong breeze and a loss of hole to both opponents resulted in just two halves giving us a 5-point haul which we felt would not be enough to win left a group of audibly disappointed Essex players and officials cursing that last hole.
Euphoria returned when we learned that BB&O could also only manage 5 points from their endeavours which gave Essex victory by a slender one point.
Back to back winners of this trophy for the first time and only our 4thwin in the 64 years history of the event. Stand in County Captain Jamie Richards thanked Seacroft Golf Club for their hospitality, fantastic course and superb organisation.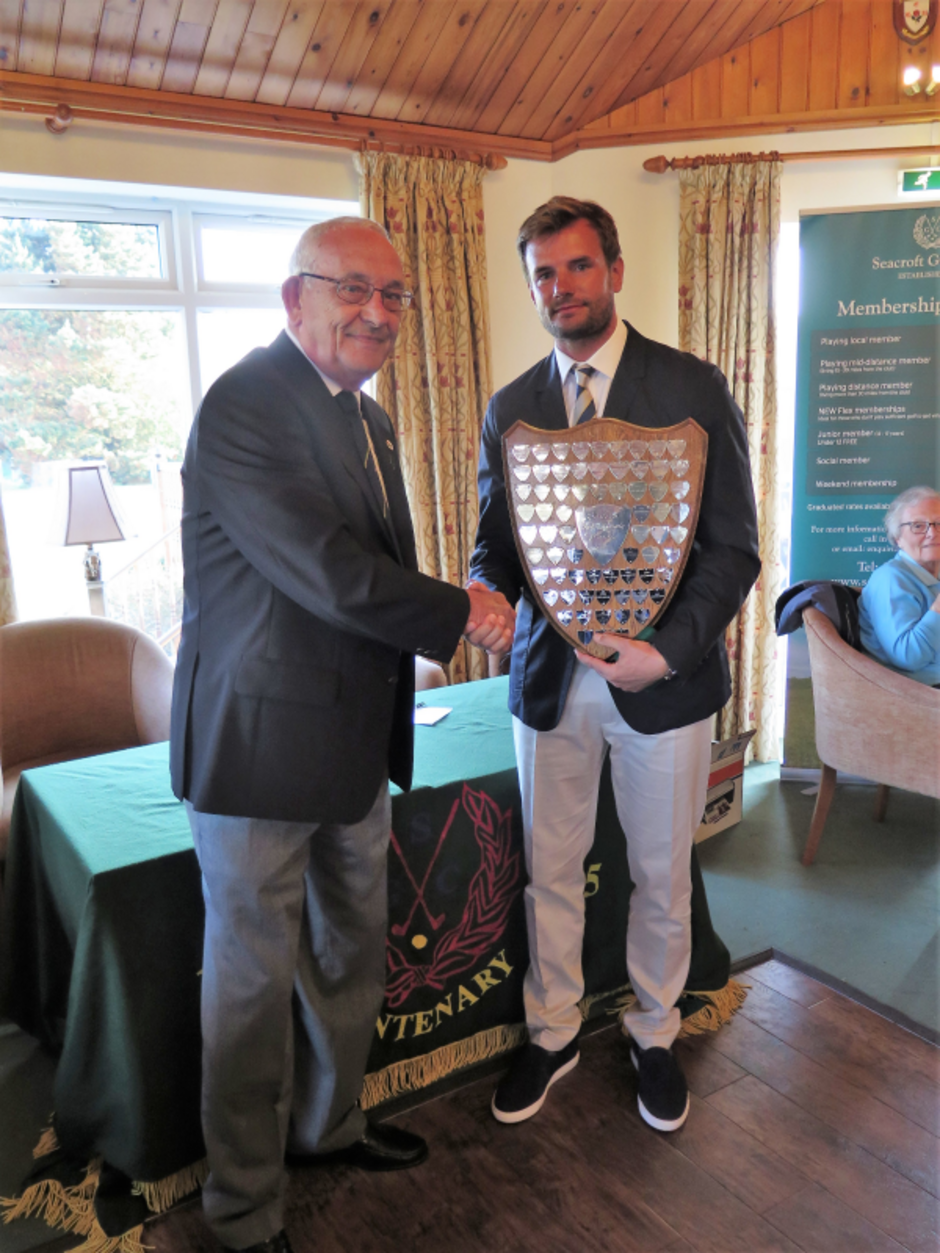 Phil Hulse County team manager
Team: Jamie Richards and Curtis Knipes (Abridge), Michael Gilbert Shay McQueen and Brandon Meads (Chelmsford), Ricky Lee (Boyce Hill), Will Percival (Orsett), Callum Pipe (Braintree), Ben & Josh Tobin (Basildon), Jordan Slater (Harwich & Dovercourt)
---








ESSEX vs BB&O
Chelmsford Golf Club, Sunday 13th May
Sunday 13th May saw our first League match of the season at our home venue of Chelmsford Golf Club. The visitors, BB&O were our main rivals in 2017 having dropped our only league points in a 6 - 6 draw at Frilford Heath. Our superior game wins just pipping BB&O to the title. This was going to be no pushover, especially as on paper some of our top players were not available.
The course was looking immaculate and after some overnight rain the sun shone bright during the whole of the match.
Chelmsford members Arron Edwards-Hill and Michael Gilbert led off and quickly showed our opposition we were in the right mood with 3&2 win over their top pairing of Ollie Huggins and George Bayliss. This form continued and by lunch, despite some excellent golf from the BB&O pairings, all the games had gone our way with a convincing 4 - 0 whitewash.
This fine form continued into the afternoon singles with wins for Arron Edwrds-Hill, Michael Gilbert, Ricky Lee, Callum Pipe (Callum was 7 under par in winning his game 5&4 ), Will Percival and Jamie Richards. We ran out winners by 6.5 to 1.5 in the afternoon singles. Match score, a very convincing 10.5 to 1.5 win to Essex. A very satisfying victory coming down to some excellent putting on Chelmsford's undulating greens. This bodes well for the rest of the campaign.
Next match will be an opportunity for BB&O to extract revenge in the Eastern Counties Foursomes at Seacroft Golf Club in Skegness on 19/20th May where we will be defending the title we won last year against eight other Counties.
Our thanks to Chelmsford for their usual immaculate hospitality and for their members allowing us the use of the well prepared course, and also to Stuart Gilbert for managing the team on this occasion.
Phil Hulse, County Team Manager
---
ESSEX AMATEURS vs ESSEX PROFESSIONALS
Frinton Golf Club, Thursday 5th April 2018
After several days of heavy rain prior to this match, all the courses in Essex were effectively closed with waterlogged greens and fairways. Frinton being no exception even up to the day before the game was due to take place. Fortunately the rain abated and with great efforts from Frinton head Green keeper Sam Cook and his team the course was presented in a surprisingly good playing condition with all the pins on the greens and all tees in play.
Both sides had their stars on display with the likes of England amateur Champion Todd Clements, ex European tour players Lloyd Kennedy and Robbie Coles amongst others.
The top match of Clements and Taylor Carter against PGA Order of Merit winner Jason Levermore and Andy Pestell set the tone of the morning in a very close match with the amateur pair coming out with a 2 hole win and with County Captain Andy May with Will Boniface victorious over PGA captain Mark Talbott and Joe Ellis, the Ams had a 2 nil lead. This was not to last however as the Tour experience of Kennedy and Coles was evident in their 4&3 win over Ricky Lee and Ben Tobin and with a win and half in the other two games, the match was finely poised at 2 ½ points each at Lunch.
The afternoon singles were very much nip and tuck for the first 5 games with the Pro's edging this 3 to 2 . Fine wins for Levermore, Talbott and Kennedy. However, the back end of the field showed the talent of the current crop of Essex Amateurs with the Pro's only taking another half point out of the 5 available.
Special mention to Jamie Richards in coming back from 4 down with 5 to play in beating Essex Golf Union's own James Gurry down the 18th.
Afternoon score of 6 ½ to 3 ½ in favour of the Amateurs and an overall victory of 9pts to 6.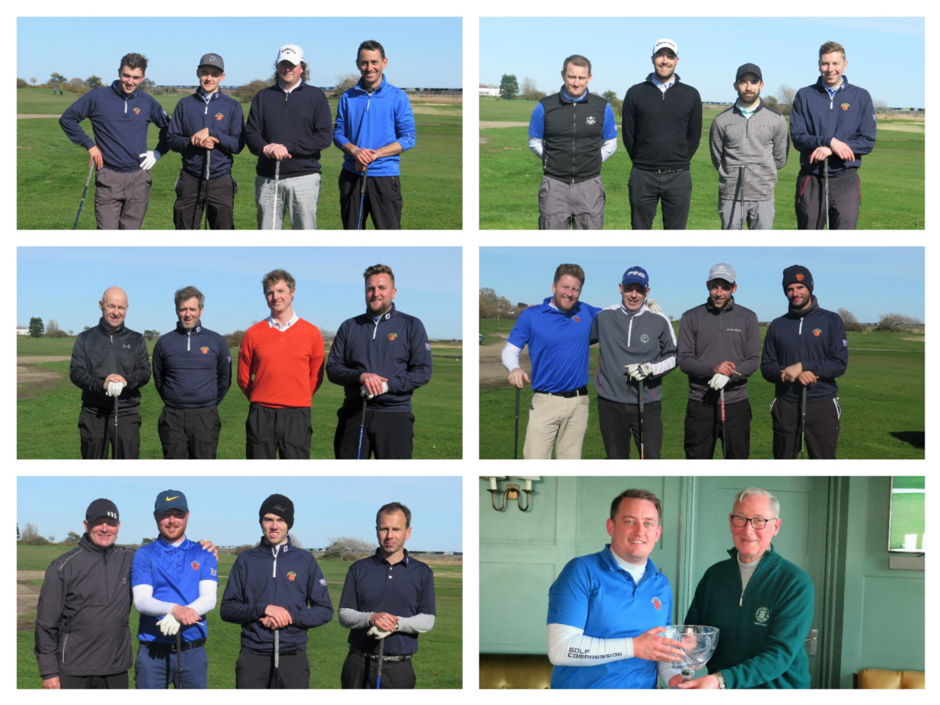 Tremendous thanks to Frinton Golf Club members for allowing the use of their course yet again and special mention to Peter Taggart and his catering team, Sam Cook and past Club Captain David Joshua for their hospitality and enthusiasm.
Phil Hulse, County Team Manager
---
ESSEX COUNTY TEAM v CAMBRIDGESHIRE
The David Hall Trophy
Sunday 25th March 2018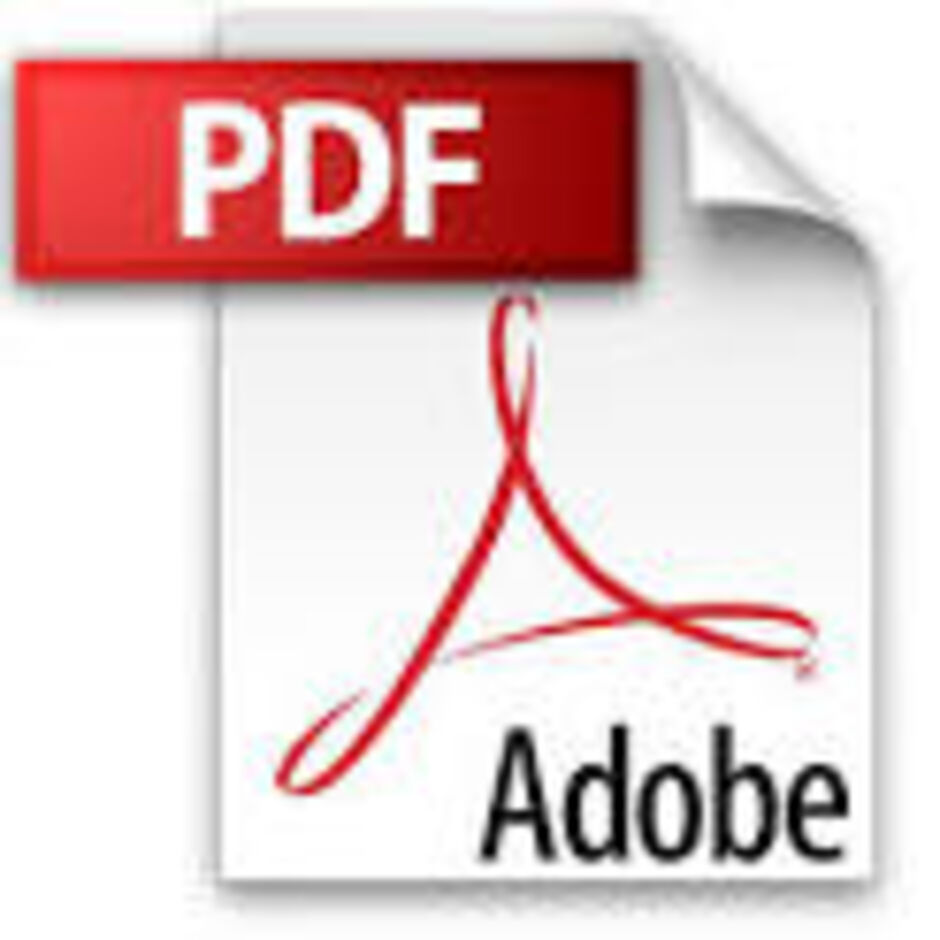 Match Scores
After a cold off season , the Beast from the East abated somewhat to allow the 2018 opening match between Essex county side and Cambridgeshire to take place at Stoke by Nayland Golf and spa.
Although a friendly, this match is played for the David Hall Trophy, and is a strong link binding the two counties bringing fierce competition.
Essex selected a very strong side which became apparent as the morning foursomes progressed. At one point looking as though a 6 nil whitewash was on the cards. However some spirited golf by Cambridgeshire turned this around somewhat and the lunchtime saw Essex leading by 4 ½ points to 1 ½ a score which flattered the home side.
The afternoon singles however were a different matter with Essex coming out of the block showing no mercy. With only 1 ½ points out of the 12 available going to the away side, Essex romped to a total win of 15 points to 3.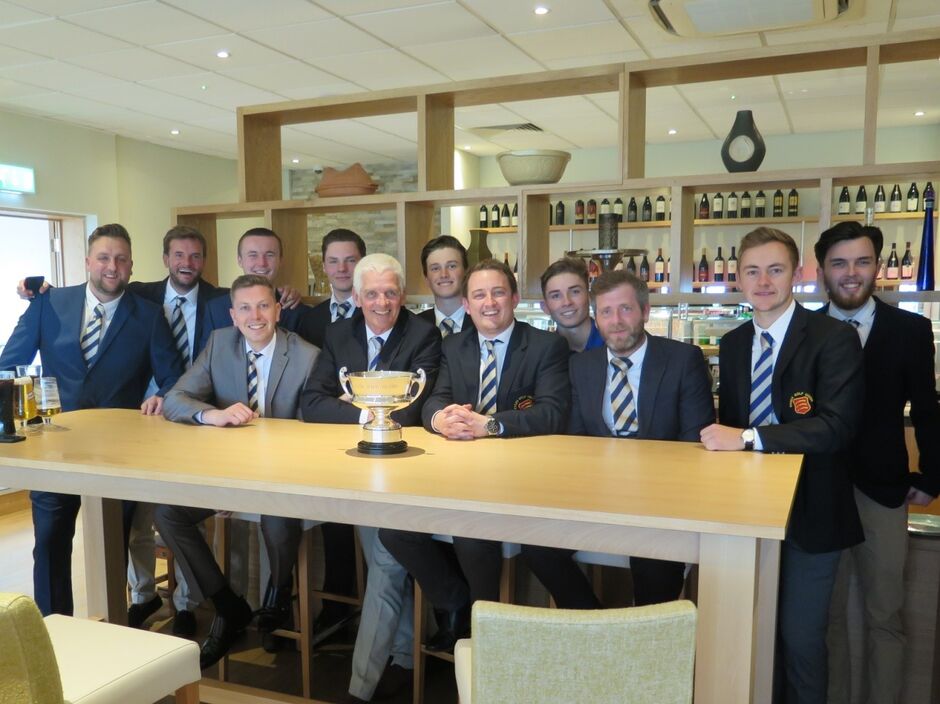 Special mention to new cap Ben Tobin (Basildon) winning both morning and afternoon.
A warm welcome to Marian Hall and her sons at this annual get together, and for presenting the David Hall Trophy to Andy May the Essex County Captain.
Thanks to Stoke by Nayland hotel and Spa for their excellent hospitality
The Essex team was:-
Andy May ( County Captain) and Ricky Lee – Boyce Hill. Brandon Meads, Michael Gilbert, Arron Edwards-Hill and Ali Plumb – Chelmsford. Ben Tobin – Basildon. Will Boniface – Five Lakes. Curtis Knipes and Jamie Richards – Abridge. Lukas Warren – Thorndon Park.
Phil Hulse County Team Manager