MEN'S COUNTY TEAM
sponsored by CLARKSONS SHIPBROKING
David Hall Trophy
Cambridgeshire V Essex
Sunday 5th March 2017 Saffron Walden Golf Club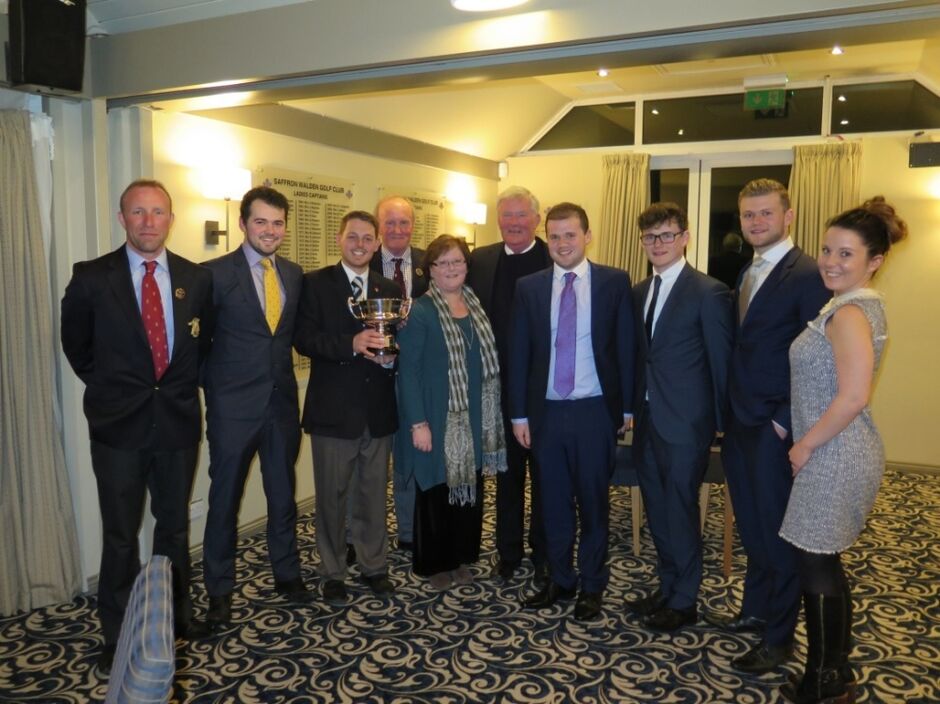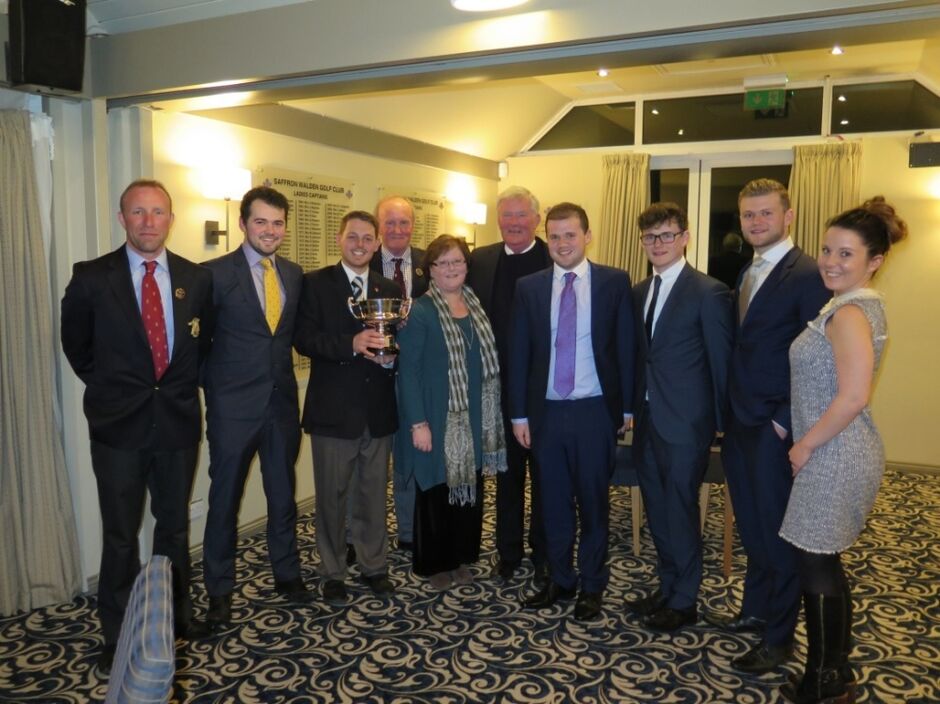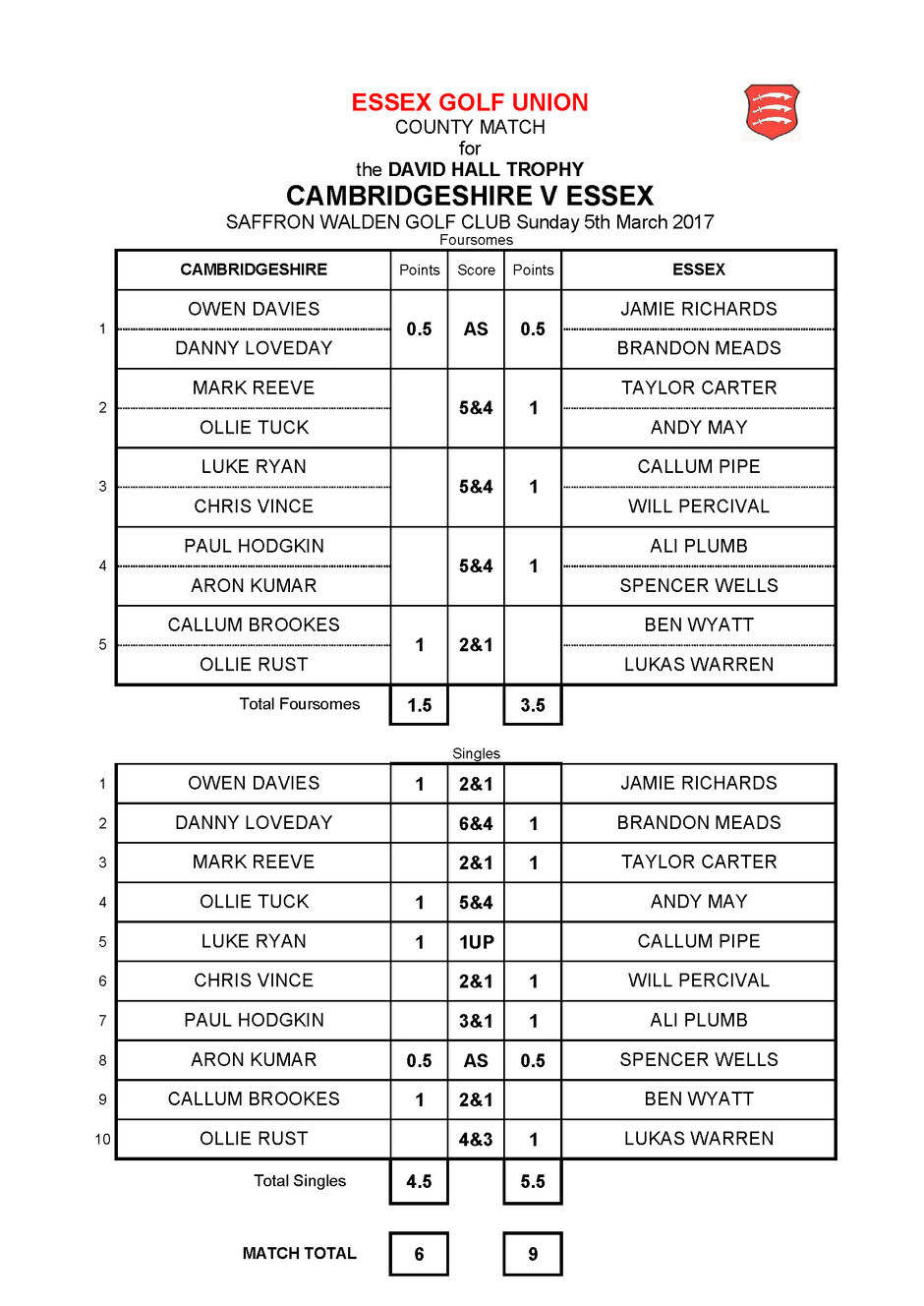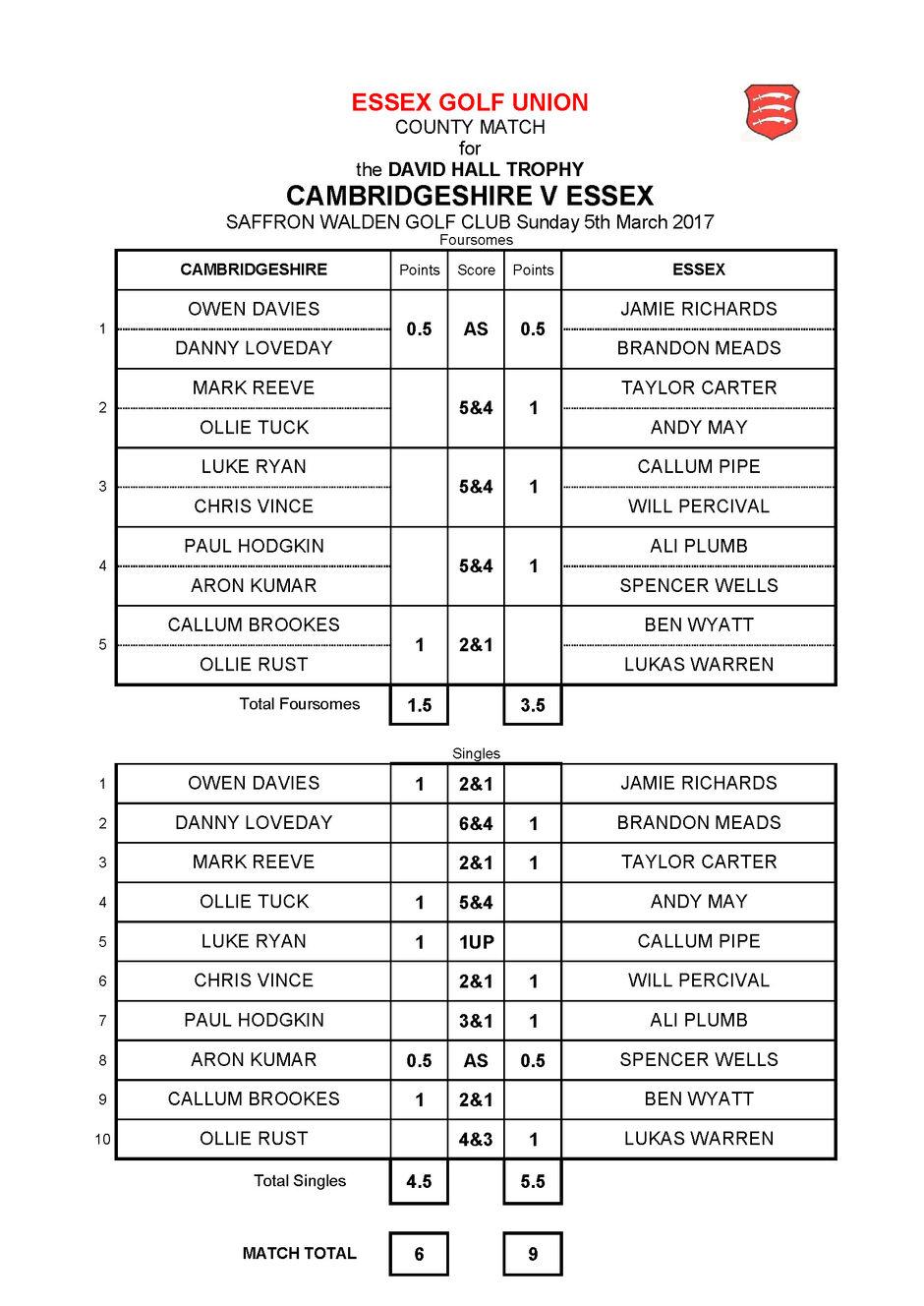 ---
Essex Professionals V Essex Amateurs
Frinton Golf Club
Thursday 6th April
The day started early with clear blue skies and a surprising absence of the usual strong breeze associated with this annual fixture.
Frinton golf club looked immaculate in the spring sunshine as the cream of Essex golfers both Pro and Amateur prepared to do battle.
The Professionals fielded a very strong team in an effort to reverse previous year's fortunes, demonstrated by the inclusion of European Tour player Matthew Southgate.
The Amateur line up was a mix of youth and experience with 5 players from the County side and 5 from the under 18's
The morning foursomes produced some superb golf aided by greens that wouldn't have been out of place in any tour event, hard, fast and true with puts rolling in from everywhere. The amateurs edging the morning with a 3 to 2 advantage. Special praise to the young pairing of Joshua Read and Cai James taking Matt Southgate and Rhys Piper to the 17th in a ding dong battle.
With amateur expectations high the afternoons singles again produced some spectacular scoring with a glut birdies and eagles highlighted in the Southgate/May match with Matt being 4 up after 9 and 4 under par.
The Pro's were not for lying down and ran out winners of the singles by 7 points to 3, however credit to the Amateurs for taking 6 of these matches to the 18th.
The Pro's winning back the trophy with an overall match score of 9 to 6.
A super day on a course in top condition. Thanks given by county catain Jay Beisser to both Frinton for their hospitality and to the Professionals for giving up their time to teach the Am's a thing or two. Roll on next year!
Thanks to Frinton Club Captain David Joshua for presenting the trophy to winning Pro Captain Mark Talbott
Phil Hulse
County Team Manager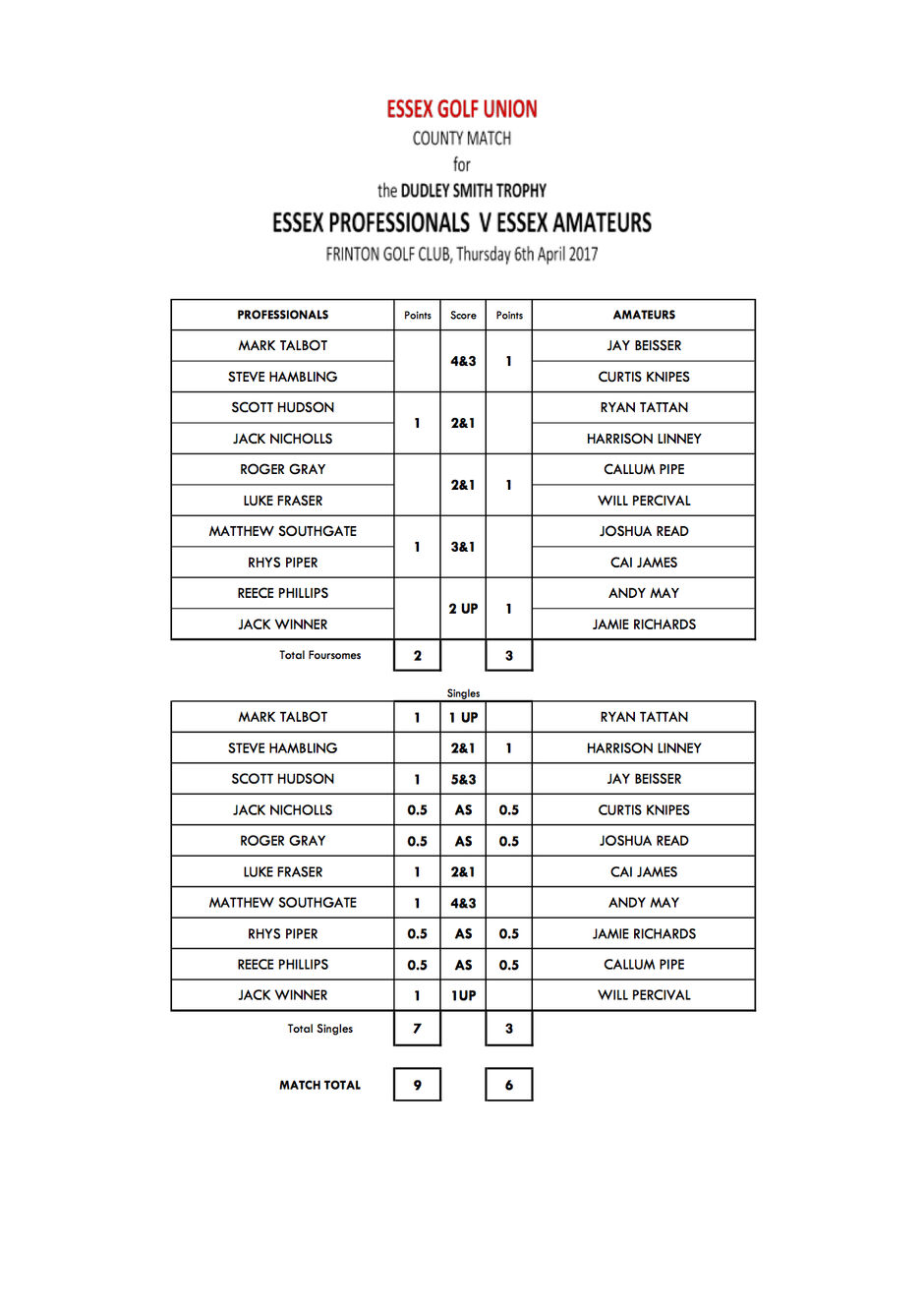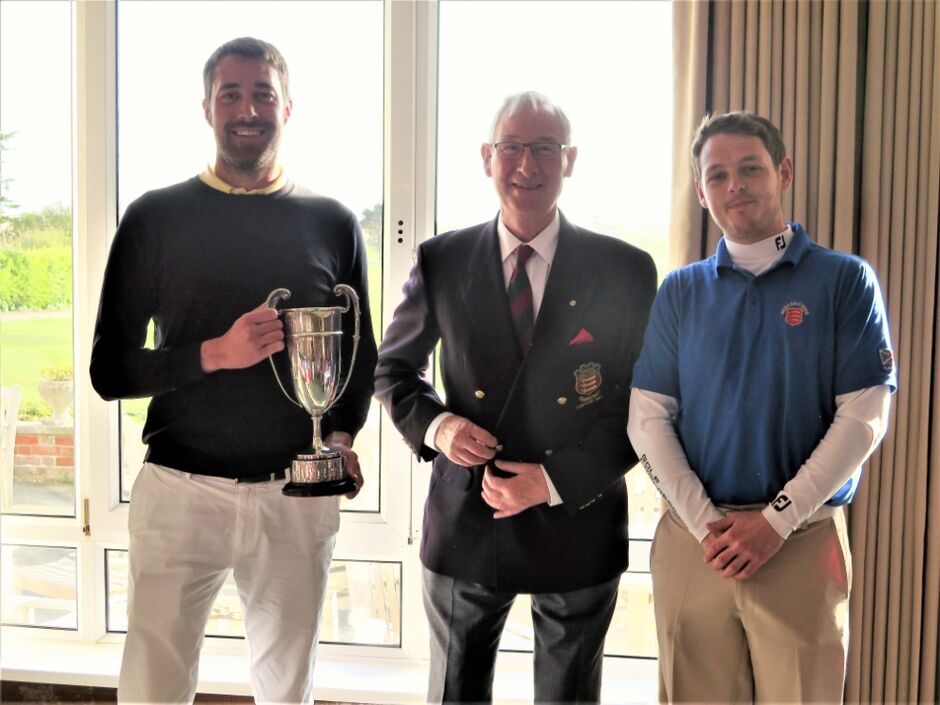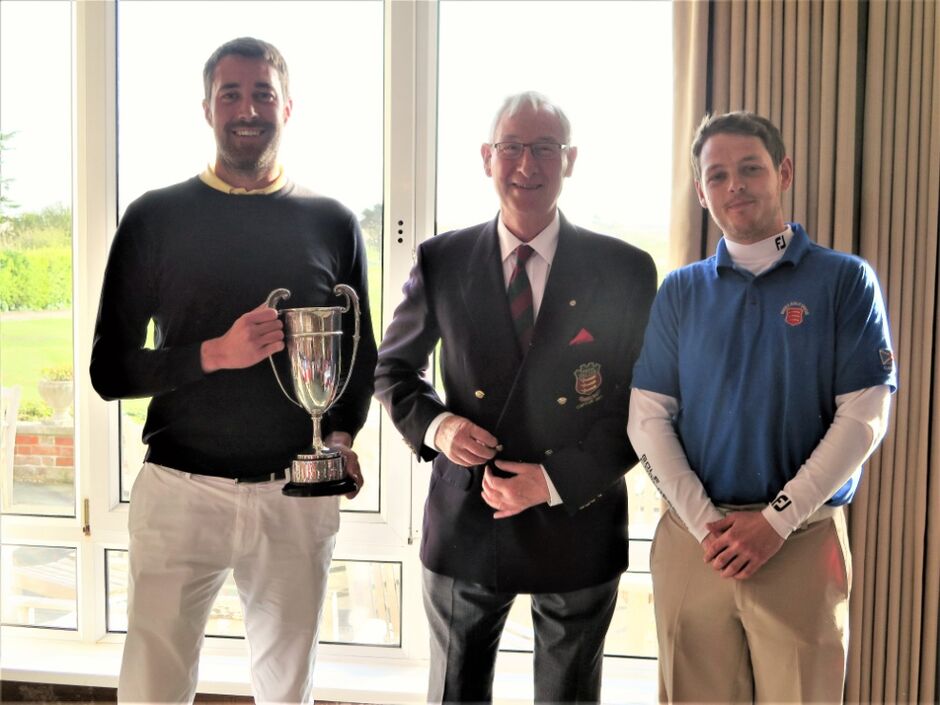 Mark Talbott (Thorpe Hall P.G.A. Professional) with the Trophy.
---
ESSEX v KENT (Friendly)
Brentwood Golf Club
Saturday 29th April 2017
A warm welcome from a splendid looking Brentwood Golf Club set the stage for this annual clash between Essex and the highly rated Kent county side. Always noted for fielding a very strong team, today was no exception as the reigning South East Group champions Kent included one plus 4 player, 2 plus 3s and a strong supporting cast. Average handicaps of +1.38 compared to Essex +0.39.
The morning foursomes however turned the form book upside down with local Brentwood golfer Joe Tatam making his County debut along with Abridge's Jamie Richards handing out the first shock of the day by beating Kent top pair Liam Burns and Jamie Guppy. Spurred on by this the rest of Essex turned the screw with some spectacular golf and by lunch had established a 4 ½ to ½ lead.
The afternoon brought no sign of a weakening of resolve as Essex dominated the proceedings with a 6 ½ to 3 ½ winning margin.
Outstanding performances from all the team but special mention for Keating Trophy qualifying winner Curtis Knipes from Abridge, beating his opponent 8 & 7 and finishing the round some 7 shots under par. Also to Ben Wyatt from the Rayleigh club beating plus 3 player Mark Collins by a convincing 5 & 4. Essex ran out winners by 11 to 4.
Compliments were paid by both sides to the Brentwood club management for the condition and quality of the course.
The Essex team :-
Jay Beisser (county captain) The Rayleigh Club, Joe Tatam (Brentwood), Jamie Richards (Abridge), Curtis Knipes (Abridge), Ali Plumb (Chelmsford), Brandon Meads (Chelmsford), Arron Edwards-Hill (Chelmsford), Will Percival (Orsett), Ben Wyatt (Rayleigh), Spencer Wells (Rochford)
Phil Hulse, County Team Manager
---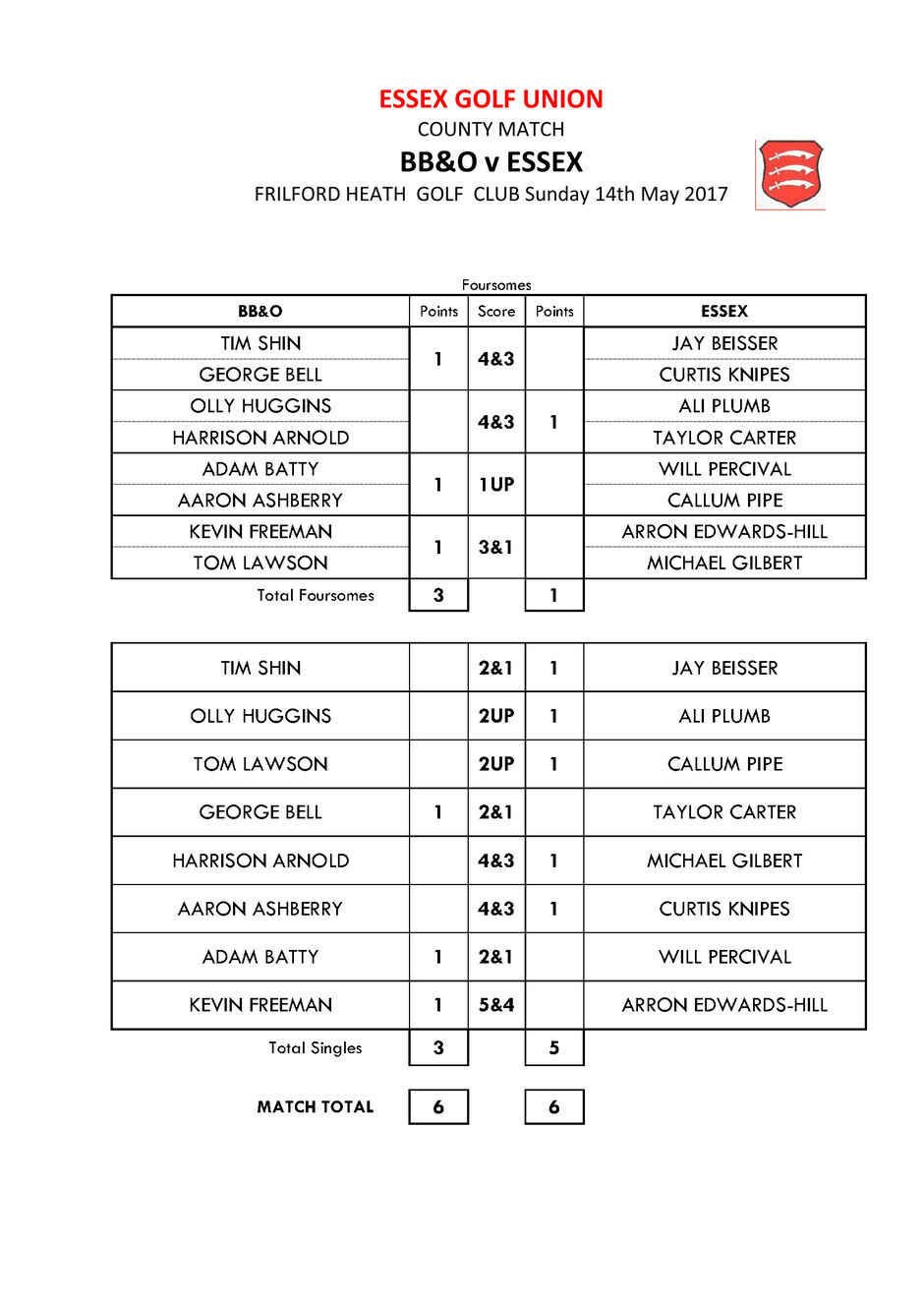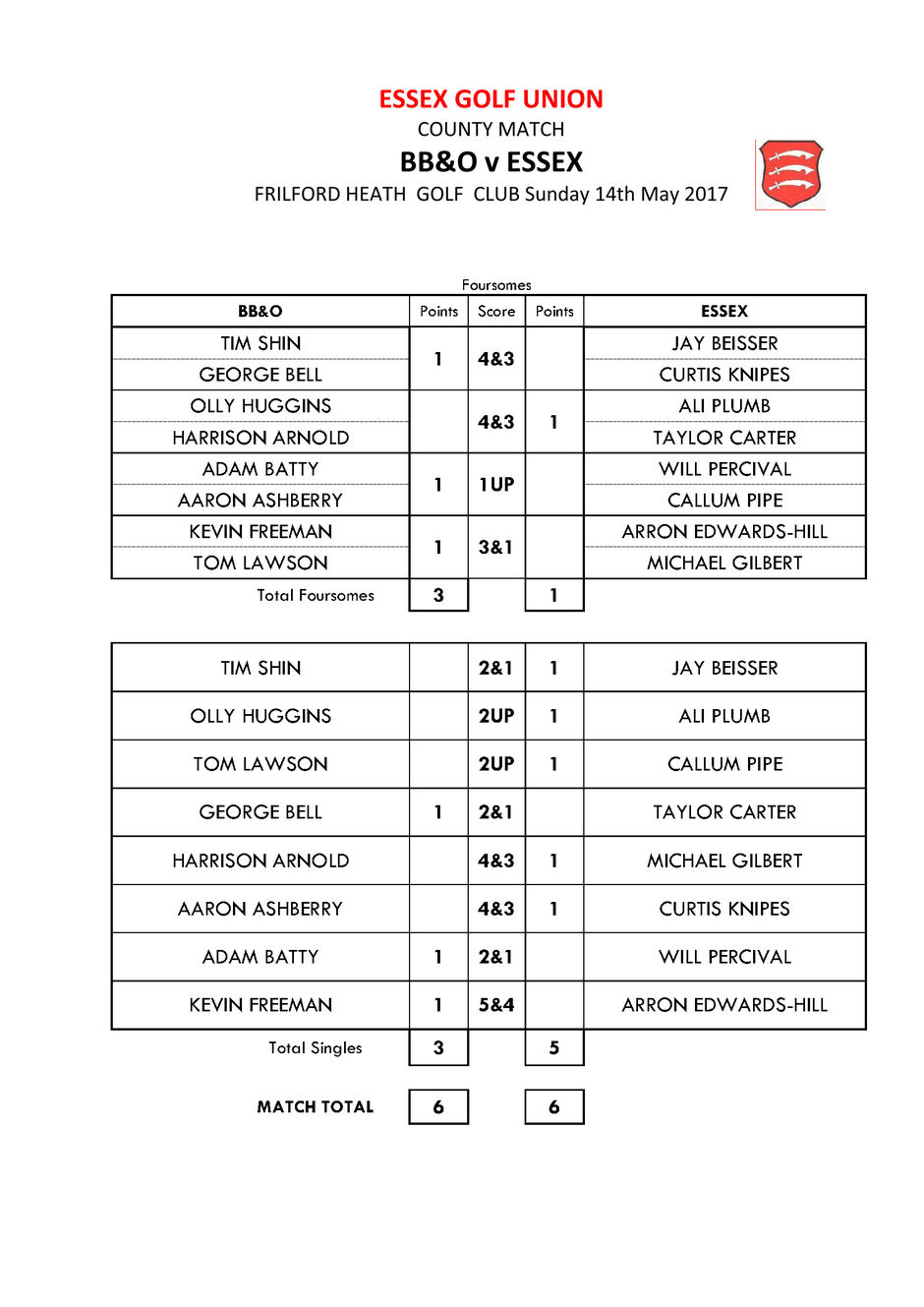 ​
The Essex County Team's first league match of the season was an away fixture against last year's Northern League winners BB & O at the superb Frilford Heath Golf Club (Red Course), as tough an opener as one could hope for with our opponents again fielding an extremely strong side.
The morning foursomes proved this to be the case with the home side coming in to lunch 3 to 1 up after giving our lads a lesson in how to hole putts on the excellent greens. A demonstration in how to get around a course without hitting many fairways by the pair of Ali Plumb and Taylor Carter being the only bright spot in an otherwise miserable morning for the Essex side.
The afternoon singles started much as the morning left off. After 5 holes our hosts were ahead in 5 of the 8 matches and the result was starting to look like a stroll for BB & O. With County captain Jay Beisser out number one against Tim Shin and being 1 down after 5 holes he had managed to get back to all square at the turn. With news filtering around the course that BBO were in command of the match Jay proceeded to show true class by winning the 15th and 16th to takes a 2 hole dormie lead which he then turned into the first point of the afternoon in favour of Essex.
News of this victory seemed to spur on the rest of the team and suddenly matches were slowly turning. Callum Pipe from being 2 down after 12 holes winning 3 holes on the spin to take a 1 hole lead down the last and turning this into another point for Essex. Game on ??
A steady Ali Plumb gained the 3rd unanswered point and things were looking interesting. Further wins from Michael Gilbert and Curtis Knipes with a BBO win against Arron Edwards-Hill left Essex with the 6 points needed to avoid defeat and only half a point required from the 2 games left out on the course for a very unlikely victory. Both of these matches were dormie 2 up for BBO and they went on to secure a nail-biting and well deserved 6 all draw.
Stirring stuff in a most enthralling encounter.
Thanks to Frilford Heath Golf Club for their hospitality on a marvellous golf course in superb condition.
Phil Hulse, County Team Manager
---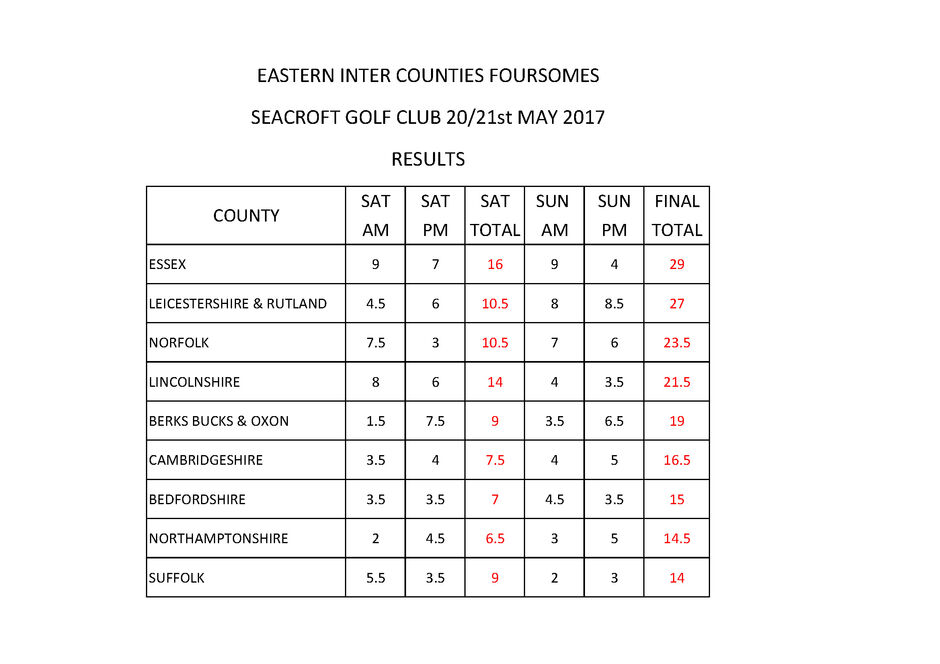 Nine Counties competed in this annual event of 4 rounds of Foursomes matchplay over the superb Links at Seacroft Golf Club, each County being represented by 5 pairs in each of the rounds.
The Essex squad selected for this event comprised; Jay Beisser, County Captain, (The Rayleigh Club), Curtis Knipes & Jamie Richards (Abridge), Andy May (Boyce Hill), Ali Plumb, Brandon Meads, Michael Gilbert & Arron Edwards-Hill (Chelmsford), Callum Pipe (Braintree), Taylor Carter (The Rayleigh Club), Will Percival (Orsett).
The Saturday morning draw paired Essex with the 2016 winners Leicestershire & Rutland, who were most onlooker's favourites again this year, and BB&O who had mastered the Essex team in the foursomes section of the South East League encounter a week earlier. The Essex team were quickly on top in these matches, and by lunchtime had beaten both opponents 4.5 to 0.5, giving a 9 point total and a 1 point lead over home county Lincolnshire.
In the afternoon matches Essex played Bedfordshire and Northamptonshire, and again a very good performance saw a 4 – 1 victory and a 3 – 2 victory respectively. Overnight Essex held a 2 point lead over Lincolnshire at the head of the field.
On the Sunday morning the Essex team faced their nearest challengers, Lincolnshire, and Suffolk. Some outstanding golf resulted in Essex demolishing Lincolnshire 5 – 0, and beating Suffolk 4 – 1, giving the Essex team another 9 points and a commanding 6.5 point lead with the final round to play.
The Essex team made a nervous start to the final round, needing only 4 points to ensure the trophy was secured. Jay Beisser and Curtis Knipes secured 1 point from the first match out, but the following two matches were very close with Essex finally losing out by narrow margins. However, Andy May and Taylor Carter played excellent golf comfortably winning both their matches, so it was left to Ali Plumb and Brandon Meads to ensure the celebrations could start, this they did with a win in the match against Cambridgeshire.
So Essex lifted the shield for only the third time since its inception in 1954, County Captain, Jay Beisser, thanked Seacroft Golf Club for the well presented course, their organisation and hospitality. Proceedings were rounded off by a packed Clubhouse singing 'Happy Birthday' to Jay, who had lifted the trophy for Essex on his own birthday.
Phil Hulse
County Team Manager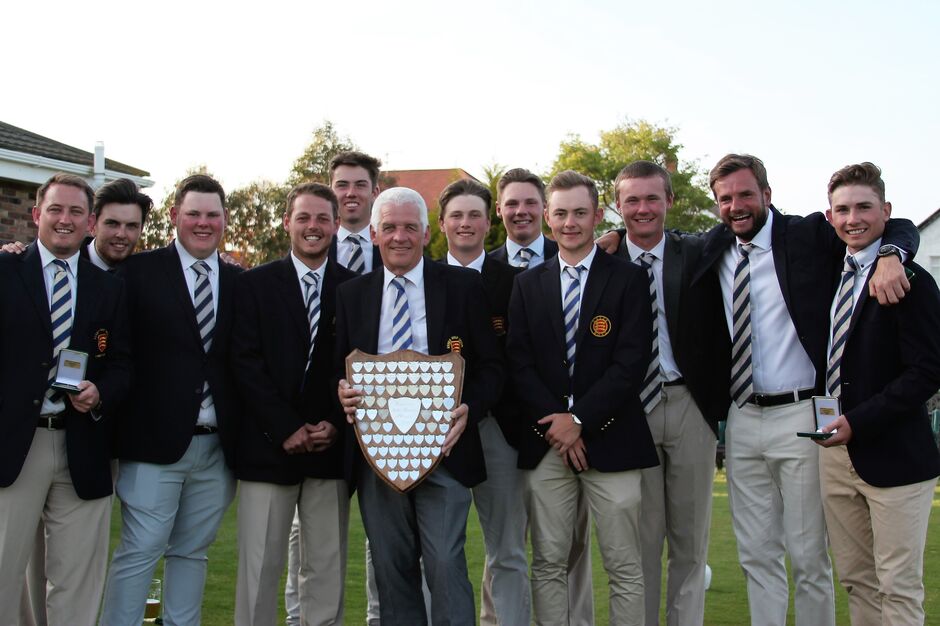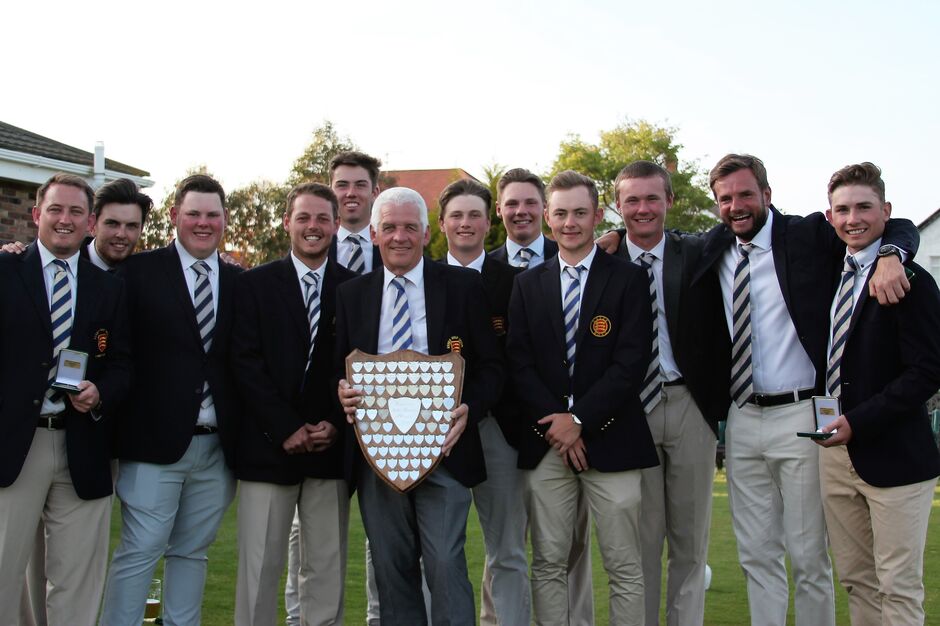 ​
---
HERTS v ESSEX
Hadley Wood Golf Club
Sunday 23rd July 2017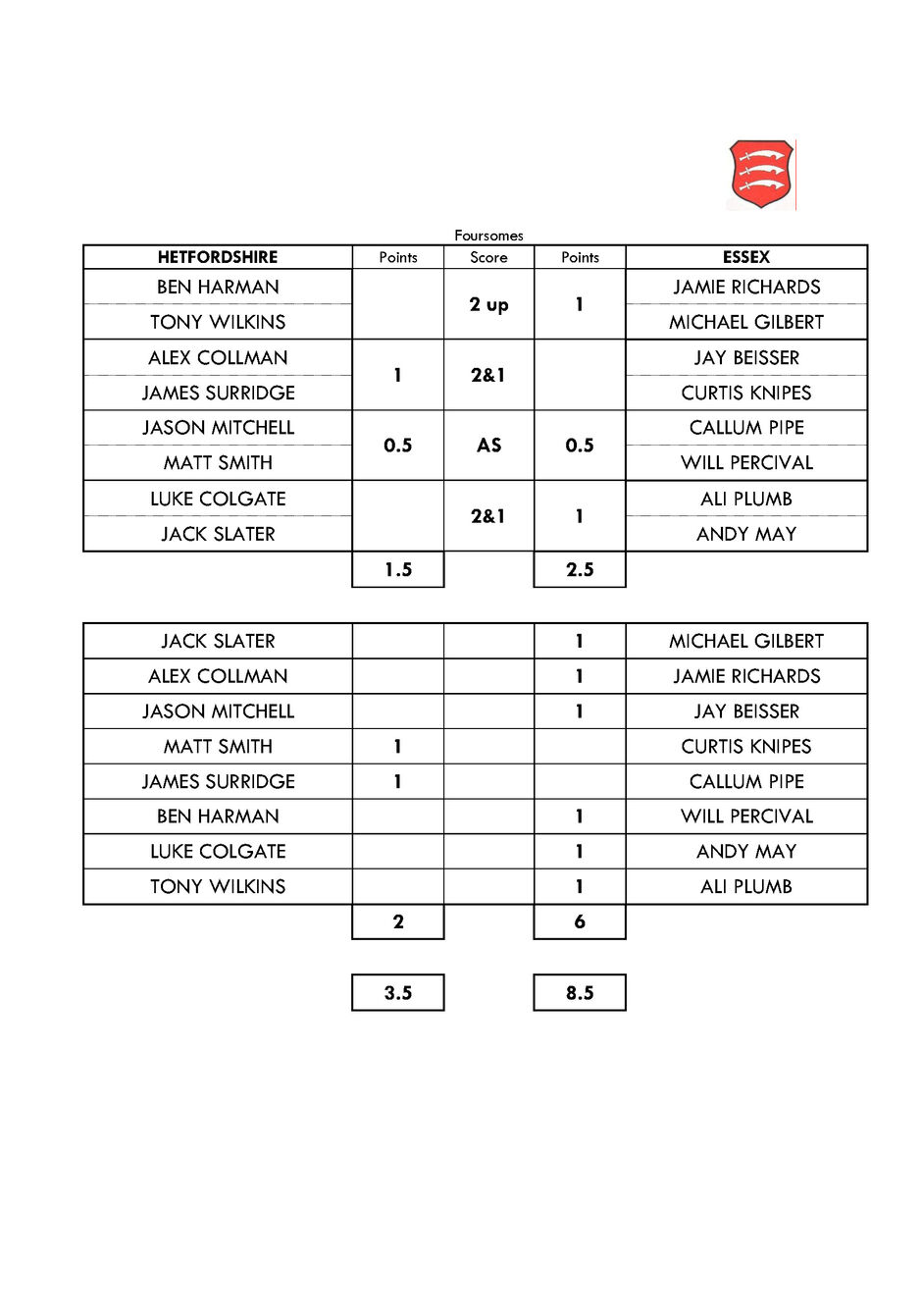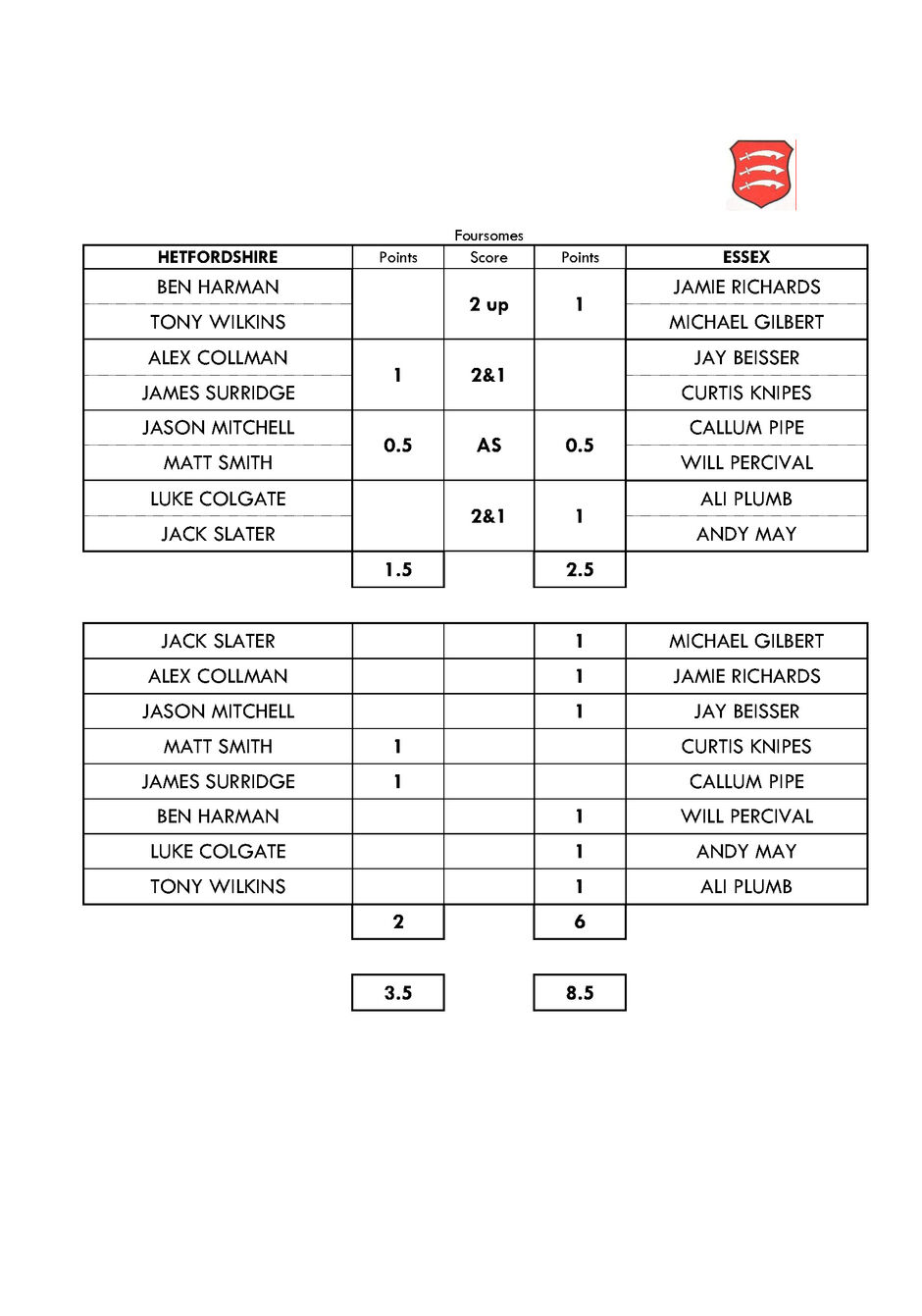 The second League match of the year saw the Essex County Team travel to the superb venue of Hadley Wood Golf Club to take on current League leaders Hertfordshire.
After a close fought away win against Middlesex and a home win against Bedfordshire, Herts were in top spot with a maximum 4 points, whilst Essex, having played out a draw at BB&O needed to win this match to stand any chance of winning the league.
Hot off a fantastic win in the Eastern Counties Foursomes at Seacroft some 6 weeks earlier the Essex side were in confident mood and keeping the same pairings in the foursomes charged out of the blocks. After 7 holes Essex were up in 3 and all square in one albeit never more than the odd hole ahead. Herts were not in the mood for lying down however and by the 12th hole had turned things around and were themselves ahead in 3 and all square in one. With some cracking shot making and excellent putting on very slick and tricky greens, Essex fought back to just edge the morning session by the odd point.
The afternoon singles started with Herts firing on all cylinders. After 7 holes they were up in 5, down in 2 and all square in one. The only bright spark for Essex at that point was Jamie Richards who, after 6 holes, was 5 under par and 5 up, the Spider putter was on fire!
By the 12th hole things were slightly better with Essex now up in 2 games and all square in 3 and this gradual pressure from the Essex side began to tell. The first point of the afternoon went to Mike Gilbert, coming back from 1 down after 15 to win 2 up, closely followed by Jamie Richards 3 and 1 win. County Captain Jay Beisser showing grit to cling on to a one hole win.
So, with the score now 5 ½ to 3 ½ Essex needed just the one point to clinch victory. With Curtis Knipes and Callum Pipe succumbing to their opponents, it was left to Will Percival to secure victory with a solid 3 & 2 victory over the very useful Ben Harman.
With further wins by Andy May over Herts number one Luke Colgate, and Ali Plumb beating Tony Wilkins on the 18th , Essex ran out overall winners by the flattering score of 8 ½ to 3 ½ . It was a much tougher match than the score suggests.
Essex Team was....
Jamie Richards and Curtis Knipes (Abridge), Jay Beisser County Captain (Rayleigh), Michael Gilbert and Ali Plumb (Chelmsford), Andy May (Boyce Hill), Will Percival (Orsett), and Callum Pipe (Braintree)
Captain Jay praised Herts for a hard fought match played in good spirit and to Hadley Wood for a course in truly wonderful condition with hospitality second to none.
Next match is a home tie against Middlesex at Chelmsford on 23rd July.
Phil Hulse, County Team Manager
---
Essex v Surrey
at Farleigh Golf Club on Sunday October 3rd
Essex

Surrey

Morning Foursomes




Players Name

Pts

Score

Players Name

Pts

Score

1

Ali Plumb / Andy May







v

David Corben / Harry Plowman-Ollington

1

4 & 3

2

Will Percival / Callum Pipe

1

1Up

v

Obe Ayton / Alfie Fox







3

Jay Beisser / Arron Edwards-Hill







v

David Primrose / Will Dugdale

1

2 & 1

4

Curtis Knipes / Brandon Meads







v

Kieran Lovelock / Billy Whiteman

1

2 & 1




Total

1







Total

3



Afternoon Singles




Players Name

Pts

Score




Players Name

Pts

Score

1

Arron Edwards-Hill







v

David Corben

1

3 & 2

2

Will Percival

1

3 & 2

v

Obe Ayton







3

Callum Pipe







v

Harry Plowman-Ollington

1

4 & 3

4

Jay Beisser

1

3 & 2

v

Alfie Fox







5

Andy May







v

Will Dugdale

1

3 & 2

6

Curtis Knipes

1

4 & 2

v

Billy Whiteman







7

Brandon Meads

1

3 & 2

v

David Primrose







8

Ali Plumb







v

Kieran Lovelock

1

2 & 1




Total

4







Total

4







Match Total

5







Match Total

7