Order Of Merit Final Positions 2023
(Click on image to download PDf version)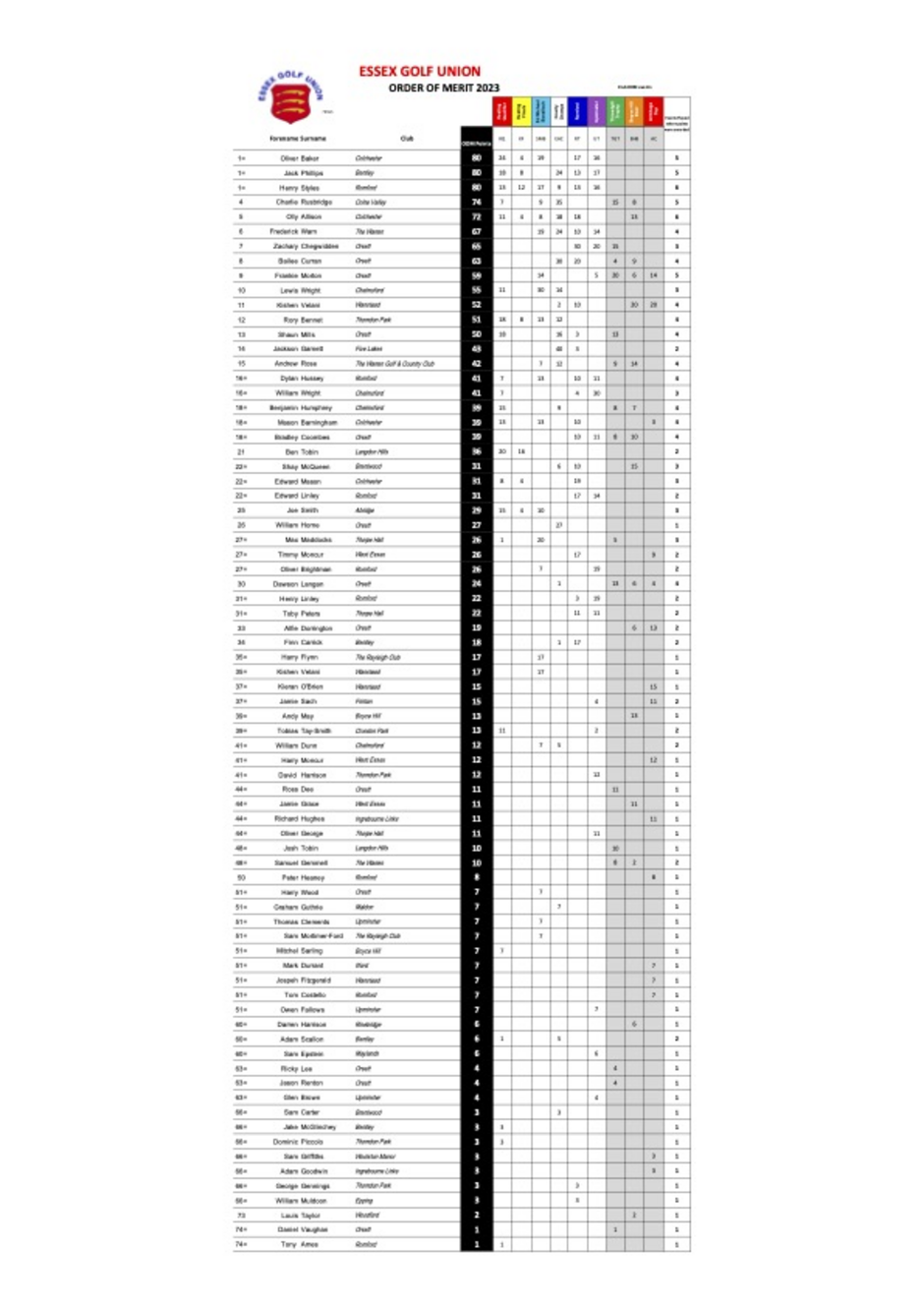 The Estuary Trophy 2023
Threadgill Trophy - Orsett GC 5th May
&
Boyce Hill Bowl – Boyce Hill GC 11th May
The Estuary Trophy is a World Amateur Golfing Ranking (WAGR) event, played over 36 holes at Orsett GC (Threadgill Trophy) and 36 holes at Boyce Hill GC (Boyce Hill Scratch Bowl).
This year there were 24 entries into this competition which combined two Essex Order of Merit events. In the first half of the competition at Orsett, Frankie Morton (Orsett) set the early pace with a superb first round of 67, five under par. Despite Ross Dee (Orsett) & Josh Tobin (Langdon Hills) matching his morning score, neither could match his afternoon score of 70 which was a deserving winning score of the Threadgill Trophy on 137, 7 under par.
Two back was Charlie Rusbridge (Colne Valley) on 139 who followed up his morning score of 73 with a 6 under par 66 in the afternoon. This meant he was tied with England's Zach Chegwidden (Orsett) also on 139.
On the 11th May, the focus moved to Boyce Hill for the second half of the competition, with the Boyce Hill Challenge Bowl. With Zach in Ireland, competing in the Irish Amateur Championship, Frankie & Charlie were clear favourites for the Estuary Trophy with Dawson Langan & Shaun Mills, a further two shots back on 142. But with 36 holes to play round a tricky Boyce Hill, anything was possible.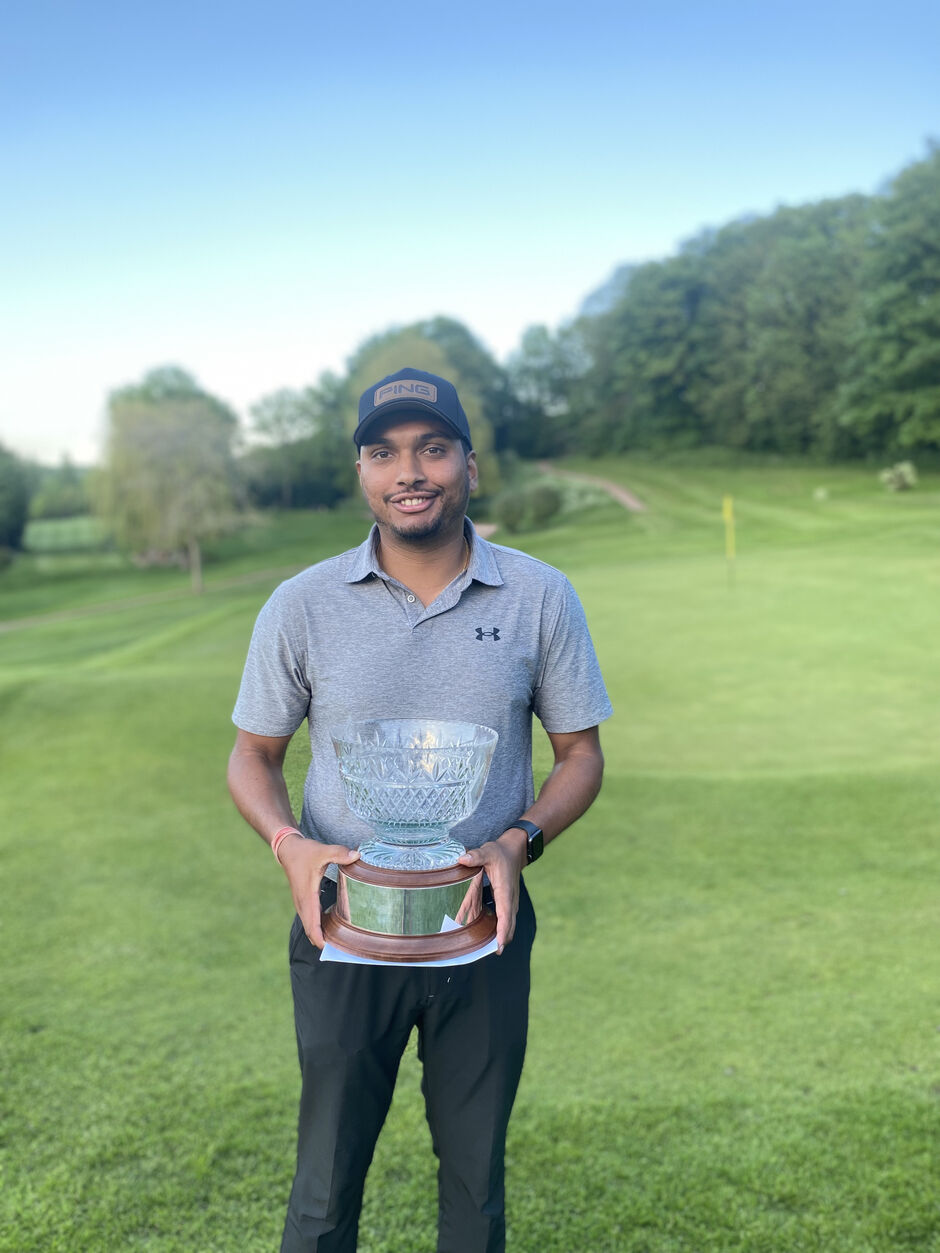 Kishen Velani's (Wanstead) 69, 68 for a 137 total was enough to pip by two shots, last year's County Champion Shay McQueen (Brentwood) from winning back-to-back OOM events hosted by Boyce Hill. Andrew Rose (The Warren) finished in third place in the Boyce Hill Scratch Challenge Bowl with a respectable 73, 67 for 140.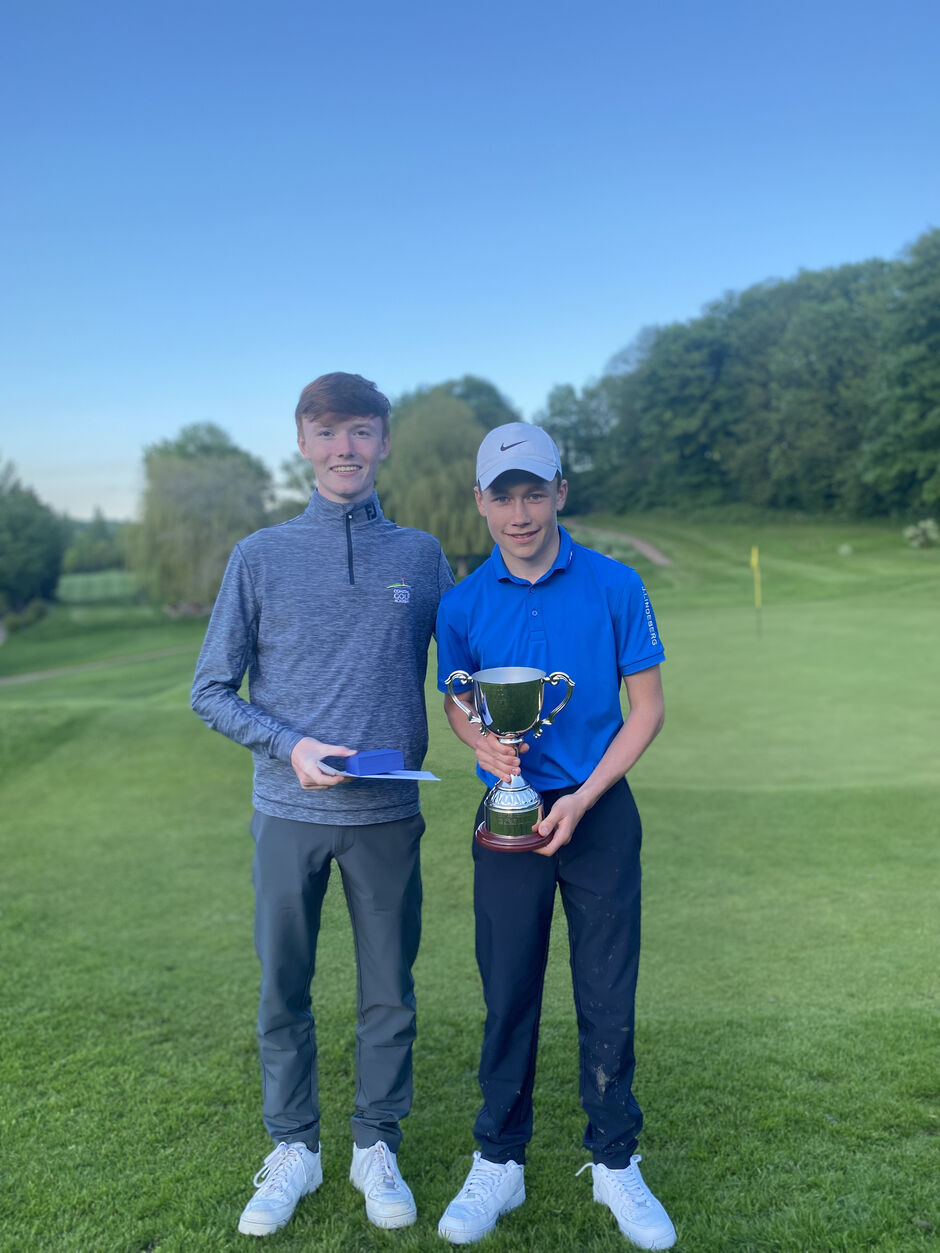 Andrew Rose's 140, with the 147 at Orsett was enough to guarantee him with third place in the Estuary Trophy on 287. Shaun Mills had a tough last 9 holes dropping out of contention. Dawson Langan finished slightly better however securing fourth place on 290. On 285 after a gruelling days play, Rusbridge & Morton continued to battle it out but after 72 holes, their totals of 285 meant a playoff was necessary.
Charlie Rusbridge called heads, which won the toss and Charlie duly decided to play first. His cool demeanour suggested he wasn't as nervous as he could be. His pre-shot routine was crisp but unhurried. A sweetly struck punched 8 iron soared towards the flag with little movement in flight, pitching 2 feet short of the flag and releasing past the flag to around 14 inches narrowly missing out on the perfect result. This clearly would've added pressure to Frankie, but seemingly unperturbed, Frankie's effort was a finely struck short iron also as it finished pin high some 12-15ft left of the hole.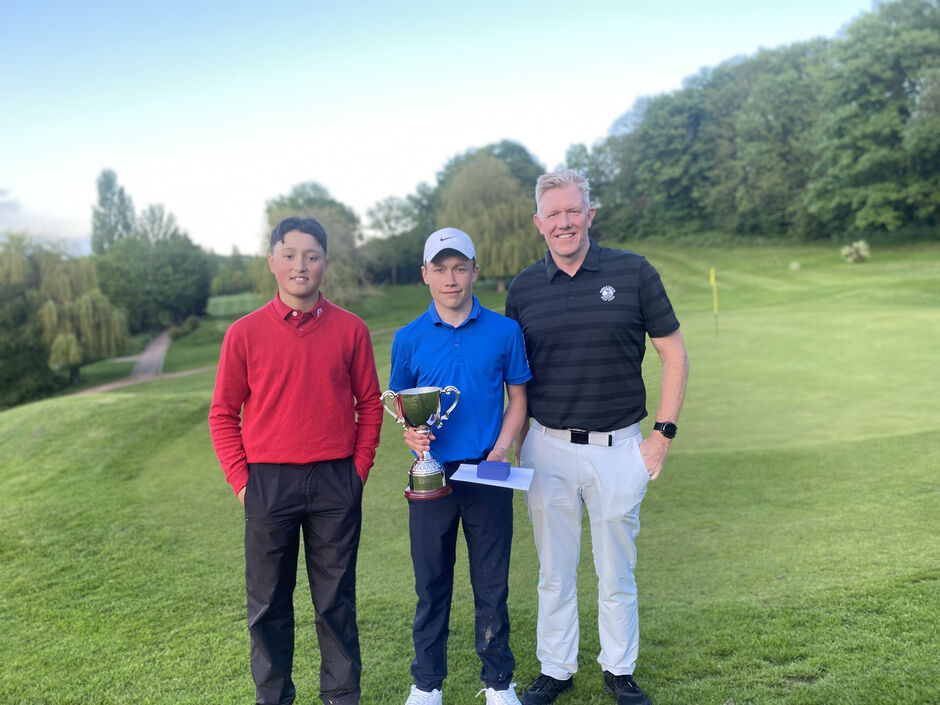 Frankie had a quick downhill left to right putt which was ultimately a 'must make' putt with Charlie so close. When Frankie narrowly missed and Charlie tapped in, The Estuary Trophy was secured in fine fashion by the promising youngster. With an equally promising youngster chasing him to the very end. Great to see such good golf so early in the season.
Well done to Charlie for a well-earned victory and his first step onto the WAGR listings.
Our thanks go to Orsett & Boyce Hill on hosting together three fine events to kick off the Essex Golf Union 2023 Championship season.