Under 12 Match Essex v Surrey
12th August at Maldon GC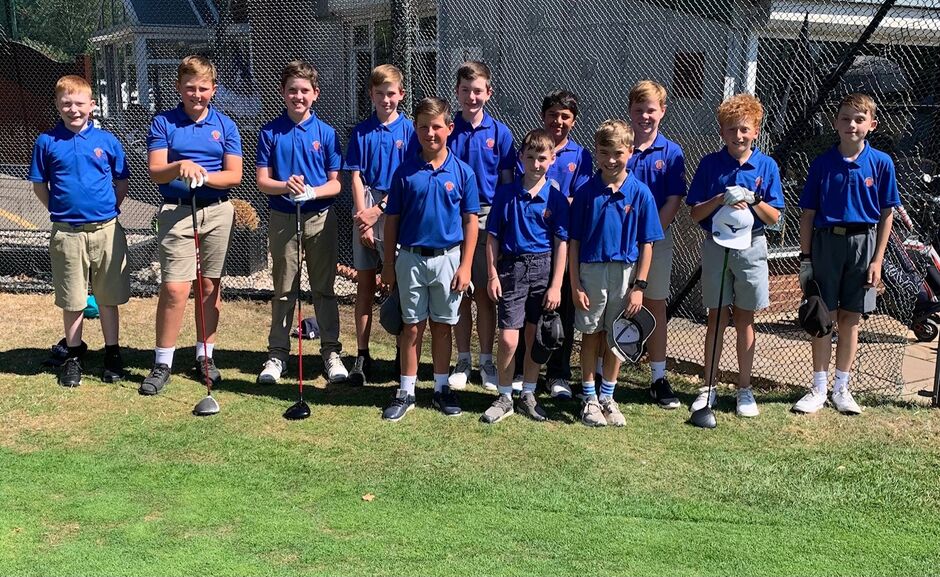 On another hot day with temperatures in the mid-30s, Essex Under 12's took on an Under 12 team from Surrey. Surrey had many players away so two Essex boys Harrison and Ralph Barnett agreed to play for Surrey and played very well, defeating 2 of the Essex team, but they got a game and the experience of County Match play so that will be great for next year as Harrison is only 9 and Ralph 11.
What a little gem Maldon Golf Club is and they gave us a great welcome with sandwiches on arrival and a meal at the end of the match. The course was looking in marvellous condition, especially the greens with a gentle breeze trying to keep us cool, however one of boy from each side succumbed to the heat and another Essex player injured his wrist but with 6 wins to Essex we secured ½ a point from Edward Reeves to win the match 6 ½ to 5 ½ - Well done team.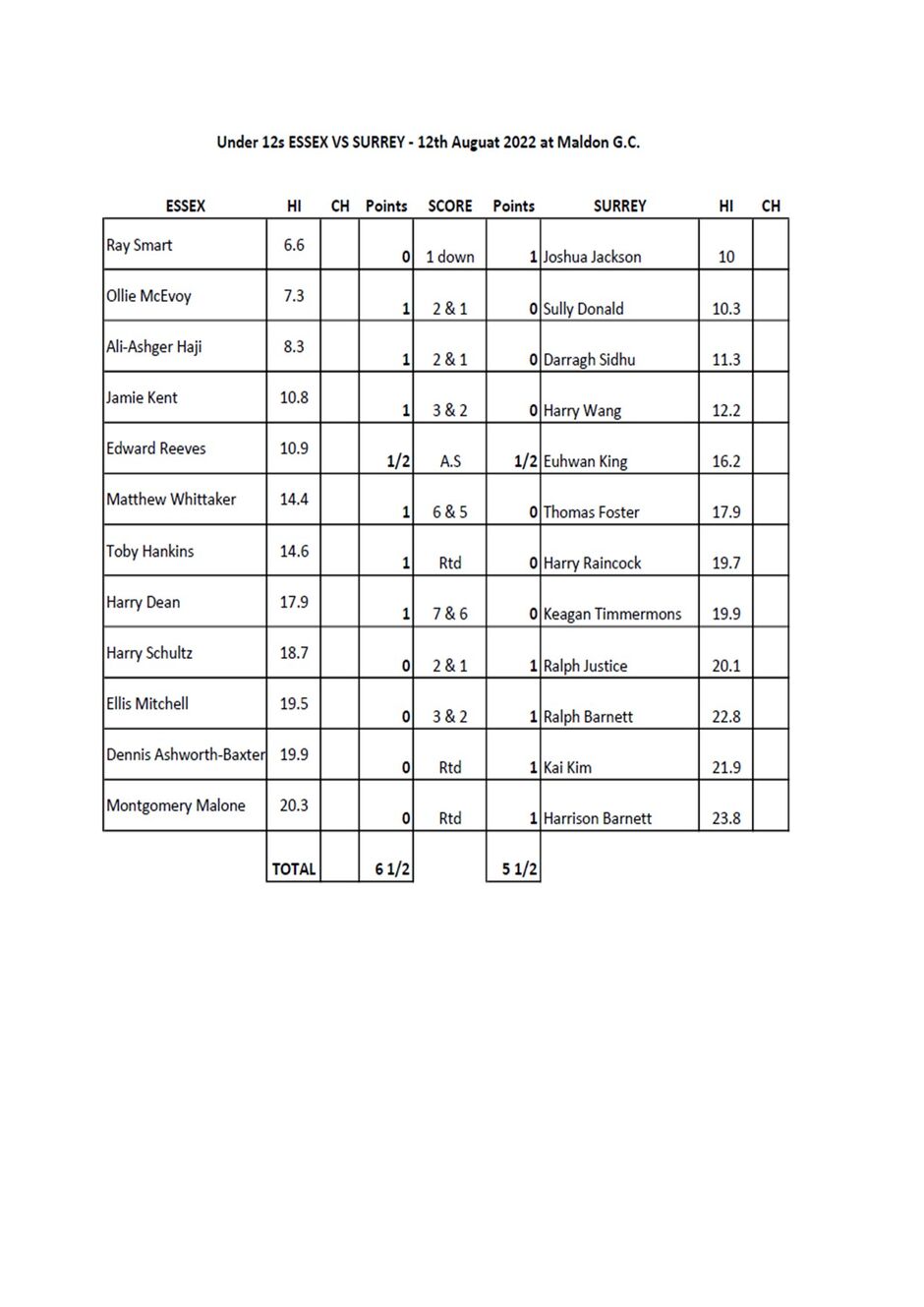 ****************************************************************
Boys Under 13 Development Group
Essex vs Cambridgeshire
Canons Brook Golf Club
26th June 2022
Many thanks to Canons Brook for holding this fixture which included 6 players from the Under 14s and 6 Under 12s. The course was in excellent condition and held some challenging holes especially in dry but windy conditions.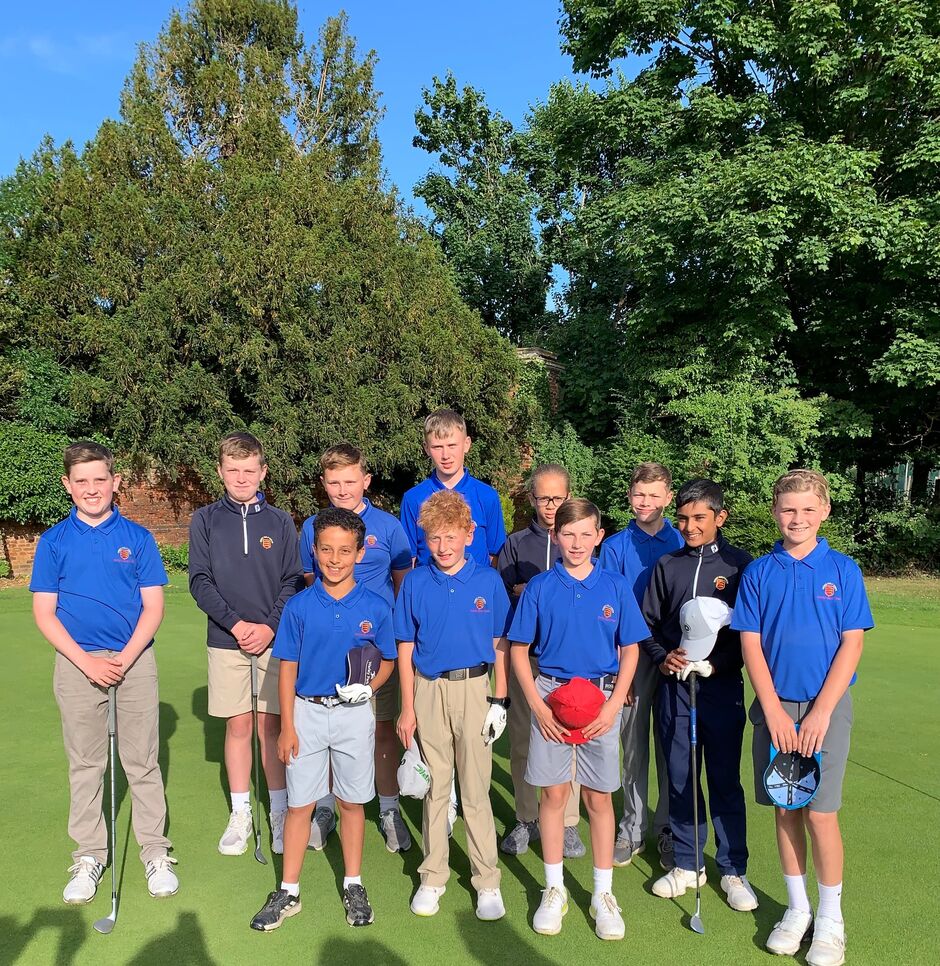 The Essex team under 14s were actually 4 under 13s and 2 under 12s who all played very well and won over 18 holes of singles match play by 4 – 2.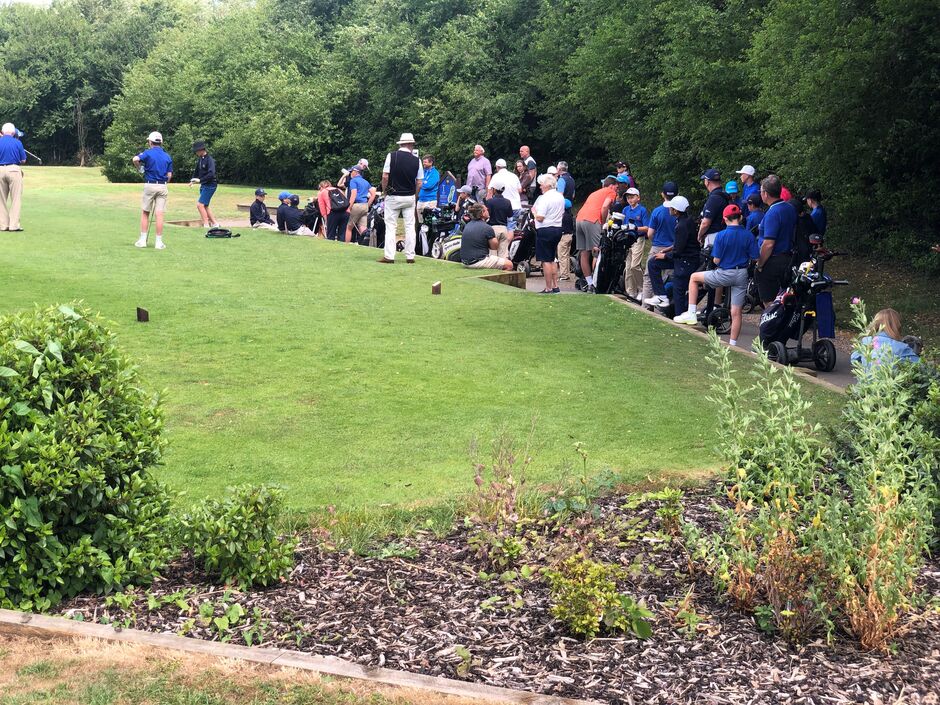 The under 12s played off the red tees and played 9 holes of greensomes and lost 2 – 1, then 9 holes of singles match play and drew 3 – 3. The handicaps of the under 12s in the Essex team were much lower so had to give shots in most of the matches. Luke McCarthy had to give 8 shots over 9 holes and only lost 1 down, a great effort by everyone. This gave us a narrow win of 8 – 7 but a most enjoyable and well fought match played in great spirit and sportsmanship.
Many thanks to parents for ball spotting and encouraging both teams with one of our spectators a European tour player. Many thanks also for our President Lawrence Kingsnorth for coming to support the team and the excellent help as always from Bill Dunbar.
ESSEX Under 13s / 12s vs HERTFORDSHIRE
BISHOPS STORTFORD
31ST MAY 2022
The 31st May saw the first friendly match for the Under 13s & 12s against Hertfordshire at Bishops Stortford Golf Club. Unfortunately, the weather proved to be more of our enemy than anything. We should have started at 1.0pm but due to a thunderstorm and torrential rain, we were delayed for 30 minutes. The first and lowest handicaps played singles but went out in 4 fours and the last 4 boys played 4 ball better ball. Alfie Dorrington, captain for the team went off first and had a great win - 8 & 6 and was 4 under gross for the 18 holes as they carried on playing to finish their round. Bishops Stortford was in great condition considering they have had a lot of work being done. Irrigation throughout, a new tee on hole 4 and a new tee on the 10th being done with a temporary tee in use.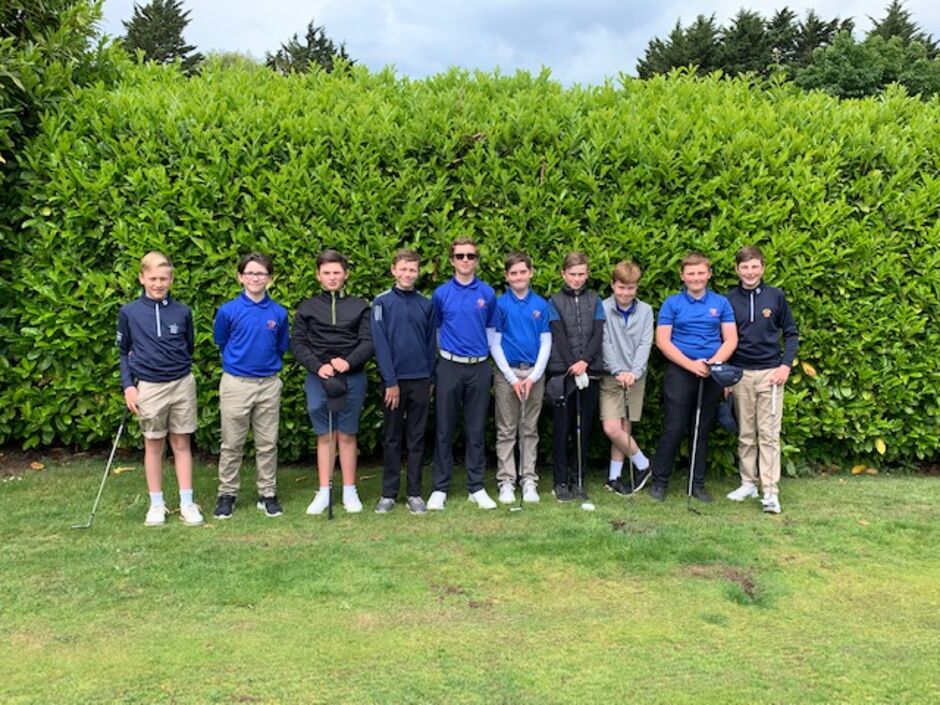 All the team played well with a great win of 6 – 2, against a team with some under 14s in. Our team consisted of 3 under 13s, the rest under 12s and one under 11. Freddie Rusbridge and Matthew Whittaker, 2 left handers together, playing in their first match, also had a great win, of 7 & 5. WELL DONE TEAM!
Many thanks to Bishops Stortford Golf Club for hosting the match and to Graham Orr for organising the day. My thanks to Bill Dunbar also for being there and guiding me through my first event.
Ruth Collins
Team Manager