Boys Under 16 Team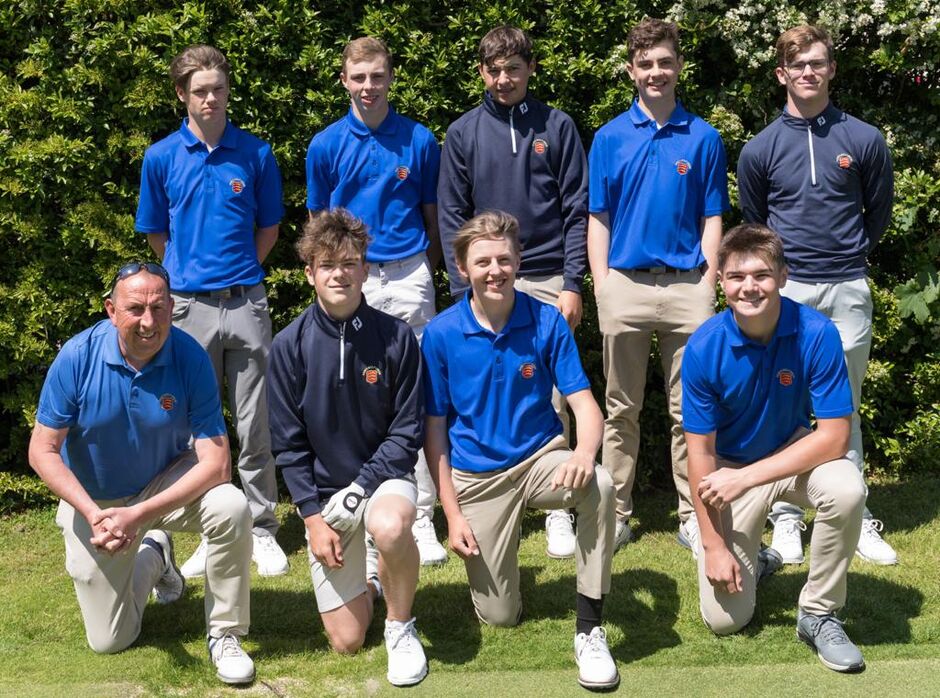 Under 16 Team in Action
The Team arrived in confident mood after a convincing win in the 1st of 3 matches. This tie was played at Barnham Broom GC, Norfolk on the tricky Hill course, with plenty of penial, long rough. Essex started well, leading in all matches against under-strength opposition. Micah Blowers, Dawson Langan and Olly Bangs performed well and impressed on their debuts. At the turn Essex had established commanding leads with some big victories imminent. Langan and Blowers winning 9 & 7 and 8 & 7 respectively. The trend continued with strong wins for Read, Flynn, Hussey and Briggs. Dominant wins v Suffolk (8-0) and v Norfolk (7-1) nudges Essex closer to securing a place in the S E Group Final in September.
Graham Bowers U16s Manager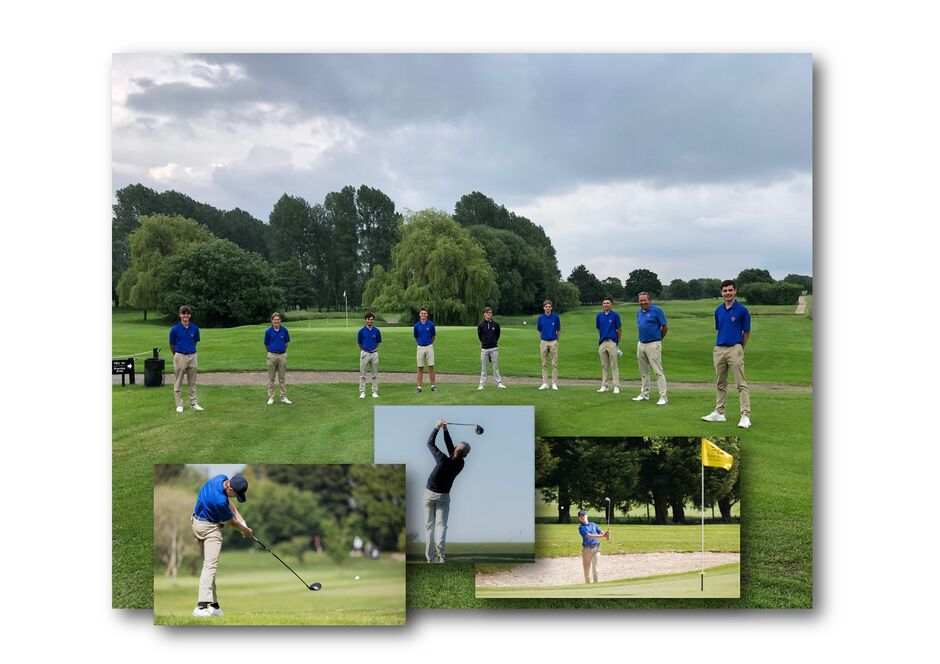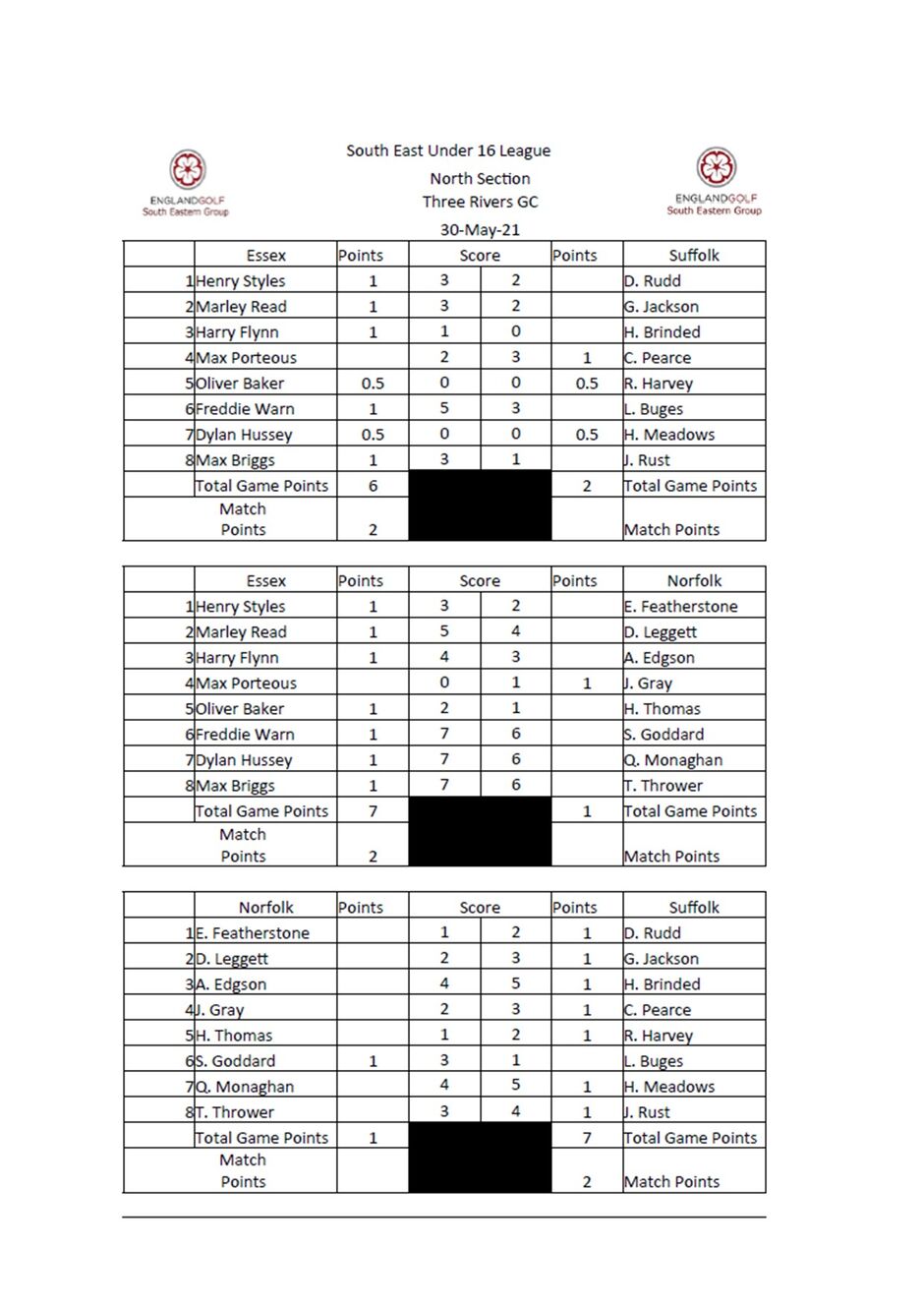 Under 16s SE Group Match v Norfolk and Suffolk
Saturday 18th August 2018
Fynn Valley Golf Club
After a practice round the previous Monday for valuable course knowledge, Essex arrived at Finn Valley Golf Club for the all-important winner takes all clash in the south east group U16s. With the group tied at the top between Essex and Suffolk on 6 points Essex knew that only a win would ensure a place in the final at Brighton in September. Fynn Valley was an interesting venue with some good holes and a few shorter tricky ones. With 8 single matches being played the target was 4 and a half, not forgetting to beat Norfolk also. With handicaps between 2-5, Essex on paper were favourites in the scratch match play, but often with match play things don't always go to plan. After Indifferent start Essex were up in 2 and down in 4 matches, by the turn it got worse courtesy of some wayward shots and poor course management, and it got worse with 1 match finishing on the 11th hole. Essex ended up embarrassingly defeated 7.5 to 0.5 and a narrow 4.5 to 3.5 victory over Norfolk. A season of much promise ended in disappointment.
Graham Bowers U16s manager.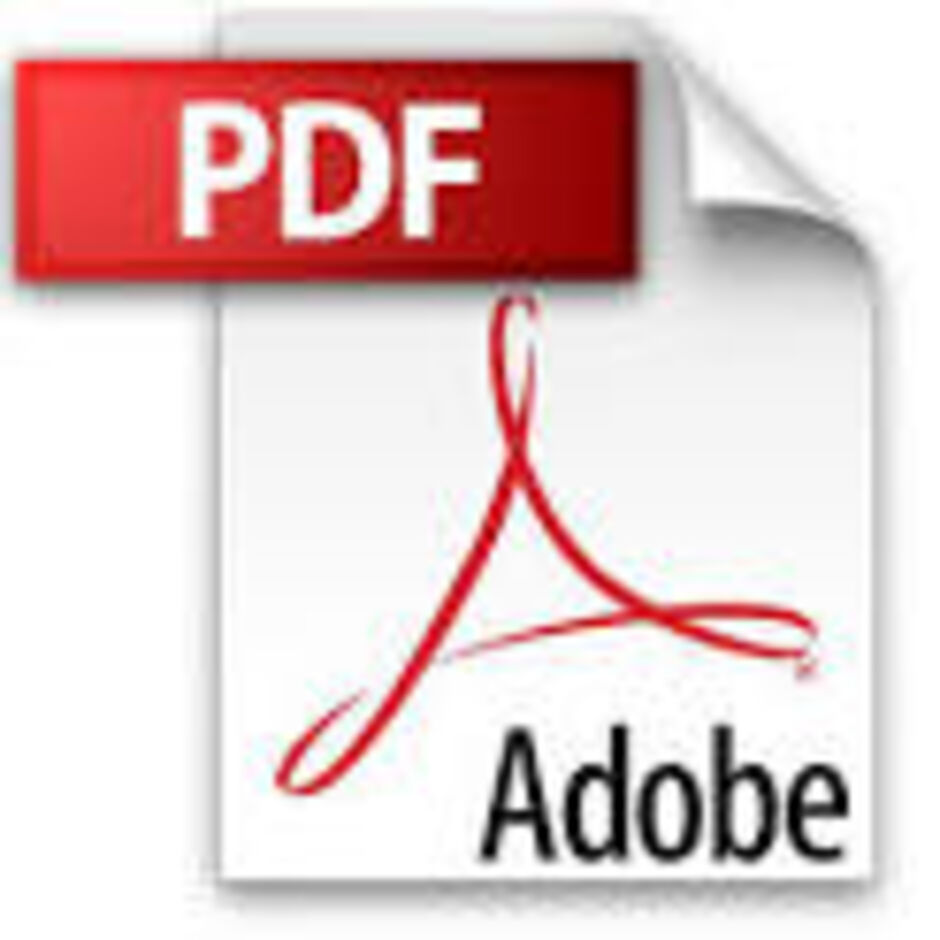 Scores
---
U16 Triangular Match
Essex V Suffolk & Norfolk
Braintree 28th July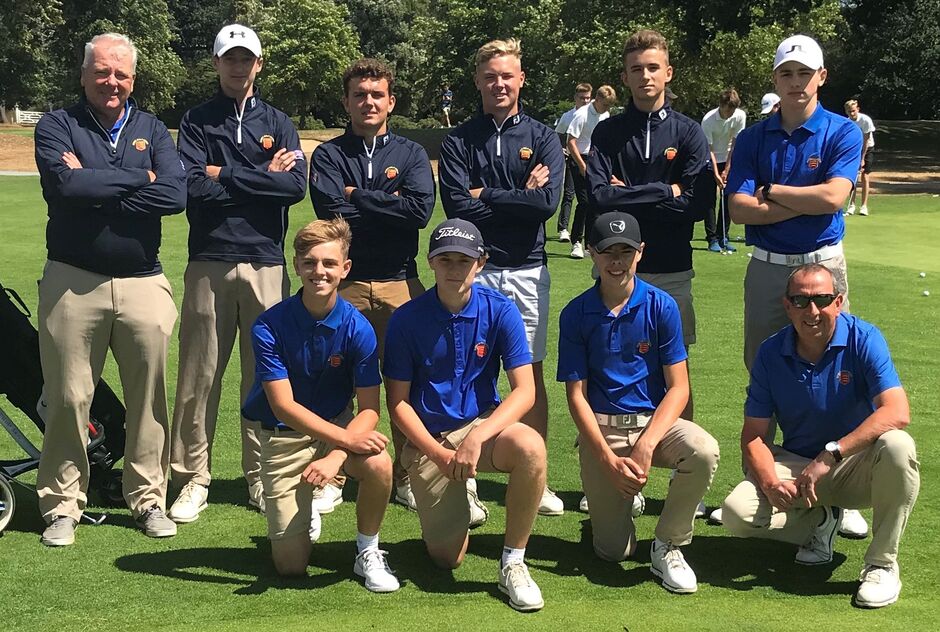 Braintree Golf Club was the venue in the 2nd of 3 triangular matches with Suffolk and Norfolk. In a stark contrast in weather conditions from a match involving all 3 sides only days earlier the teams were met by gale like winds. With Essex top of the league, a win against Suffolk would secure them a place in south east group final. But despite good wins by Charlie Dodds and Luke King and a pair of halves Essex were beaten 5-3. With Essex and Suffolk beating Norfolk 7-1 and 8-0 respectively. This now leaves them joint top with a winner takes all contest at Finn valley later in August. Suffolk will start favourites at their home venue, but Essex must learn from their mistakes and dig deep to win there next match. Many thanks to Braintree GC for their hospitality and use of the excellent course, plus thanks also to the parents for support and help on the day.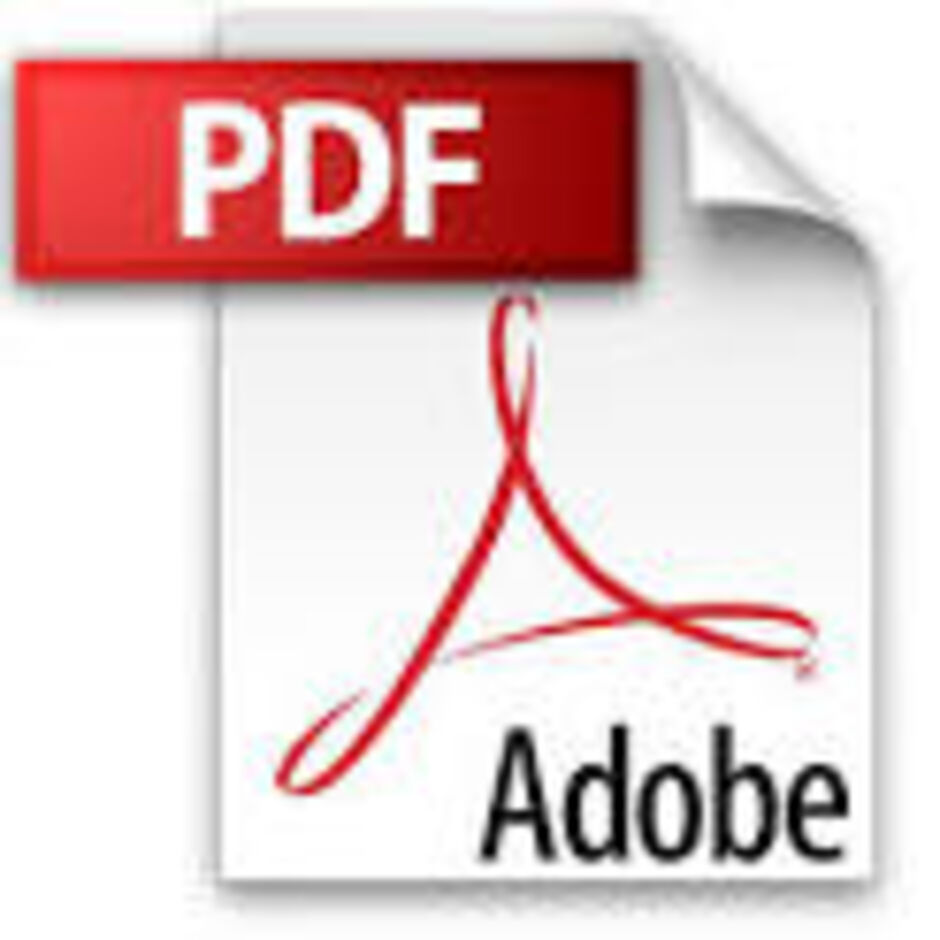 Scores
---
Skevington Trophy
Royal Norwich Golf Club, 24th July
Essex travelled a day early for a practice round in the Skevington trophy at Royal Norwich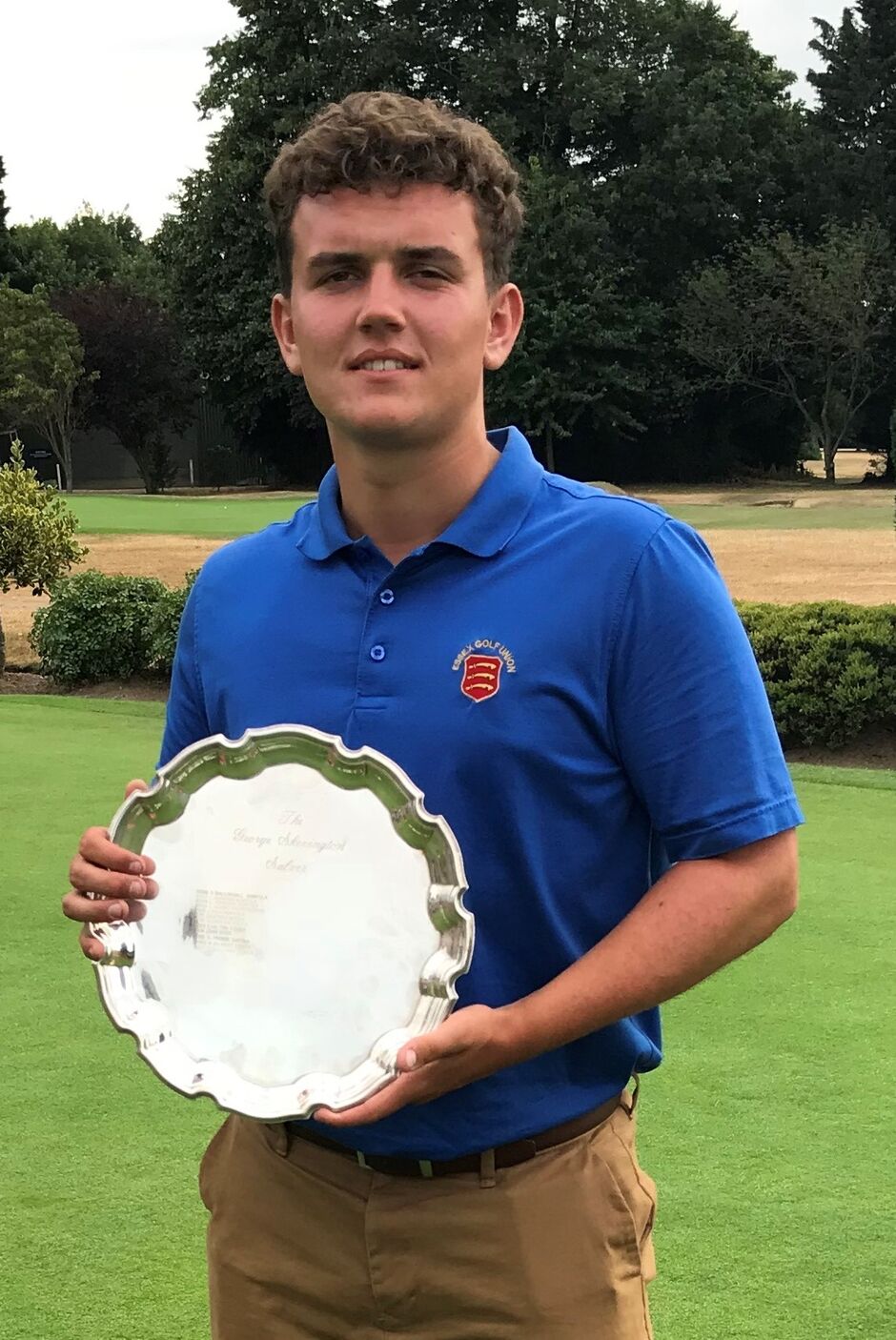 GC for a 27 hole stroke play team competition against Suffolk, Norfolk and Bedfordshire . Match day brought a very hot day and firm conditions on a tricky course and club selection would be vital if Essex were to retain the title and trophy. The morning round brought in some disappointing scores with only Jake Wells 1 over. With the format of the best 6 scores from 8, the afternoon round was going to be hard work. Jesper Laurence scored a great 69 (-2) and Jake wells 72 (+1) to add to his morning round to take the best scratch score and the Skevington Salver, but Suffolk continued there good morning rounds to take the Bob Bagshaw team trophy with Essex coming 2nd.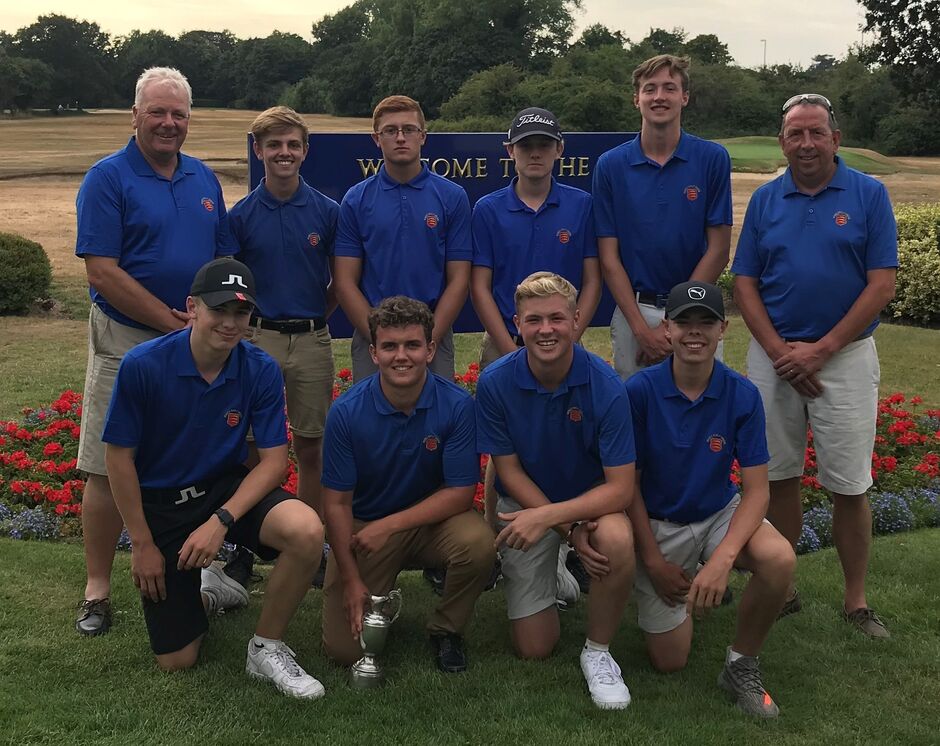 ---
South East Under 16's League
Norfolk v Suffolk v Essex
Saturday 2nd June, Bawburgh Golf Club, Norfolk
For the first League match of the season the team travelled a day early for an invaluable practice round at Bawburgh golf club, Norwich, a challenging 6,748 yard course. After playing and taking note of the positioning required to tackle some tricky holes and every borrow and undulation of the excellent quick greens the team retired to rest for the first of three regional matches to be played over the summer.
The morning brought very sultry and cloudy conditions the start time of the match was brought forward due to the forecast of thundery showers later in the day. Essex started badly with the first 2 matches well down over the first 9 holes, but on the plus side we were up in most of the rest. Over the next hour the weather deteriorated, and the rain came in hard resulting in the players being taken off the course to the clubhouse due to flooded greens. After a 45 min delay the players returned to their original positions on the course and play continued. Some of the first games finished or were drawing to a close and some poised finely when the heavens opened again, this time with lightening accompanying a heavy storm and the players quickly returned to the safety of the clubhouse.
After a prolonged delay it became apparent that it would be difficult to complete the remaining matches, allowing for the lengthy journeys home for the away teams. The team managers had a meeting and consulted the rules of the competition which stated that any match not completed would revert to the match score at the nine-hole mark! This resulted in Essex achieving a 6-2 win against Norfolk, and a 4.5 - 3.5 victory over Suffolk, giving Essex a maximum 4 points and topping the group. Good double wins for Wood, Elliott, Buckley and O'Connor and a valuable win and half from Graveley, resulting in a good start to the 2018 league campaign for the under 16 team.
Our thanks to host county Norfolk, and in particular Bawburgh golf club for their hospitality.
Essex will host the next league fixture, at Braintree golf club on 28th July.
Graham Bowers, U16 Team Manager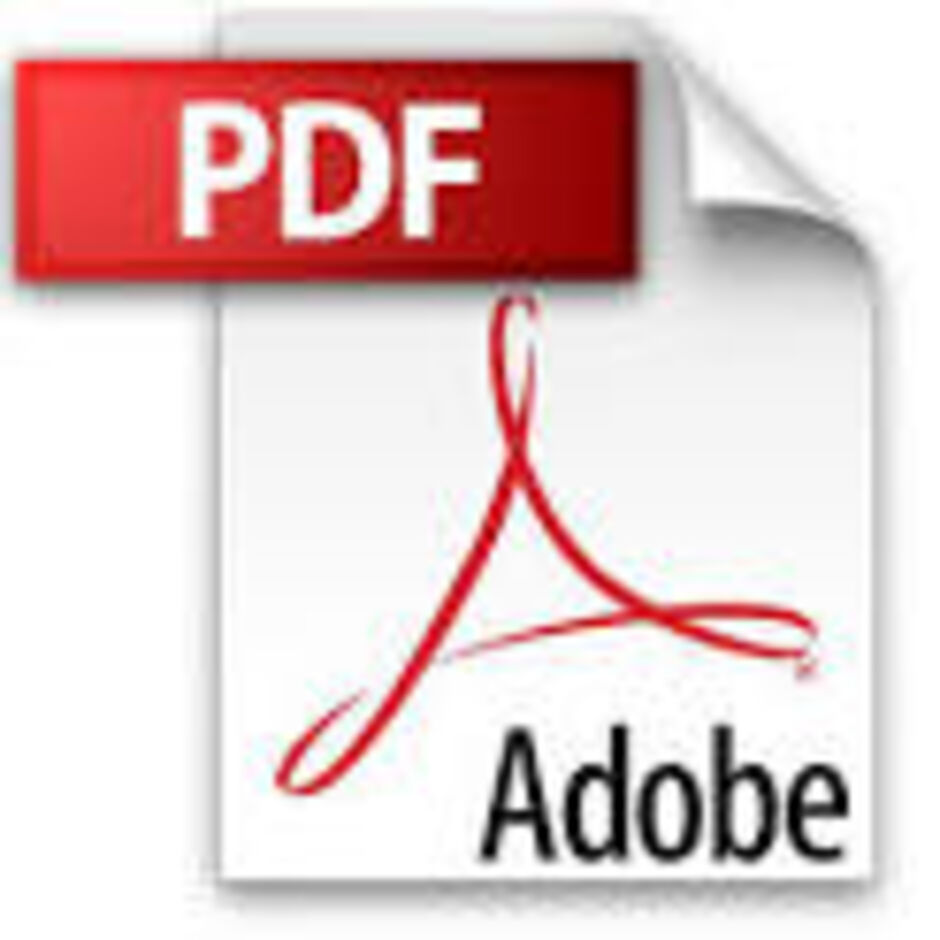 Scores
---
Under 16 Team V Bedfordshire
Maylands Golf Club, 9thApril 2018
Despite the wet start to the year, Maylands were able to present their course in a fantastic condition for the match versus the Bedfordshire U16 team. There were lots of comments regarding the great condition the greens were in given the fact that we had had such a huge amount of rainfall over the weeks leading up to the match.
The match was played in great spirits as always, with Bedfordshire taking the lunch time lead by a point, 2½ to Essex's 1½ from the Foursomes play. Essex's second pairing Charlie Dodds and Beau Brunning managed a 2&1 win whilst Harry Wood and Alex Maplesden managed a half in the third match to prevent a 3-1 deficit going into the afternoon singles.
A hot start by Essex in the afternoon saw the first four matches bring home a point to make the score 5½ to 2½ now in favour of Essex. Teddy Papple won 3 & 1, Lewis Wright won 4 & 3 and both Charlie Dodds and Harry Wood managed 2 & 1 victories. The next two matches went to Bedfordshire which meant the overall match was now potentially on the next match in. Thomas Vass clinched it with a 2UP victory meaning Max Toombs half at the tail end of the field was sufficient to win 7 – 5 in total and a fantastic singles display following a relatively slow morning start.
Thank you to Maylands golf club for hosting the match, as always their hospitality was impeccable and thank you to Bedfordshire U16 team for playing a well fought match in such great spirit.
U16 Team Manager
Graham Bowers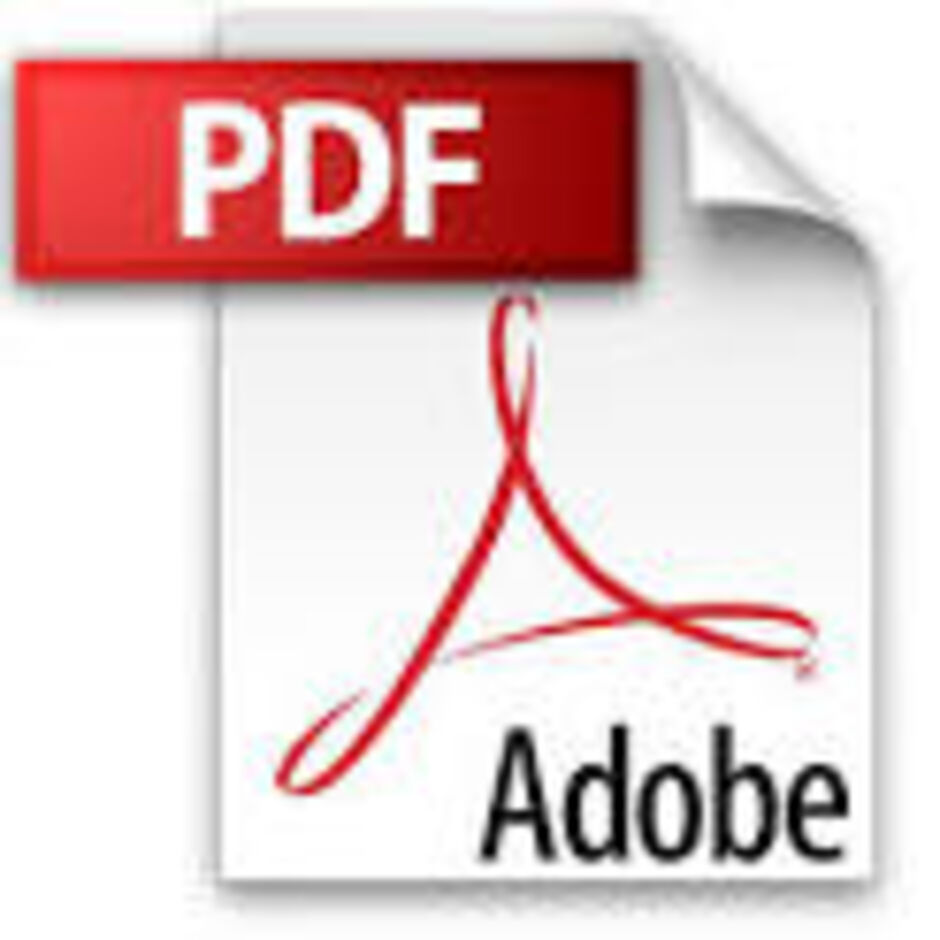 Result Sheet