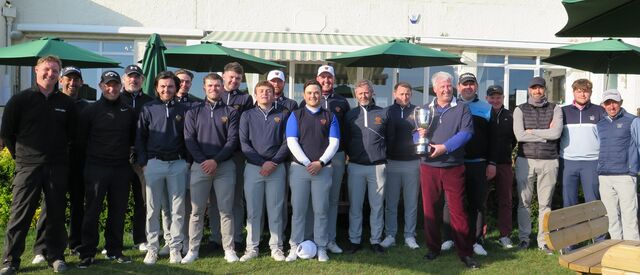 L to R. LLoyd Kennedy, Jason Levermore, Rob Coles, James Gurry, Brandon Meads, Harry Butler, Jackson Garnett, Sam Green, Shay McQueen, Joe Tatam, Ben Humphrey, Zach Chegwidden, Ricky Lee (Capt), Andy May, Roger Gray (Capt) Luke Fraser, Steve Cipa, Mark Talbott, Joe Bushell, Scott Rushbridge
After a year and 9 months, team golf finally returned to the Essex County Team in the form of our annual match against the Essex Professionals at Frinton Golf Club. With an unpromising weather forecast for the time of year, it was a pleasant surprise for the rain to stay away and some cold but sunny conditions to grace the occasion.
As always the Foursomes kicked off proceedings with the Brentwood GC pairing of Brandon Meads and Joe Tatam taking on Rob Coles and Jason Levermore. Match 2 had Nazeing's Sam Green making his county team debut paired with County Captain Ricky Lee against Scott Rushbridge and Joe Bushell. Chelmsford pair Shay McQueen and Ben Humphrey against County assistant Secretary James Gurry(sporting a new style in hair fashion) and Steve Cipa. With all three of these matches narrowly finishing in favour of the Professionals it was left to Andy May / Zach Chegwidden and Harry Butler / Jackson Garnett (Zach and Jackson also making County Team debuts) to narrowly take the last two points from Roger Gray (Capt) / Luke Fraser and Mark Talbott / Lloyd Kennedy respectively.
Lunchtime 3/2 in favour of the Professionals.
The afternoon singles saw no letup from the Pro's, with only 2 wins from debutants Zach and Jackson and 2other halves, the amateurs succumbed to a 7/3 afternoon defeat.
The Professionals deservedly retaining the Trophy with an overall 10/5 victory
Thanks were expressed both by Ricky Lee and Roger Gray for the superb condition of the Frinton Course and the generous hospitality of the Frinton Management and Members in allowing us the use of the course yet again for this event.
Phil Hulse
County Team Manager