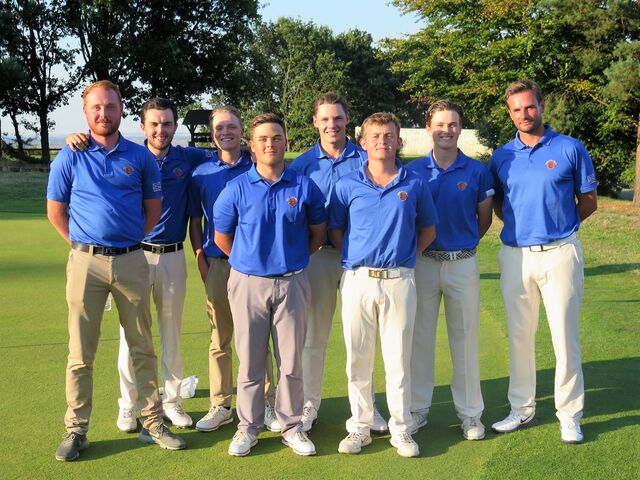 Joe Tatam, Brandon Meads, Harvey Sullivan, Ben Humphrey, Curtis Knipes, Shay McQueen, Arron Edwards-Hill, Jamie Richards
After a week of upset which curtailed our plans for a Saturday practice round due to The Millbrook playing their club championships, and with two last minute withdrawals, a weakened Essex County Team turned out for the last league match of the season away at the very tricky Millbrook Golf Club in Bedfordshire. This is a course which has caused us and other counties upset in recent times and despite our high league position compared to our hosts, we knew this was not going to be a walk in the park. Our thanks to debutants Ben Humphrey and 16 year old Harvey Sullivan for stepping in at the last minute.
So, the morning foursomes started as expected with Beds pair Jack Hawksby (who had shot a Millbrook course record 7 under the previous day) and Paul Kenna against Brandon Meads and Joe Tatam. No surprises in this one as the home pair won a closely fought match on the 17th with some fine golf on show. Match 2 featured current 2 time Essex amateur champion Curtis Knipes paired alongside Arron Edwards-Hill, two plus 3 golfers and highly fancied. After 9 holes however the Essex pair were 2 adrift and looking up against it. True class tells in the end with the Essex pair winning out on the last green for a 1 up victory. Honours even. Match 3 brought newcomer Harvey alongside his Abridge clubmate Jamie Richards. Some great golf from these two won the next point for Essex again on the 18th Green. The final morning match paired Chelmsford clubmates Shay McQueen and Ben Humphreys together (Shay in his first full county league match and Ben making his County Team debut). In a very close fought match against Beds Captain and Millbrook member Norman Cilliers alongside Seb Lovell, the Essex pair stepped up to the plate with a win on the 17th green.
Score at lunch, an unlikely but gratefully accepted 3/1 lead to Essex which could easily have gone the other way.
With young Harvey Sullivan already a point to the good, and knowing Beds top player Hawksby would be out number one, perhaps a sacrificial lamb was the order of the day? Harvey then took on the baton and went out number one against Jack, relishing the opportunity. This was a closely fought contest with never more than one hole in it all the way. But for a bogey on the 18th Harvey would have gained a maximum 2 points from his debut, but a half against Jack was a most satisfactory outcome.
Apart from Arron's 5&4 win over Beds youngster and Millbrook 5 handicapper Aidan Abbott, all the other singles matches were very closely fought with the 18th hole being the bain of quite a few Essex players with Shay, Jamie and Ben all losing this relatively straightforwards par 4 hole. However Essex ran out narrow winners of the pm singles by 4.5 to 3.5 with an overall match score 7.5 to 4.5
Tribute to all the newcomers to the County side today. Joe, Ben, Shay and Harvey. All who produced valuable points for the County under less that ideal circumstances. The future is looking strong !
This result ensures Essex win the northern section of the England Golf South East Group with a maximum 4 wins out of 4, which puts us into the Final match against reigning England County Champions, Hampshire at Frilford Heath Golf Club on Sunday 7th October
Our thanks to the team and officials of Bedfordshire who always are a pleasure to be amongst, win lose or draw. Also to The Millbrook Golf Club for their excellent hospitality on a wonderfully prepared golf course.
Frilford here we come!
Phil Hulse County Team Manager