The beautiful summer weather of Easter weekend had well and truly abated to be replaced by high winds and freezing cold temperatures for the annual 'friendly' County match with Kent. Returning once again to a well prepared Brentwood Golf Club, Essex were looking for revenge after loosing away at Sheerness in last years fixture.
Out first in the morning Foursomes were newly crowned Keating Trophy winner Josh Read making his County team debut alongside Brandon Meads who were up against Kent number one pairing of Liam Burns and Bobby Twinner. By the turn the Essex pair had turned an early deficit into a one hole lead which they held on to, eventually wrapping up a fine 3&1 win in the 17th green, setting the target for those following. Wins then followed for Ross & Jamie, Arron & Curtis, and Ben & Josh Tobin with the only half By Shaun Mills & County Vice Captain Ricky Lee. A lunchtime score of 4.5 to 0.5 in favour of the home team and an encouraging sign for the defence of our Eastern Counties Foursomes title at Seacroft Golf Club in 3 weeks time.
An uphill battle then for Kent going into the afternoon singles. Obviously fired up by the morning score, they came out all guns blazing and after 5 holes they were ahead in 5 of the first 7 games. Game 1 had Mike Bush 4 up by the 7th against Shaun Mills and despite a hard fought comeback by Shaun closed out a 2&1 win. First point to the visitors. with Arron turning round an early deficit into a 3&2 win the pm scores level at one all. Game 3 and arguably the 2 best players pitted against each other with reigning Essex Champion Curtis Knipes playing Kent no.1 Liam Burns. A great match it turned out to be, with Liam 2 up around the turn, Curtis hanging in with some great golf managing to pull back all square for a well deserved half.
Game 4 saw Brentwood regular Brandon Meads with a 3&1 win over Bobby Twinning taking Essex to within a point of overall victory. Game 5, and Ross Dee being 4 down after 7 holes showing true resolve with a fight back to snatch an unlikely half point. Josh Read next and playing some solid golf was one up with 2 to play looking to put the winning point on the board. His opponent however had other ideas and with the aid of fortunate bounces on both 17 & 18 snatched an undeserved win for the Kent side.
With 4 games left out on the course with no more than one hole in each, the match was still not won with Kent still in with an outside shout. Ricky Lee however put paid to that by winning the 17 for a 2&1 victory and a match win for the Essex team.
The last 3 games all finishing on the 18th hole with Essex wins.
A valiant fight from the Kent side pressing all the way with a scoreline of 11.5 to 3.5 flattering Essex and not at all as easy as the score may suggest. Some wonderful golf was played in awful conditions and both sides to be congratulated for providing a riveting match.
As always our hosts providing a course in excellent condition with hospitality to match.
The defence of our league title kicks off in 2 weeks time (Sunday 12th May)with a home match against Bedfordshire at Chelmsford, closely followed by our attempt on a hat trick of wins in the Eastern Counties Foursomes as Seacroft Golf Club Skegness the weekend after.
Phil Hulse, County Team Manager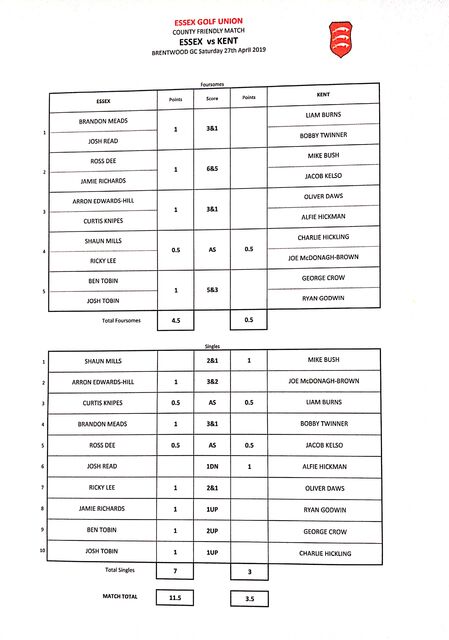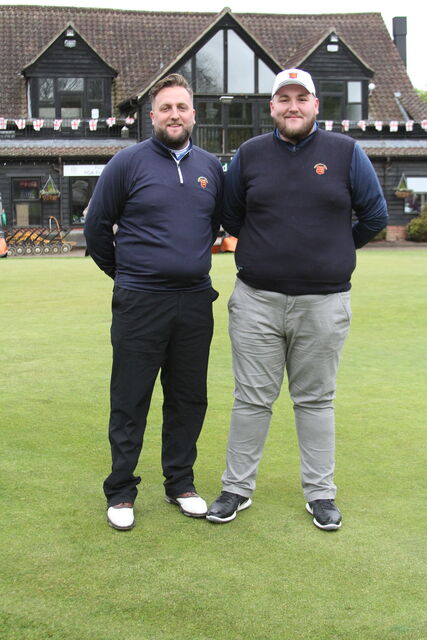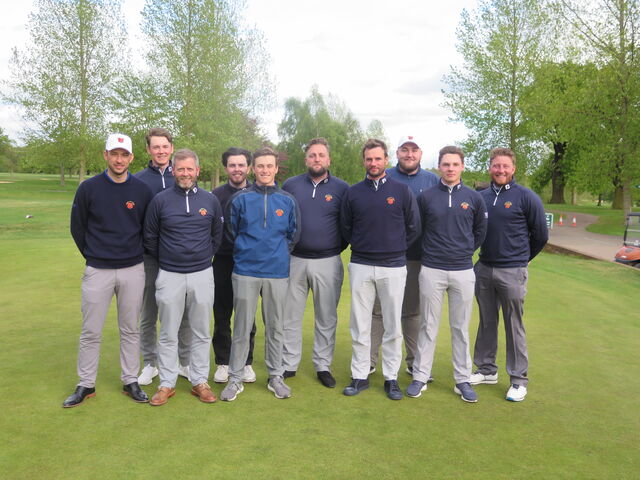 L to R: Shaun Mills (Orsett), Josh Read (The Rayleigh Club), Ricky Lee (Boyce Hill), Brandon Mead (Chelmsford), Arron Edwards-Hill (Chelmsford), Ben Tobin (Orsett), Jamie Richards (Abridge), Josh Tobin (Orsett), Curtis Knipes (Chelmsford), Ross Dee (Orsett)