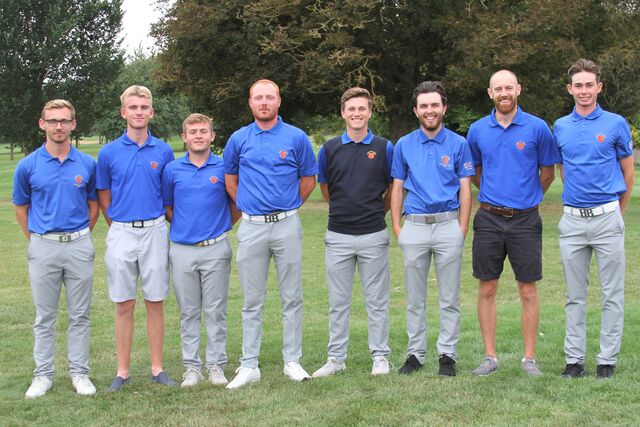 L to R... Lukas Warren, Jack Dyer, Shay McQueen, Joe Tatam, Arron Edwards-Hill, Brandon Meads, Alex Christie, Harry Butler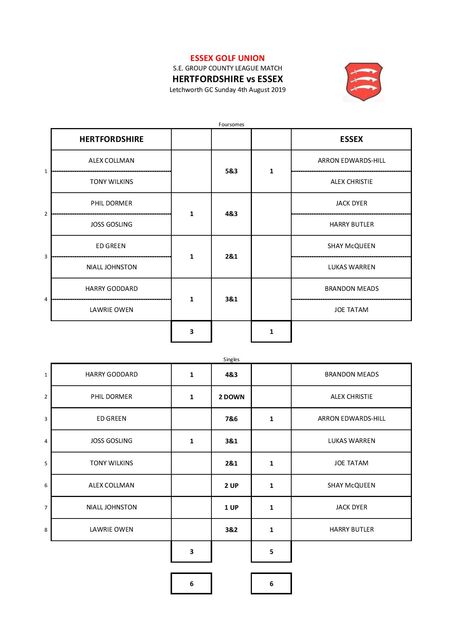 Essex County Team's last league match of the season was away against an in form Hertfordshire side who were on top of the league with a 100% record from their 2 matches against Beds and Middlesex. With the defence of our league title now looking very unlikely after our defeat by BB&O, all we could do was a comprehensive win here and then await the outcome of the Herts/BB&O match in September.
With Herts switching home venue from Hadley Wood to unfamiliar Letchworth, the odds were stacked against us especially with the likes of Harry Goddard, Phil Dormer and Laurie Owen on display for the home side.
Despite the loss of Curtis Knipes who was battling a semi final of the English Amateur Championship only the day before and after his exploits in the Open at Royal Portrush, Essex still fielded a formidable line up including Arron Edwards-Hill, Jack Dyer, Harry Butler.
The morning foursomes started pretty even with our first group never falling behind to register a solid 5/3 win to give Herts their first foursomes loss of the season. Games 2 and 3 however were never ahead and both suffered losses. In game 4, Essex made a great start against top pairing of Goddard and Owen with an early 3 hole lead and at the turn were still 2 up. However with some superb scoring from the Herts pair on the back 9 another game went to the home side. Score at lunch then, 3/1 to Hertfordshire.
With a mountain to climb, the afternoon singles kicked off with early wins for Harry Goddard against Brandon Meads and Arron Edwards-Hill against Ed Green. Score 4/2 to Herts and only needing 2.5 more points to secure the match. After 9 holes however this was not looking on the cards as Essex were up in 4 games and all square in the games with Alex Christie and Lukas Warren. With Lukas' opponent winning his match on the 17th and the in form Phil Dormer firing birdies and eagles at Alex Christie to win 2 up, Herts now only needing a half point to secure the match win.
Great wins for Joe Tatam, Shay McQueen and Harry Butler brought the score to 6/5 with only the Johnston/Dyer match left out on the course. After being 4 down to Dyer at the turn, Johnston produced some spectacular golf with a birdie an two eagles to get within one of Jack after 15. With Herts sensing a turnaround and that elusive half point now becoming a possibility, the tension was mounting. In true style Dyer produced a fine Birdie on the par 5 16th to go back to dormy 2 up which was quickly matched by Johnston's birdie 2 on the 17th. All down the last then which Jack won with a solid par to win the game and half the overall match at 6 points all. 
A fitting end to a fabulous match played with 2 very good sides who produced some scintilating golf throughout the day.
By not winning, the Essex hopes of defending the league title were dashed, with only a win by Herts at Frilford Heath stopping BB&O from taking the title
Our thanks to  Herts Manager Jim Abraham and Letchworth Golf Club, for their excellent hospitality along with a wonderfully presented golf course.
Phil Hulse, County Team Manager