ROMFORD TROPHY
​Played at Romford Golf Club on Friday 1st September 2017
A bright and fresh September morning welcomed 59 competitors as they arrived at Romford Golf Club to compete for the Romford Trophy.
The course looked to be in great shape considering the issues this year's weather and Romford's poor luck with machinery has caused. The greenkeeping team had no doubt worked extremely hard leading up to the event to present the course in such great condition.
The condition of the course must have influenced the field as the good scores were being returned from both ends of the field. Eight competitors broke par in the morning with Alexander Woodward (Boyce Hill) & Jason Renton (Basildon) returning one under par scores of 70. One in front with scores of 69 were Oscar Yeomans (Chelmsford), Jay Beisser (The Rayleigh Club) & County Champion Curtis Knipes (Abridge). Daniel Nicholls (Colchester) returned ahead of that group by one shot, with a superbly put together round of 2 under par 68. Brandon Meads (Chelmsford) carded a morning score of 67 which was only good enough to secure second place going into lunch as the winner of the North of England Youths, Essex Boys Championship & the Cliffords Trophy continued his fantastic form by recording a 65 which included 5 birdies and an eagle with just one blemish on his card.
The afternoon saw another seven scores better than the par of 71. Only three of the players in the morning managed to repeat the under-par form of the morning, despite some great efforts. William Percival (Orsett) returned a 3 under par score of 68 to finish on 139 (-3) for the day, beating Brandon Meads on Countback who couldn't match his morning form by returning a 1 over par 72 in the afternoon. Jay Beisser continued his consistent form by improving on his morning's 69 by one shot resulting in a total 137 (-5). County Champion Curtis Knipes returned a 67 (-4) in the afternoon securing second spot with a total of 136 (-6). Maintaining his winning ways this season was Arron Edwards-Hill, whose solid round of 69 (-2) was enough to secure a winning margin of two shots as he finished on 134 (-8) for the day. Congratulations Arron, a fantastic season so far.
Daniel Nicholls' performance was good enough to take second place in the net competition with a net 134. Jake Wells was a shot better with a net 133 (-9) which meant he wins the net competition this year after dropping just one shot over the whole day playing off a handicap of 5. Promising that both Jake and Daniel are both under 16 years of age and have undoubtedly bright futures in golf.
Congratulations to all the winners and our thanks, as always to Romford Golf Club for hosting the event and their exceptional hospitality. We now await the conclusion of this year's Order of Merit which concludes at Upminster Golf Club, where the top four in this event are also the top four in the running for the Order of Merit Trophy 2017.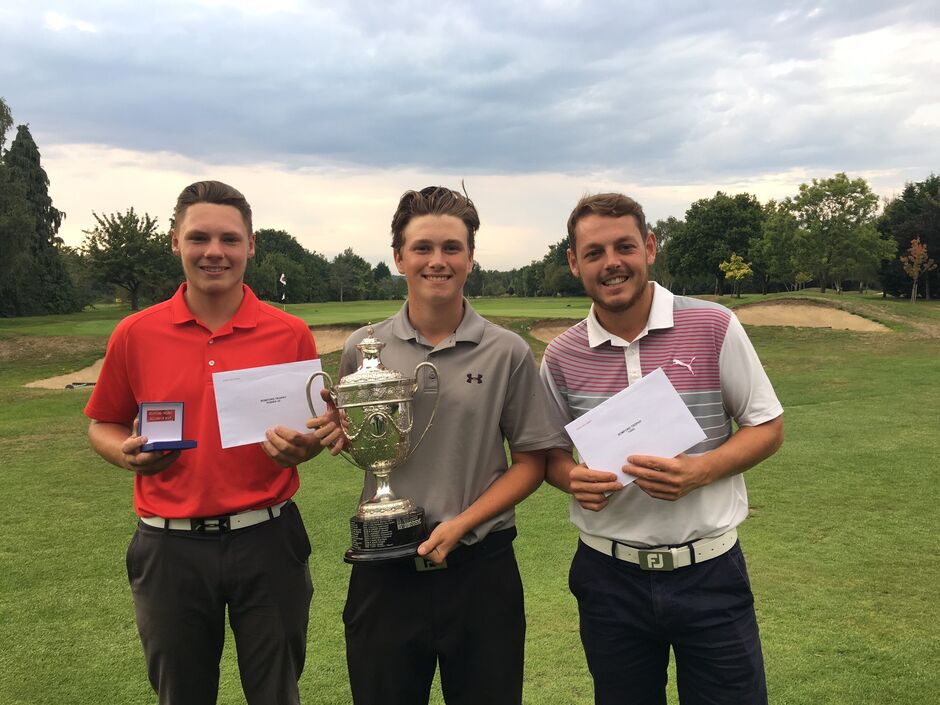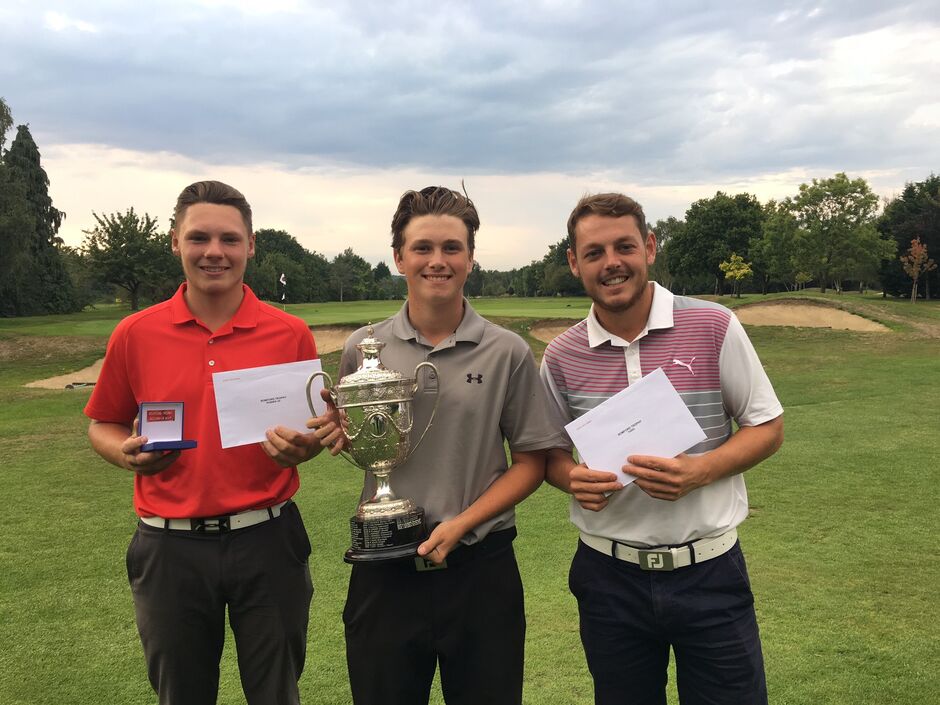 (Center) Winner Arron Edwards-Hill (Chelmsford)
(Left) 2nd Place Curtis Knipes (Abridge) (Right) 3rd Place Jay Beisser (The Rayleigh Club)
Winner 2017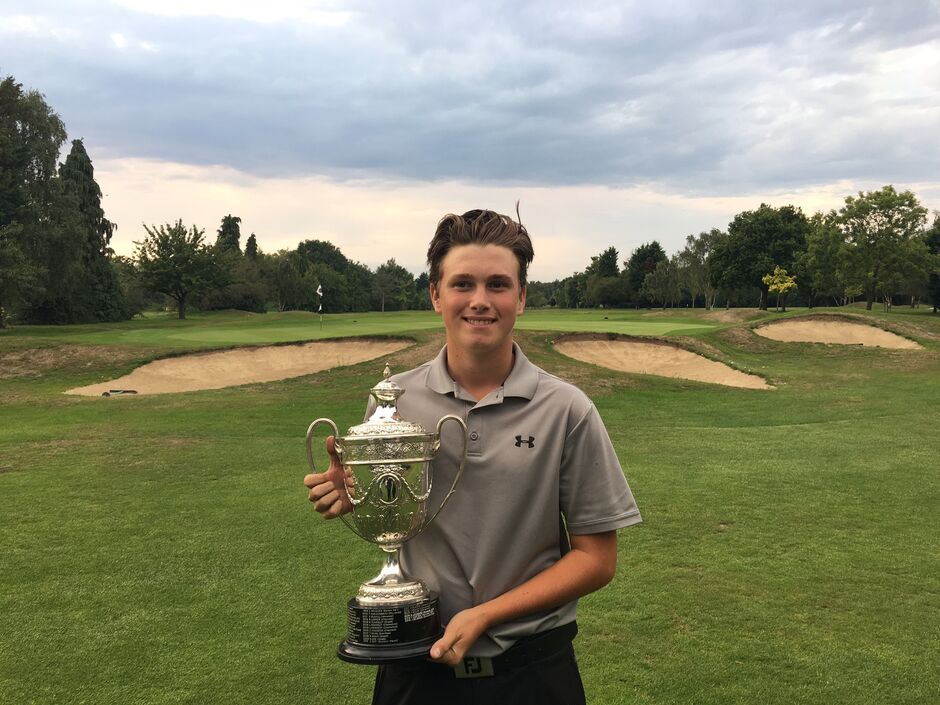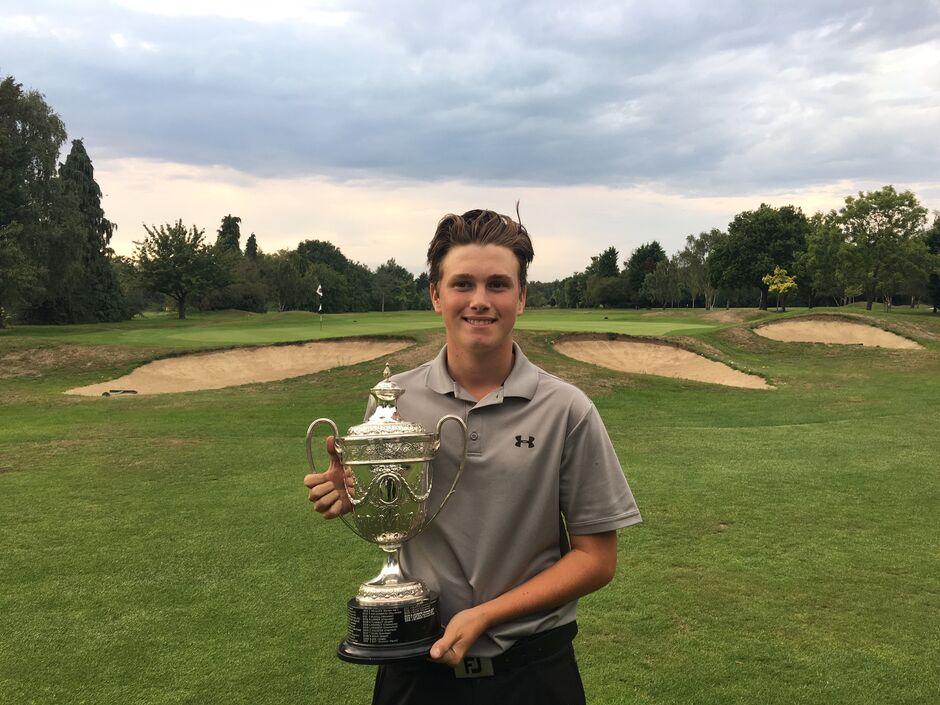 Arron Edward-Hill
(Chelmsford)
2017 ENTRY