The annual match between the Essex Professionals and amateurs took place at a cold and windy Frinton Golf Club on Thursday 11th April. This fixture has been running since 1950 and is eagerly anticipated by both sides each year. The amateurs keen to show their talents, and The Pro's giving freely of their time to encourage the county amateurs as they themselves were back in their amateur days. Both sides therefore fielding very strong teams with the likes of Tour players Robert Coles and Lloyd Kennedy on display.
The morning foursomes were edged by the professiobnals 3 matches to 2 with as expected some superb quality golf on display.
After lunch the singles matches got underway with the am's determined to get back on terms. No better demonstrated than Callum Pipe with 3 birdies and an eagle in the first 4 holes! 5 under par and an early 4 up lead against the unfortuate Pro captain Roger Gray. Callum going on to a resounding 8&6 win.
With Joe Tatam winning 2 up and Jamie Richards 3&2, these would be the ony games not to finish in the 18th hole. Game 1 with Lloys Kennedy needing birdie on the par 5 18th to edge out Brandon Meads. Robert Coles taking out County Captain Andy May all winning on the last. James Gurry won 3&1 against Ben Tobin. Three points all then and with 4 matches all halved on the last, the singles ending in a 5 all draw.
This left the Pro's with the narrowest of victories by an overall 8/7 score. Fantastic tenacity and golfing talent by both sides.
With Frinton Professional and Golf Manager Peter Taggart presenting the trophy to winning captain Roger Gray it was left to Andy May and Roger Gray to both thank and congratulate Frinton Golf Club and it's members for again providing a course in super condition with hospitality to match.
Phil Hulse
County Team Manger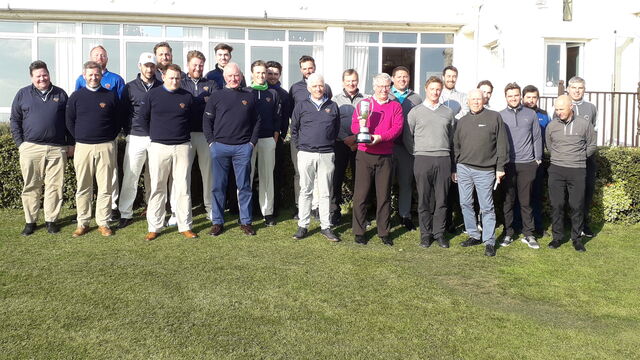 L to R: Bob Ward, Ricky Lee, Joe Tatam, Shaun Mills, Ben Tobin, Andy May (County Captain), Ross Dee, Callum Pipe, Brian Collins (County President) Arron Edwards-Hill, Brandon Meads,Jamie Richards, Phil Hulse, Steve Cipa, Roger Gray, Luke Fraser, Lloyd Kennedy, Mark Talbott, Colin Reynolds (PGA), Joe Ellis, James Webber, Craig Housden, Robert Coles, James Gurry