The Essex County team travelled to Frilford Heath Golf Club for the second league match of the season expecting a tough encounter against highly rated BB&O.
With a formidable BB&O lineup including four plus 3 players and plus 4 David Langley (combined team handicap of plus 20 ! ) this was indeed a tough ask for Essex even with players like Arron Edwards-Hill and Curtis Knipes in the side. Despite the 3.5/1.5 Essex victory over BB&O a week earlier at Seacroft Golf Club in the Eastern Counties Foursomes, BB&O played to form on Sunday morning wrapping up a comprehensive 4 nil foursomes tally and leaving a mountain to climb in the afternoon singles for Essex.
The afternoon saw the Essex men determined to salvage something from the match and came out of the blocks firing. First out, Brandon Meads against John Gough (4th place finisher in last week's Europro tournament at Brocket Hall). With 4 birdies and an eagle in the first 6 holes, Brandon was 5 under the course and 5 up on John which was sending out a clear message to all the following games. After 7 holes with Essex ahead in the first 6 games and narrowly behind in the last 2, there was room for optimism that we could repeat the efforts of 2 years ago in this fixture when Essex came back from a 2 point deficit to snatch a draw.
This optimism was short lived however as BB&O showed what a talented bunch they are by giving a masterclass of putting on Frilford's excellent greens that was nothing short of Ryder Cup standard. Whilst Brandon clinched his point against John Gough who himself was well under par at the end, match 2 saw Ollie Huggins go from 1 down with 4 to play against Curtis Knipes, winning the next 3 holes rolling in some amazing putts for a 2&1 victory. Next, Arron suffering even worse torment from David Langley with a 5&4 defeat. Michael Gilbert next to suffer the BBO putting machine with his opponent holing out from off the green at the last to snatch victory. With Callum Pipe giving Aaron Ashberry some of their own medicine in a 5&4 win, scores for the afternoon were level at 3 all. Penultimate match saw Skipper Andy May lose to Tom Lawson despite himself being 4 under par at the end. The final kick was felt by Ben Humphrey again at the last with his opponent slotting in a near 25ft putt for a 1 up victory.
Singles score 5/3 to BB&O with an overall Match result of 9/3
An amazing display of golf from both teams with the class of the BB&O lads just too much for Essex, especially on the greens. One of those days a pleasure to watch and full credit to the Essex lads.
Winning the league now an uphill struggle hoping that either Bedfordshire or Herts can halt the BB&O party.
Next match is at home (Chelmsford) against Middlesex on 30th June
Phil Hulse, County Team Manager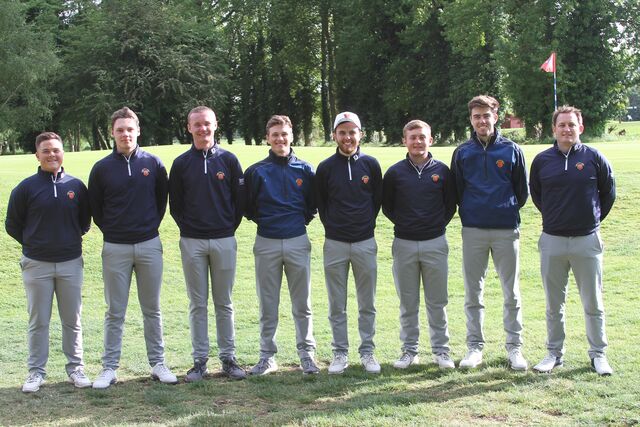 L to R: Ben Humprey, Curtis Knipes, Michael Glibert, Arron Edwards-Hill, Brandon Meads, Callum Pipe, Andy May (County Captain)