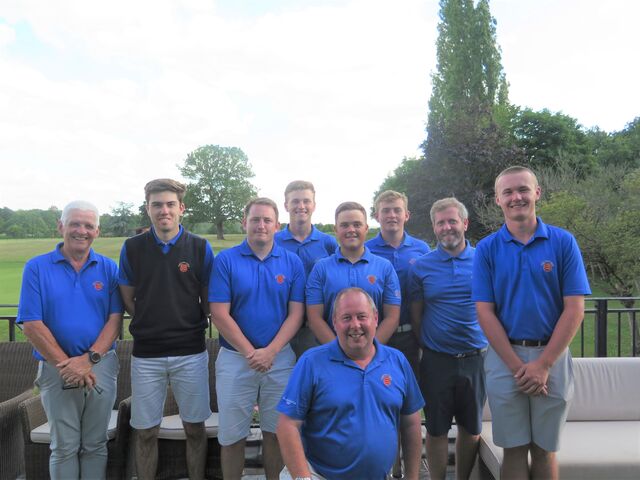 L to R...Phil Hulse Team Manager, Callum Pipe, Andy May (Capt), Arron Edwards-Hill, Ben Humphrey, Shay McQueen, Ricky Lee, Michael Gilbert, Front- Stuart Gilbert assistant Manager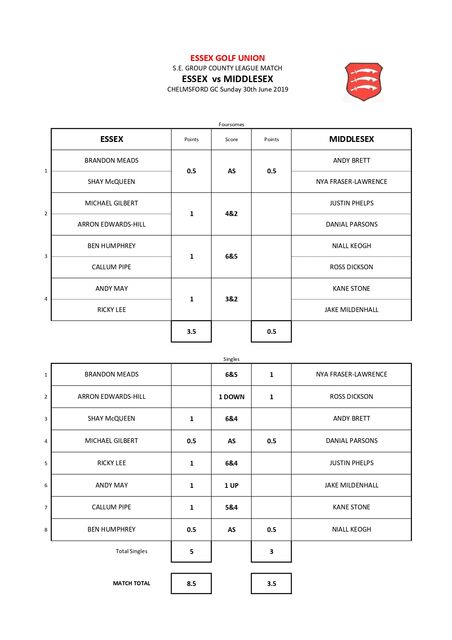 A bright sunny Sunday morning, and the 3rd League match of the season saw Middlesex the visitors to home course Chelmsford. After the defeat to BB&O at Frilford Heath last time out, a convincing win for the home side was required to see any cheance of defending our title as league champions from last year.
With 5 of the 8 Essex players coming from the Chelmford club, home advantage should play a big part.
The morning foursomes justified this selection with only the Meads/McQueen pairing not winning their match but gaining a deserved half. Score at Lunch 4.5 to 0.5 to Essex and sights firmly set on a home win.
In the afternoon the first game had County Champion Brandon Meads up against a young Nya Frazer-Lawrence. Against the form book, Brandon was 5 down at the turn with Nya 5 under par, form which he continued to close the match out 6&5 with an eagle an two more birdies to add to his tally.
Game 2 and Arron Edwards-Hill also struggling against Ross Dickson being 3 down with 4 to play. Despite pulling back the deficit another Essex loss on the 18th Green. Perhaps a Middlesex fight back?
However with wins from Ricky Lee, Captain Andy May, Callum Pipe and halves from Michael Gilbert and Ben Humprey a 5/3 singles reult was won. Final overall score of 8.5 to 3.5
Our thanks once again to hosts Chelmsford for a beautifully prepared course and excellent hospitality. Final match away to Hertfordshire at Letchworth in 4 weeks time where a win is paramount.
Phil Hulse
County Team Manager