LESLIE F WOOD CHAMPIONSHIP 2018


LESLIE F WOOD CHAMPIONSHIP 2017
FINAL
Played at Romford Golf Club on 3rd September
The morning foursomes commenced in cool conditions, which remained a challenge to the players all day as a steady breeze blew across the course. Though the sense of the occasion created a tense atmosphere around the first tee for the players of both The Warren and Thorpe Hall teams. All matches remained close during the first nine holes apart from the first match out, where the Warren pair made a solid start, and were 4 up at the turn. With slim leads being held by one side or the other in the remaining matches neither side held the upper hand. Two matches eventually concluded on the 17th green with one win for each team, and the first match out finished early in favour of The Warren. The other two matches both went down the 18th, again finally concluding with a win for each team, which meant that The Warren held a slender 3-2 lead at lunch.
In the afternoon singles The Warren appeared to start the strongest building a lead in 4 of the first 5 matches out. Match 2 was the first to finish with a comfortable win to The Warren, but the top match was a close affair all the way round with the match eventually going down the 18th all square. Both players laid up short of the 18th green in two, from where Geoff Shakespear holed his 140-yard approach to give The Warren a valuable win. The sizeable support for both teams were being treated to some excellent matchplay golf by players from both teams. As matches continued to draw to a conclusion it was the team from The Warren who managed to edge ahead in enough matches for them to sense victory. In match 8 Rob Whiting finally closed out a hard fought encounter to give The Warren 8 points, and victory in a keenly contested final.
The final was played in great spirit, both Clubs can be proud of the efforts of their teams.
The Essex Golf Union would like to thank Romford Golf Club for hosting the event and also the many spectators who came to enthusiastically support both teams.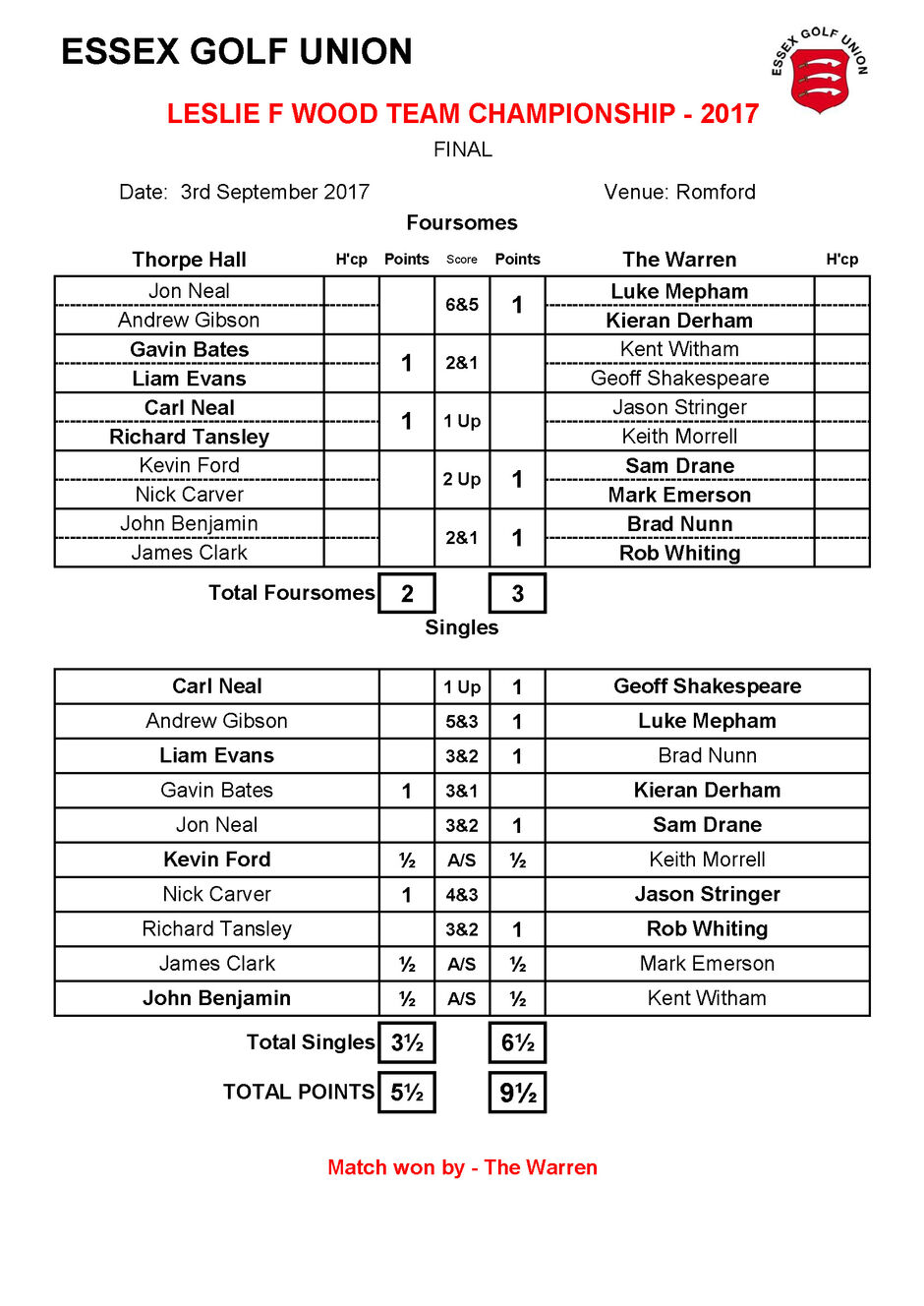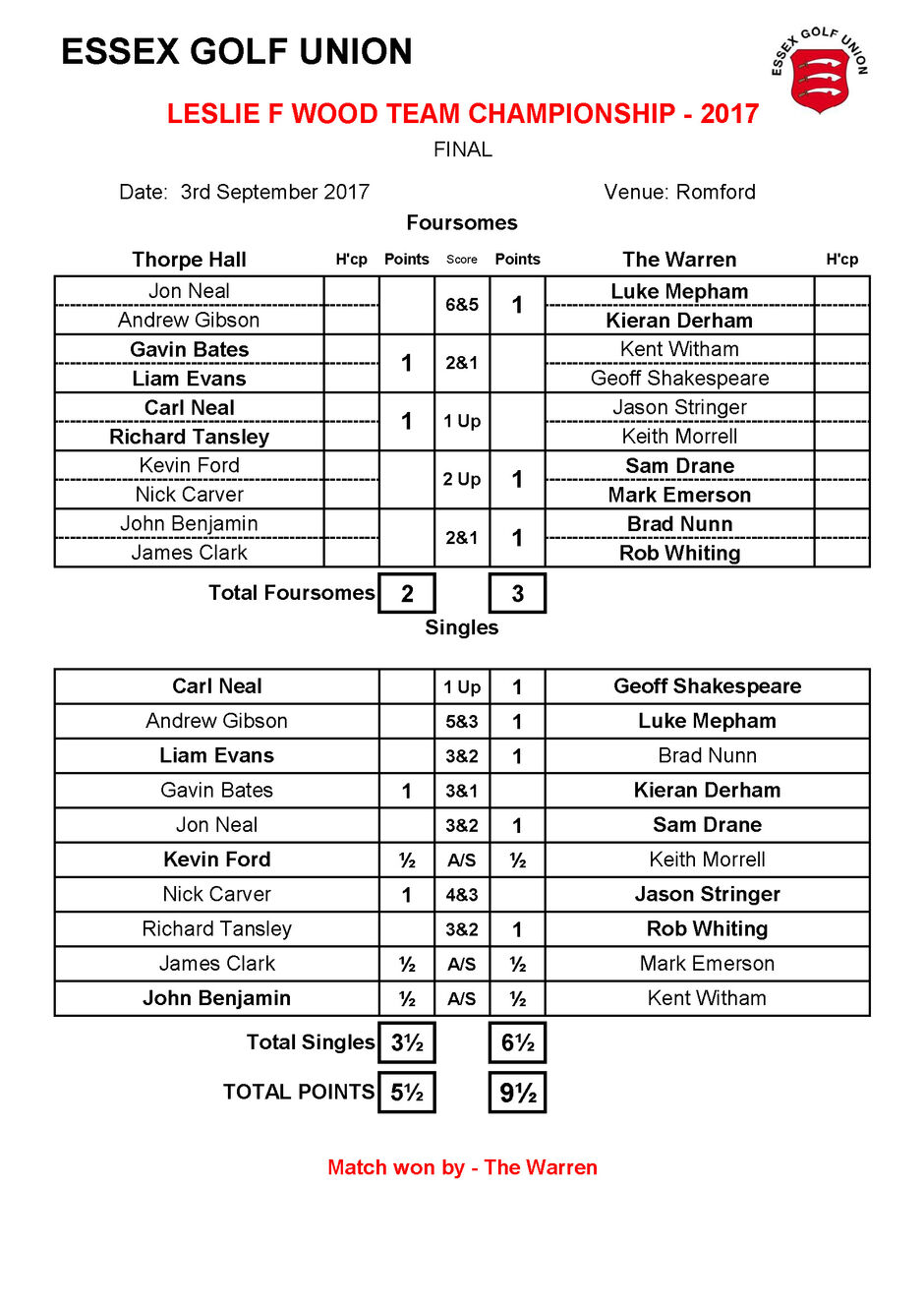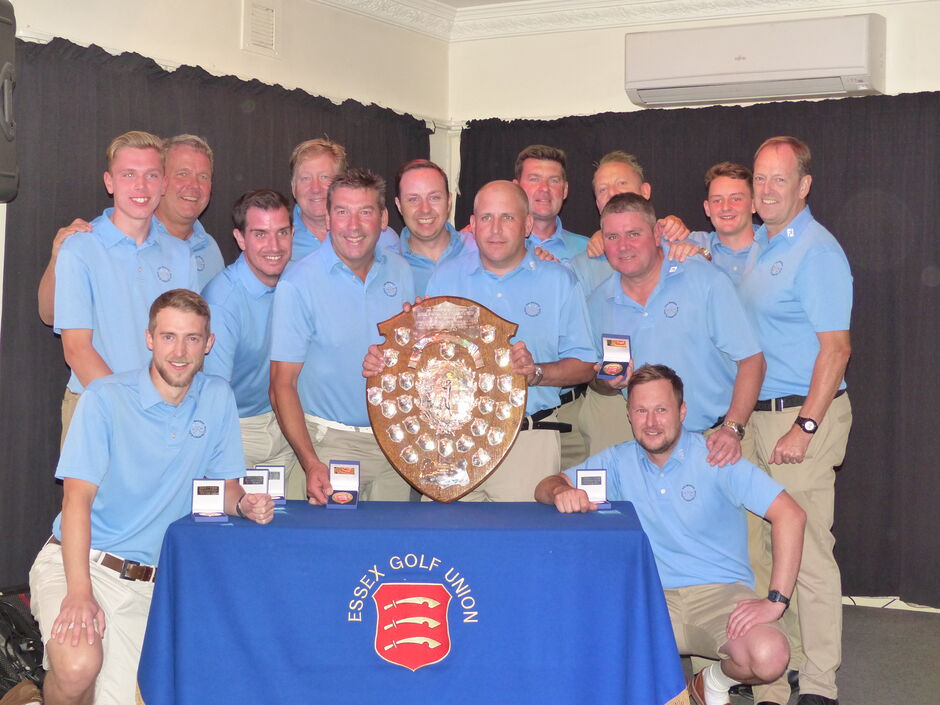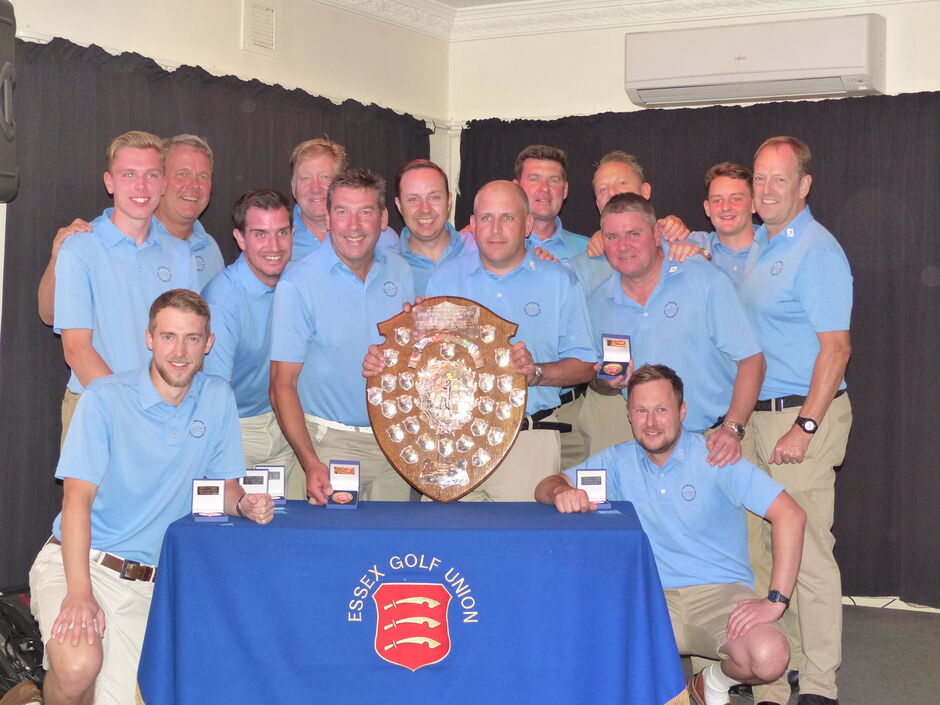 ​
2017 Winners - The Warren
1st Round Results
2nd Round Results
3rd Round Results
​Quarter Final Results
​


The Warren2017 Winners


RESULT SHEET
Please make sure the result sheets are returned to the County Office no later than 10 am on the day immediately after the match, either by email to
​ office@essexgolfunion.org
or
Fax: 01376 500894

LESLIE F WOOD PLATE