Thornton Challenge Cup 2023
**********************************************************************************************************
Thornton Challenge Cup Final 2022
On Sunday 4th September 2022
Abridge Golf Club
The occasion lived up to reputation with both sides arriving with great support and uniformed perfectly in team colours. Orsett's team were out of the blocks early with the front two matches taking leads and Match 3 was proving to be the match to watch. After 9 holes Romford's Dylan Hussey & Henry Linley, both county boys team members were out in level par, making 9 straight pars. Orsett's duo of Thornton cup veteran Ross Dee & recent Romford Trophy winner Baillee Curran had forged a 4-up lead. If it wasn't for Ian Moore and Scott Aitchinson's efforts achieving a half, the lunch time score may have been completely one sided. However, the 4½ to ½ score at lunch, at least meant Romford had something to build on in the singles matches.
After Lunch, once again, the early matches looked to be going in Orsett's favour with several matches showing sizeable leads. Henry Styles did manage an impressive half with Essex County team captain & England squad member Zachary Chegwidden. However, the next two matches both went Orsett's way, meaning they just needed one more point for the victory. When Cassidy Steffens shook Ian Moore's hand on the 14th for a 6 & 4 win, it was all that was required for Orsett to lift the trophy for an eighth time.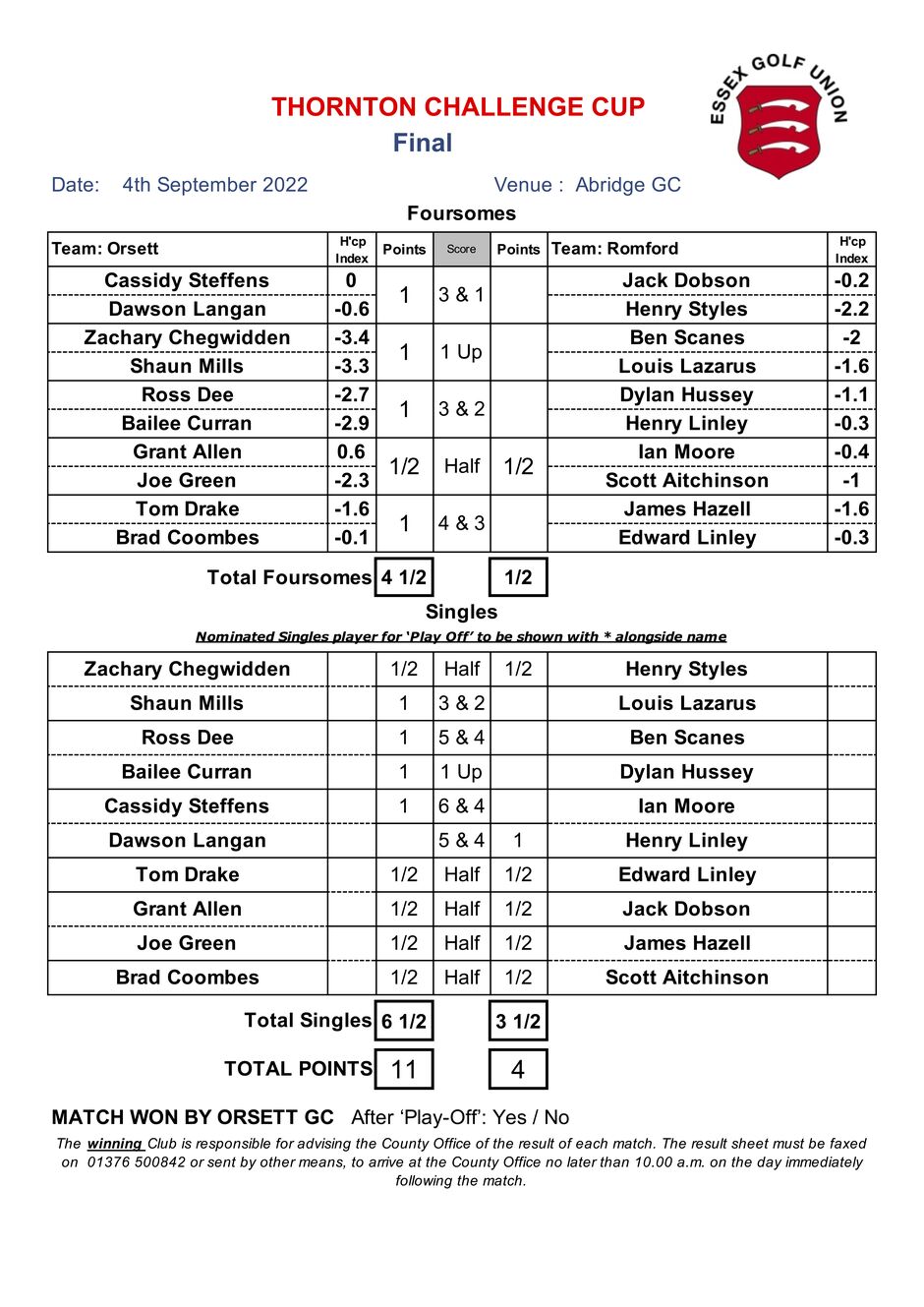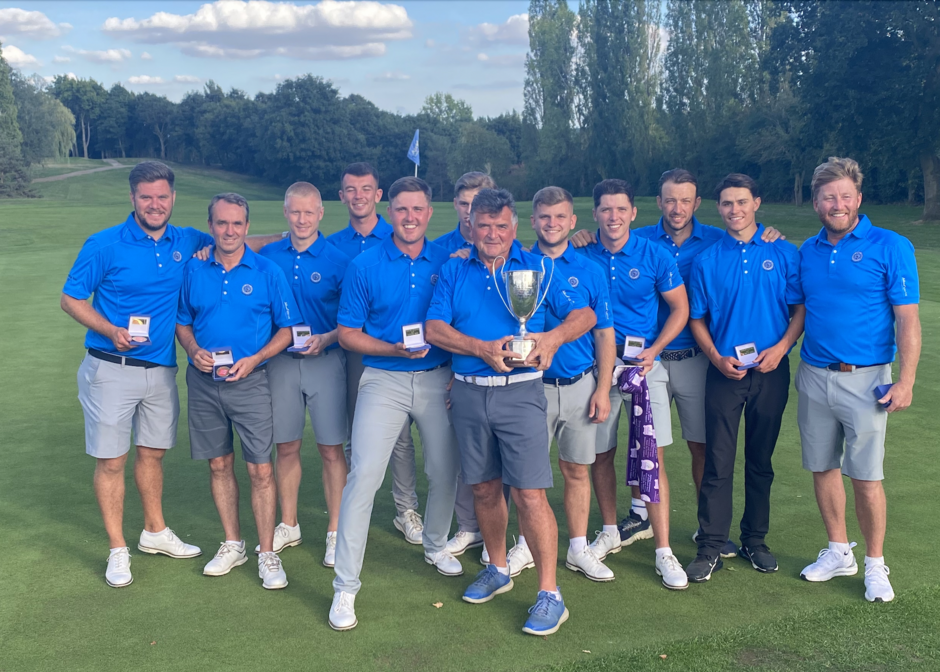 The overall score of 11 – 4 reflected Orsett's strength in depth, with several fantastic performances that made it very difficult for Romford to mount any significant comeback after a sizeable lunch time deficit. By no means did the Romford team disgrace themselves, offering fine performances from several team members, none more so than the junior participants, Henry Styles, Dylan Hussey, Henry Linley & Edward Linley who all have county links.
The match was played in great spirit throughout the day, with both captains showing upmost respect for their opponents in their after dinner speeches. A special thanks go to Abridge Golf Club for hosting the final and their hospitality throughout the day.
***************************************************************************************************************
Thorndon Park Golf Club - 2021 Champions
Thornton Challenge Cup Final 2021
Sunday 5th September
Crondon Park Golf Club
Thorndon Park 11½ - Thorpe Hall 3½
At the start of this season the team from Thorndon Park Golf Club would have probably been amongst the favourites to capture this splendid old trophy. However for Thorpe Hall, winners of the inaugural tournament in 1920 and on eleven subsequently occasions, any suggestion in April that they would be contesting the September final may have raised an eyebrow. As the reader will know golf is anything but predictable and throughout the competition the Thorpe Hall team provided a fine example of what a team working together can achieve.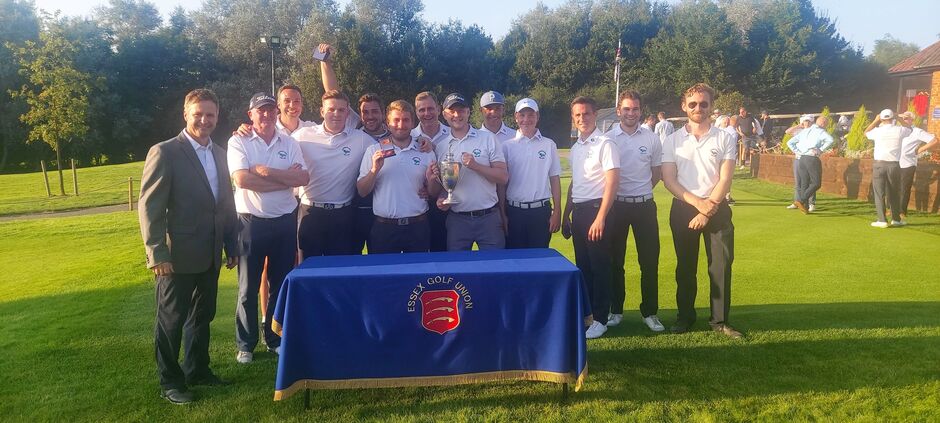 Regrettably for Thorpe Hall their day didn't start well with team captain Simon Garner absent confined to barracks due to Covid and there were no signs of improvement when by lunch-time Thorndon Park had engineered a commanding 5-0 lead from the foursomes' matches.
Thorndon Park's play-off man George Gennings led their afternoon charge in the singles with a 4&3 win over Thorpe Hall's Luke King. The second match out was the battle of the youngsters and once Charlie Croker had got the better of Billy Gunyon by 3&1 it was going to take some kind of miracle for Thorpe Hall to snatch the trophy away from Thorndon Park. Thornton Cup veterans Pete Alabaster and Bobby Platts gave Thorpe Hall a measure of relief with victories over their Thorndon opponents, but Mark Downey sealed Thorndon Park's victory at the dog-legged 15th hole with a 4&3 win over Sam Manton.
Played in wonderful golfing conditions both teams are to be congratulated for the spirit in which the final was contested and special thanks go to Crondon Park Golf Club for hosting the final and their hospitality throughout the day.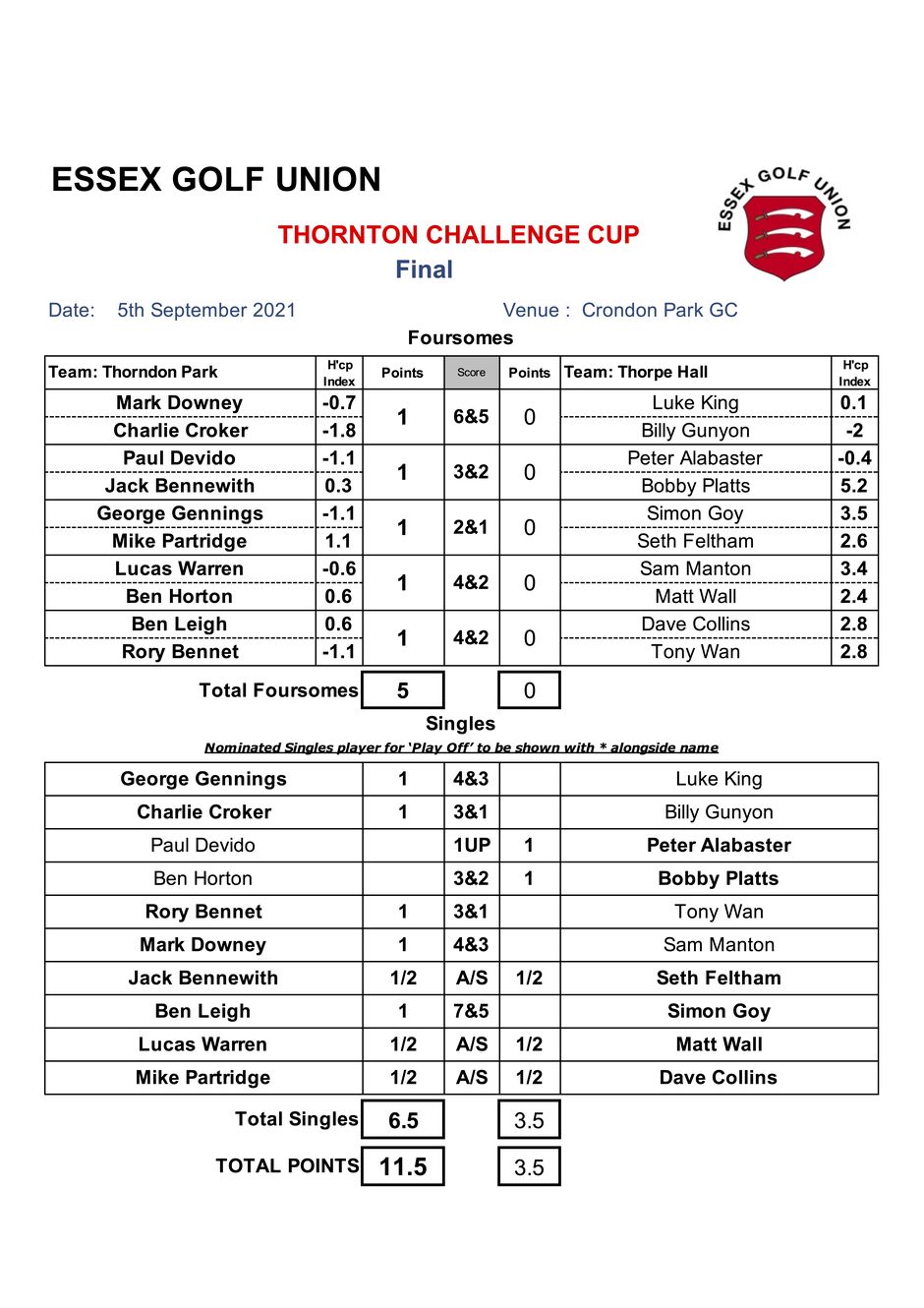 ---
Congratulations to Chelmsford Golf Club - 2019 Champions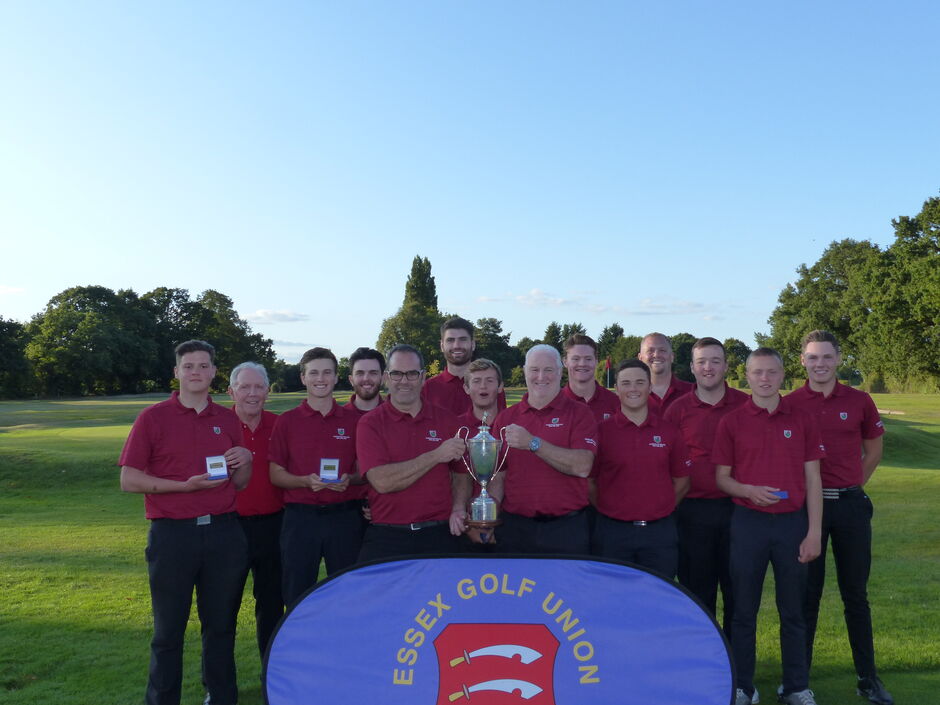 THORNTON CHALLENGE CUP
FINAL 2019
Played at Colchester Golf Club
The 2019 final was played on 8thSeptember between the holders Chelmsford and West Essex, on a very well presented Colchester golf course.
The morning foursomes commenced in sunny autumnal conditions with a cool breeze. There was little between the two sides as the morning matches passed the halfway stage, apart from in match 3 where the Chelmsford pairing of Curtis Knipes & Harvey Sullivan were building a commanding lead.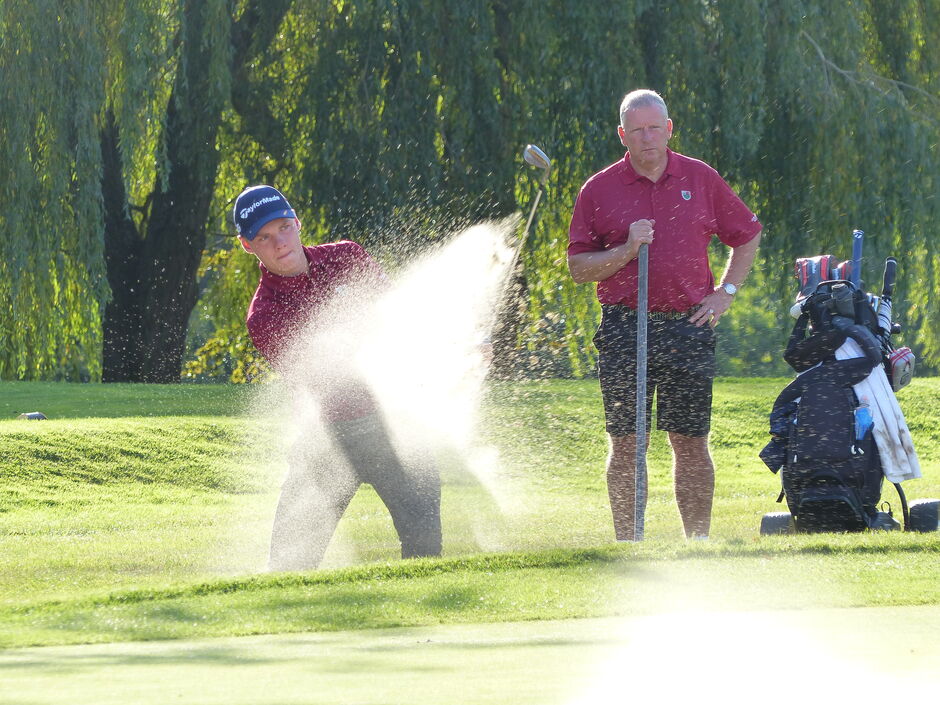 As the morning started to draw to a close West Essex' top pairing of Nick Pledger & Timmy Moncur secured a first point in match 1, just after Chelmsford's Curtis & Harvey closed out their match with an 8&6 win, four under par for the 12 holes they played. The teams shared the points from matches 2 and 4, which left match 5 to decide the lunchtime position.
This had been a close battle all the way round, but eventually concluded on the 17th hole, a narrow 2&1 victory to Chelmsford. Both teams headed for lunch with Chelmsford holding a 1 point lead.
By the time the afternoon singles commenced the number of supporters following the matches had swelled to over 100, and they were being treated to some excellent matchplay golf.
West Essex needed some positive results from the early singles matches, but Chelmsford's Brandon Meads had other ideas, racing into an early lead. Match 2 had thrown together a very intriguing tie, and by the 9th hole Timmy Moncur had built a good lead on his Chelmsford opponent, Arron Edwards-Hill.
Back in match 1 Nick Pledger fought his way back into his match and secured a vital point for West Essex, and with Timmy Moncur closing his match out on the 15th green, they had the start they had wanted.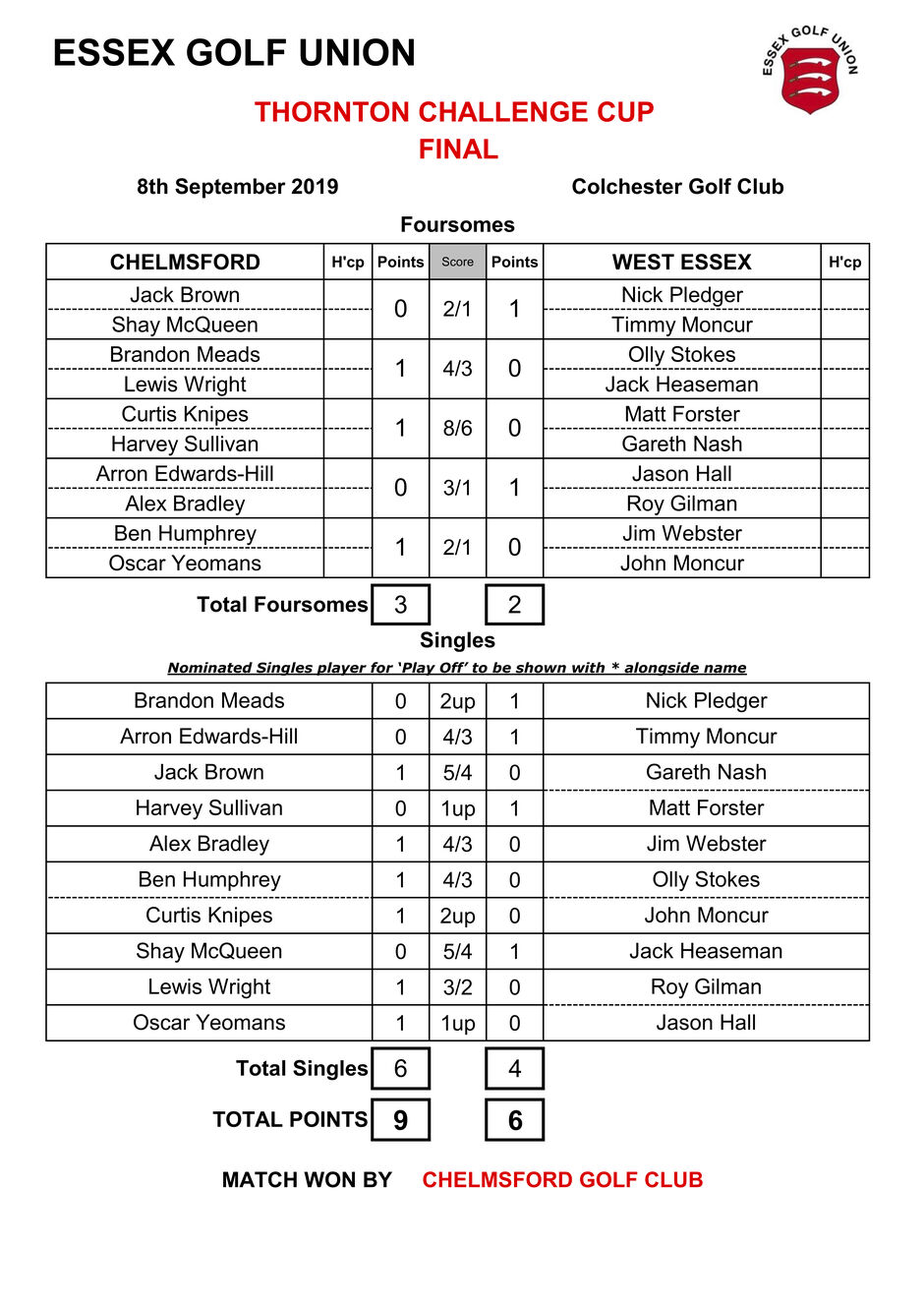 Chelmsford managed good wins from Jack Brown, Alex Bradley, and Ben Humphrey to swing things back in their favour, only for Matt Forster to birdie the 18th for a narrow 1up victory and Jack Heasman to seal a good 5&4 win to put the tie in the balance at 6 points each, with three matches left on the course.
In match 7 Curtis Knipes won the 15th hole to go dormie 3up, but his opponent, John Moncur, wasn't giving up and won the 16th and 17th to take the match to the final hole. Meanwhile Lewis Wright went 3up at the 15thfor Chelmsford and closed his match out on the 16th hole to take his team to 7 points and Oscar Yeomans also won the 15th to go dormie 3up. With guaranteed half points in the two remaining matches Chelmsford had secured a thrilling victory.
The final match result was 9 – 6 in Chelmsford's favour.
It was an excellent day of golf played between two teams who clearly had great respect for each other. Our thanks to Colchester Golf Club for hosting the match at relatively short notice and providing excellent hospitality for this prestigious final. Also to the spectators, for helping create a great atmosphere and providing encouragement to both teams throughout the day.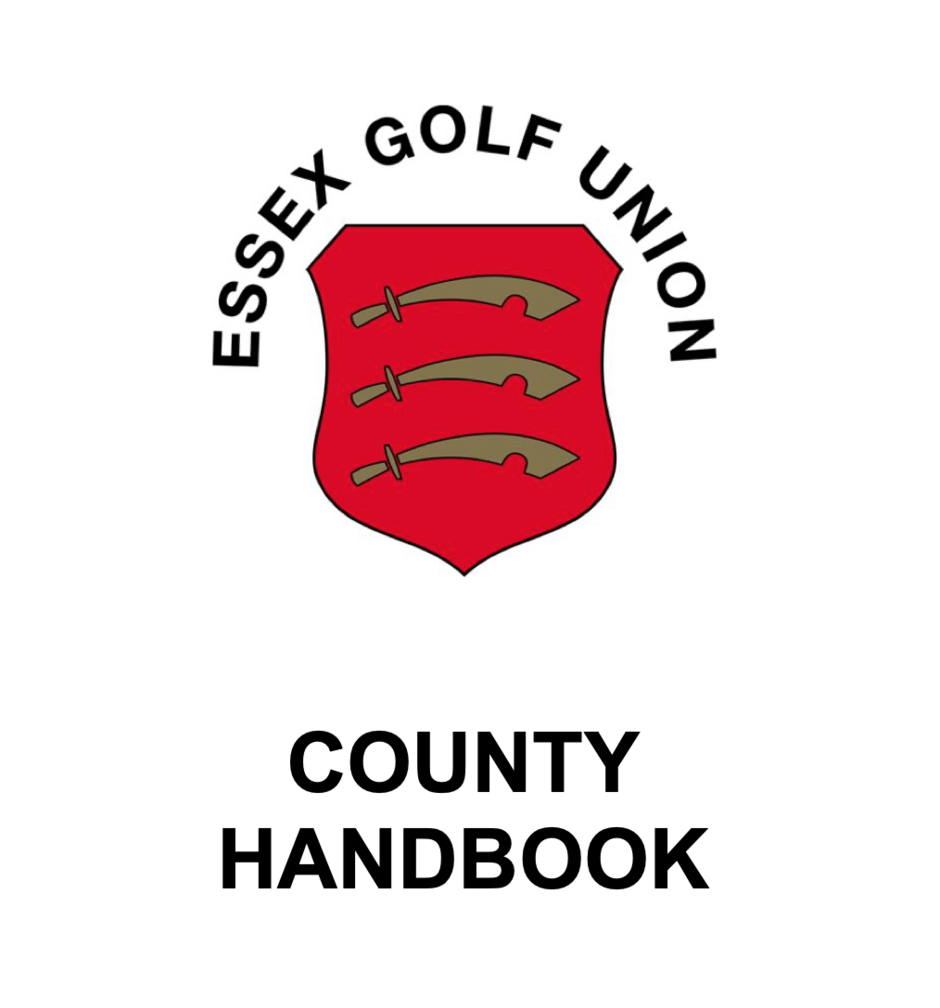 2023 Competition Conditions & Regulations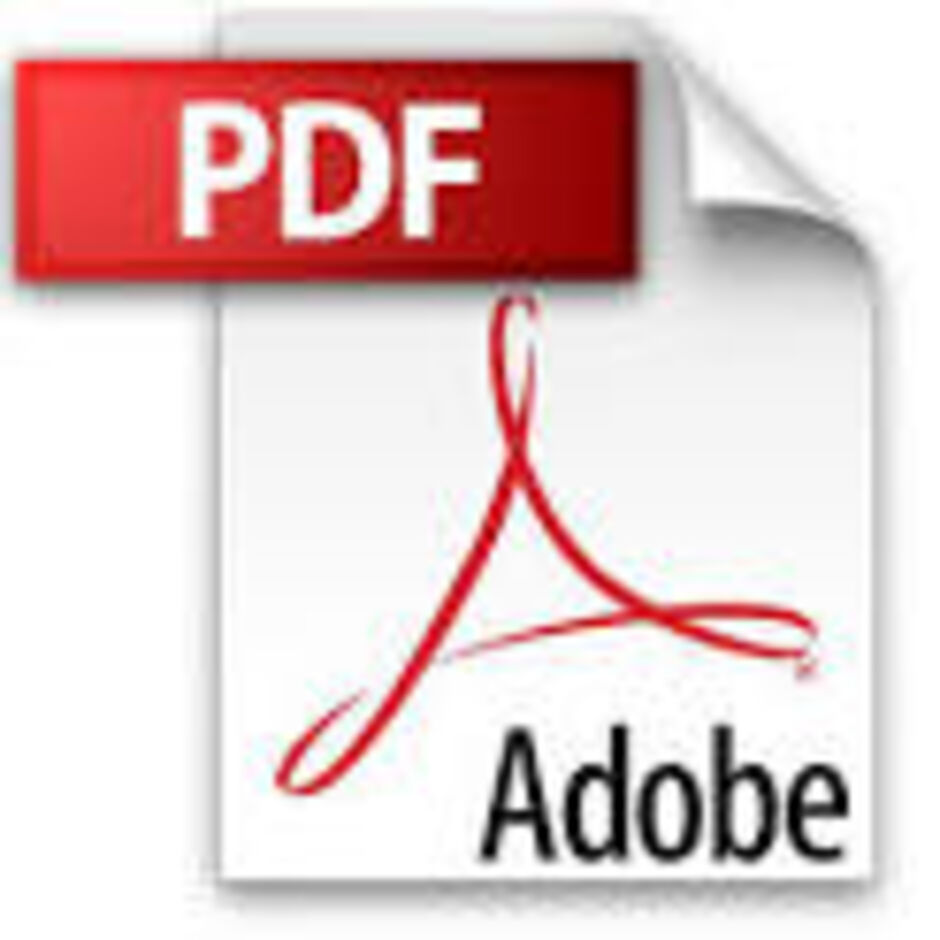 Result Sheet
Please make sure the result sheets are returned to the County Office no later than 10 am on the day immediately after the match, either by email to office@essexgolfunion.org
or
Fax: 01376 500894